PC Card (PCMCIA Card) Types and Usage
PC Cards (originally referred to as PCMCIA cards) provide a wide range of options for portable computers with PC Card slots.
Most portable computers have at least one Type II PC Card slot, as seen in Figure 12.5. Many have two.
Figure 12.5. A typical notebook with a Type II PC Card partly installed (top) and completely installed (bottom). Note the positions of the ejection button.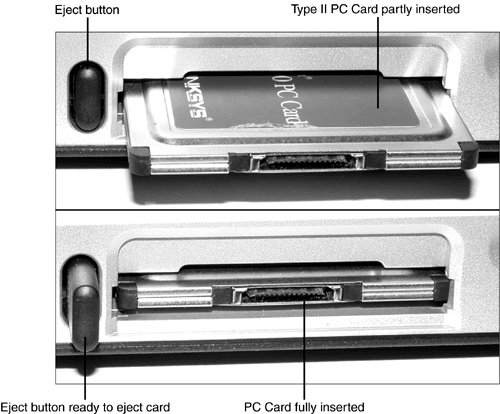 When used with MS-DOS or Windows NT 4.0, PC Cards require special software known as CSS , or Card and Socket Services (the MS-DOS and Windows NT 4.0 versions are not interchangeable). Windows 95 and newer versions have built-in support for PC Cards.
Most CSS software and the built-in support in Windows 95 and later enable PC Cards to be hot-swapped; the card can be shut down, removed, and replaced with another without shutting down the system. Cards must be " stopped " before being removed or the system can become unstable and the cards or system can be damaged.
PC Card Types I, II, and III and Uses
The Personal Computer Memory Card International Association gave PC Cards their original name of PCMCIA cards and is responsible for developing standards for these cards. There are three types of PC Card slots, each designed for particular types of devices:
Type I The original version of the PC Card standard. These cards are just 3.3mm thick. Type I cards are typically used for memory.

Type II The most common PC Card type is 5.5mm. Type II cards are typically used for I/O devices such as Ethernet or wireless networking; modems; USB 2.0, IEEE-1394, or SCSI ports; and proprietary interfaces for external drives. Some hard drives also are available in the Type II form factor.

Type III Used primarily for PC Cardbased hard drives as well as some combo I/O cards, this type is 10.5mm thick. Systems that have two stacked Type II PC Card slots also can use a single Type III card.
All three types of cards have a two-row connector with 68 pins total.
Most systems with PC Card slots feature two stacked Type II slots that can handle all types of cards: a single Type III card, two Type II cards, or two Type I cards at a time. Figure 12.6 compares the thicknesses of these cards.
Figure 12.6. Typical Type I, Type II, and Type III PC cards and cross-sections.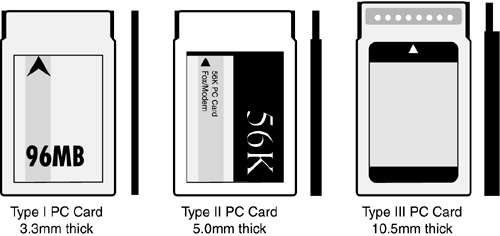 PCMCIA Hardware Resource Requirements
The CSS software used for PC Card support reserves a large area of upper memory (empty space between 640KB and 1MB) for use by PCMCIA cards. I/O port address space and IRQ usage depends on the specific card(s) used. Windows 95 and later versions configure PC Card resources automatically.
CardBus and Zoomed Video (ZV)
Most recent portable systems use a special high-speed type of PC Card slot known as CardBus . CardBus slots are compatible with both ordinary (16-bit) PC Cards and 32-bit CardBus cards, but CardBus cards can't be used in ordinary PC Card slots.
To verify if a portable system has CardBus support, open the Windows Device Manager and the category marked PCMCIA Adapters. If a CardBus controller is listed, the portable supports CardBus. If not, you can use only 16-bit PC Cards in that system.
Another variation on standard PC Card slots is Zoomed Video ( ZV ) support. Portable systems that support ZV can use PCMCIA cards with a high-speed video connector for processes such as teleconferencing or dual-display support. As with CardBus, use ZV-compatible cards only in compatible systems. However, ZV is not supported by all CardBus slots; to determine if a system with CardBus slots also supports ZV, check with the vendor.
Combo PC Cards
Combo PC Cards contain multiple functions and connections on a single card. The most common combination includes a modem plus Ethernet network interfacing or USB 2.0 plus IEEE-1394a interfacing.
PC Card Dongles
Type I and Type II PC Card cards aren't thick enough to use standard RJ-11 telephone (for modem), SCSI, or RJ-45 UTP network cables. Some Type II PC Cards use a pop-out connector for telephone or network cables; others require the use of a device called a dongle a proprietary extension to the PCMCIA card that enables standard cables to be connected to the card. Figure 12.7 shows a typical 56Kbps PC Card network card with its dongle.
Figure 12.7. A typical Type II PC Card 10/100 Ethernet card with the dongle used to attach the card to standard Category 5 UTP cable. Photo courtesy Linksys.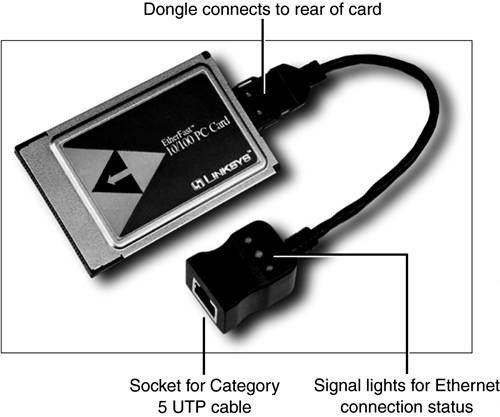 If you lose or damage the dongle, your PC Card is useless until you replace it. For this reason, many vendors are now building Type II PC Cards with a thick outer edge to support integrated 10/100 Ethernet RJ-45 or RJ-11 modem cables. Type III PC Cards are thick enough to provide standard connections, but don't fit into some systems.
Inserting and Removing PC Cards
Inserting PC Cards into a system is a simple process (refer to Figure 12.5).
Hold the PC Card between your forefinger and thumb.

Turn the card so that the end with the pin connectors is facing toward the PC Card slot in the computer.

Make sure the top side of the PC Card is facing up; the front side normally has a decorative label listing the card model and manufacturer, as in Figure 12.6.

Slide the card straight into the PC Card slot in the portable computer until it interfaces with the connectors inside the slot.

The Windows taskbar will display a PC Card icon when the card is detected .

If this is the first time the PC Card has been installed, insert the driver disk or CD-ROM as directed to complete the installation.

Attach any cables or dongles required to make the PC Card ready for use.
To remove the PC Card
Look for an ejector button next to the PC Card slot; on some systems, the button is folded into the unit for storage. Unfold the button to prepare it for use.

Disconnect any cables or dongles from the card.

Right-click the Windows taskbar PC Card icon and select the card you want to remove from the list of cards.

Click Stop and wait for the system to acknowledge the card can be removed.

Click OK to close the message.

Push in the ejector button to eject the PC Card. Pull the PC Card the rest of the way out of the slot and store it in its original case or another antistatic bag.