Selling Accessibility
As accessibility awareness percolates through the business community, your customers may need your help in understanding how your commitment to accessible design is an advantage to them and to their customers as well . A discussion with a group of Web developers at the University of Texas at Austin revealed that many of them are committed to Internet accessibility, despite initial skepticism when first exposed to the idea of incorporating design techniques to accommodate the needs of users with disabilities . The reasons they cited for why they eventually bought into the idea of accessibility provide us with useful insights as we make the case for accessibility within our communities and to business and educational organizations.
In some cases, the developers had a close friend or relative with a disability or had observed someone with a disability trying to use the Internet. Several cited a workshop or accessibility training that had given them a broader perspective, such as the trainings we offer as part of the AIR activities mentioned in Chapter 4 and as continuing education classes (called Accessibility 101) on the University of Texas campus. Some developers worked for employers actively committed to inclusion, who promoted internal policies in support of that commitment.
As we will see with a later example from Prodigy Communications, mid-level management and development support is necessary for implementation purposes, but leadership from upper-level management is just as necessary so that accessibility is integrated throughout the company culture.
Phill Jenkins, Accessibility Program Manager in IBM's Accessibility Center and a member of the W3C, offers another persuasive argument. When he trains professional designers in preparation for our annual AIR, he reminds them that new, smaller, more portable wireless devices are becoming an increasingly convenient way for many people to browse the Web. For this group as well, the most useful sites are those that are most universally , and therefore most accessibly, designed.
The point is that once you understand the need for accessibility, there are several approaches that will help your colleagues and customers understand not only the need but the benefits as well. It cannot be denied that federal government mandates , developed as a result of Section 508 of the Rehabilitation Act as we discussed in Chapter 3, are also key drivers in selling accessibility. It helps to be able to tell potential customers that, in fact, this is the law. The problem with relying solely on that technique is that the law is ambiguous, it is untested, and its precise application is currently somewhat in dispute. So we recommend that, while they should certainly be part of your sales tool kit, government mandates are not the only argument for accessibility. There are clear business benefits, too, as we continue to explain below.
The Business Benefits of Accessibility
The numbers are growing of businesses and business associations that recognize the benefits of accessibility. The WAI of the W3C drafted business plans and implementation strategies for a variety of settings, including government, educational, and corporate institutions, and made those strategies available online (see Figure 6-3).
Figure 6-3. Screen shot from the W3C site explaining the business benefits of accessible design. Accessed January 3, 2002, at http://www.w3c.org/WAI/bcase/benefits.html. Used with permission.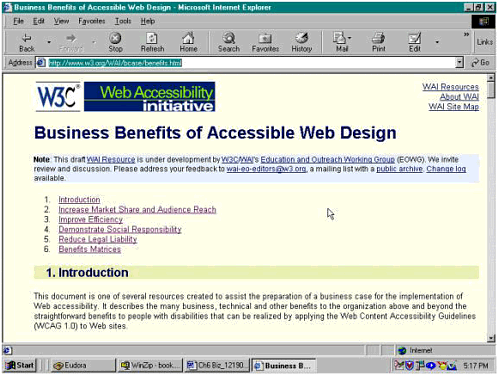 In listing the business benefits of accessible Web design, the WAI's Education and Outreach Working Group provides links to topics including market share, improved efficiency, social responsibility, legal liability, and benefits matrices. A notice that the information contained is in draft form heads the page along with an e-mail address for providing input to the working group.
Making the Case
There are essentially three categories of customers that require different sales approaches.
Federal Departments and Agencies
The first category includes all federal government agencies. If your potential customer is in this category, your sales task is essentially done. For such entities, accessibility is a requirement. There is no question of the need for compliance, although there may be significant confusion about how to get there. In this case, you will not have to sell the client on the idea of accessibility. Rather, you will simply need to demonstrate your understanding of the issue and your competence. For prospective clients who are other than federal government agencies, however, the issue is not so clear.
Corporations, Nonprofit Groups, and Local Government Agencies
Companies, nonprofit groups, and local government agencies who do significant business with federal agencies, or who are funded by them, comprise a second category. These potential clients have good reason to pay attention to accessibility issues. Most are aware of the mandates but confused about what they mean. In these cases, your familiarity with accessibility questions will provide your client with a source of expert guidance. An effective sales technique will incorporate your ability to deliver accessible design with little or no increase in costs to your client. The Weinschenk Consulting Group provides tools to help you measure the return on investment in usability/accessibility design practices; see http://www.weinschenk.com/tools/roi.asp.
For example, Navidec is a software development company that participated in the Rocky Mountain Accessibility Internet Rally. Company management quickly understood accessibility tools to be valuable new skills. Navidec redesigned its own site to be more accessible and then aggressively marketed its accessible design skills at a time when the State of Colorado was issuing local accessibility mandates. The company carved out a niche and established itself as the local accessibility expert; as a result, Navidec gained several new clients with whom its employees are working to develop long- term relationships. For clients who have government- related business or who are interested in developing vendor relationships with government agencies, the fact that the Navidec team has clear information and experience in meeting emerging requirements is a strong element that continues to set Navidec apart from other prospective Web development companies.
Other Customers
The final category is the potential client who is not aware of accessibility issues or who views them with indifference or even hostility . This is tricky, but the use of a few simple questions can often get the client to change perspective. "Would you construct your office in a way that people with disabilities could not work there?" you might ask such a client. "Would you hold a product demo or a press conference in a place that excluded entire groups of people?" In most cases, the answer is no. With this opening, you usually have the opportunity to demonstrate that the accessibility features you are advocating will only enhance the user experience for the company's customers or employees and will not limit its ability to be innovative with the delivery of its online message.
Knowbility, the nonprofit organization that grew from the AIR, maintains an online curriculum that addresses many of these issues. When trying to "sell" accessibility within your own agency, consider copying and distributing the "Why Is Accessibility on the Internet Important?" page on Knowbility's site at http://www.knowbility.org/curriculum/intro.html. (We've reproduced the text in the appendix of this book.) The list offers various Internet user scenarios for consid eration. It provides practical examples of how accessibility improves the experience for all users, not just a particular group. It also demonstrates that universal design neither curbs creativity nor adds significantly to the cost of building or maintaining a Web site. Finally, the list suggests that accessible design greatly increases the number of people who can become users of your client's site.
Using the statistics and logic we covered earlier in this chapter, you can convince many prospective clients of the fact that they can increase both their customer market and their potential employee pool. Here is an example of ways in which accessible design can help companies retain skilled technology workers.
Accessibility Increases Employee Productivity
Don Mauck is a computer programmer in Denver, Colorado, who is blind. He has worked for many years for a software development company as a productive and valued member of various teams . As the communications tools for his internal team moved online, they increasingly left behind the text-based information-sharing systems Don was accustomed to using. The company replaced these systems with tools that depended on nested Java scripts. There were techniques to make this system accessible, but no one in the company was aware of them. The company did not realize how this new system was curtailing Don's ability to participate with his team, and he was being inadvertently left out.
Following a half-day accessibility training, the team was much more aware of the problems. Just as important, the company now had access to a variety of excellent solutions that could satisfy the needs of all users. In a subsequent follow-up, Don told us that the classes had made
differences on both our dot-com site and our internal site that were truly rewarding for me to see. The fact that my colleagues were able to see the issues and find immediate ways to resolve them is a testament to both their understanding about what was the right thing to do and the tools you provided to help make that happen. We are constantly making more changes and improving all of our sites [personal communication, used with permission].
Experiences like this tend to convince even the most skeptical people of the value and importance of accessible design.