Comparing Google Spreadsheets to Excel
If you've used Microsoft Excel at all in the past, Google Spreadsheets will look somewhat familiarto a point. Although Google Spreadsheets adds some unique web-based collaboration features, it also lacks some features that you might be used to in Excel, such as charts and macros. So the two programs, while similar, end up being somewhat different. (Figures 2 and 3 show how similar the two applications look.)
Figure 2. A blank spreadsheet in Google Spreadsheets...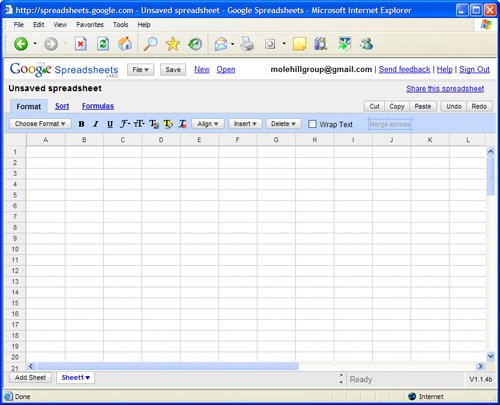 Figure 3. ...compared to a similar blank spreadsheet in Microsoft Excel.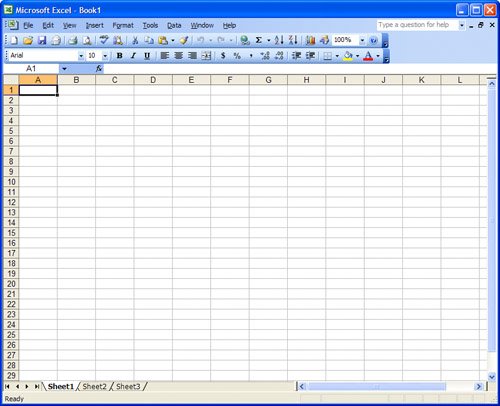 Just how similaror differentare Google Spreadsheets and Excel? Table 1 compares and contrasts the two spreadsheet applications.
Table 1. Comparison: Google Spreadsheets Versus Microsoft Excel

| | Google Spreadsheets | Microsoft Excel 2003 |
| --- | --- | --- |
| Reads and writes XLS-format files | Yes | Yes |
| Imports and exports CSV-format files | Yes | Yes |
| Multiple sheets per spreadsheet | Yes | Yes |
| Excel-type formulas | Yes | Yes |
| Number of built-in functions | 232 | 288 |
| Macros | No | Yes |
| Pivot tables | No | Yes |
| Database functionality | No | Yes |
| Charts and graphs | No | Yes |
| Text formatting | Yes | Yes |
| Number formatting | Yes | Yes |
| Cell formatting | Yes | Yes |
| Online sharing and collaboration | Yes | No |
| Saves documents online for access from any PC | Yes | No |
| Can use when not connected to the Internet | No | Yes |
As you can see from this table, the major features lacking in Google Spreadsheets are
Macros

Pivot tables

Database functionality

Charts and graphs
However, Google Spreadsheets does offer online sharing and collaboration and the capability to save all documents online.
Note
The lack of charts and graphs is due to the fact that Google Spreadsheets doesn'tas yethave a built-in graphics engine.
In addition, there are some minor differences between the two programs. For example, while Google Spreadsheets can work with most Excel data and import Excel XLS files, some Excel text and date formatting doesn't directly import. Google Spreadsheets also lacks cell border formatting (you can format cell background color, however), and doesn't offer Excel's time-worn right mouse button options. Finally, unlike Excel, Google Spreadsheets doesn't let you zoom in or out of a spreadsheetyou can't change the size of the spreadsheet grid.
Other Web-Based Spreadsheets
Google Spreadsheets isn't the only web-based spreadsheet out there, either. There are a number of standalone web-based spreadsheet applications, as well as a few that are part of online office suites.
These alternative online spreadsheets applications include
EditGrid (www.editgrid.com)

iRows (www.irows.com), shown in Figure 4

Figure 4. The iRows online spreadsheet.

Num Sum (www.numsum.com)
The following web-based office suites also have spreadsheet components:
ThinkFree (www.thinkfree.com)

Zoho (www.zoho.com), shown in Figure 5

Figure 5. The Zoho Sheet spreadsheet application in the Zoho web-based office suite.
Most of these web-based applications offer the same type of sharing and collaboration that you find in Google Spreadsheets. Many of them also offer a few more features than Google Spreadsheets, such as charting and graphing. All, like Google Spreadsheets, are free.