Dealing with Negative Feedback
Many eBay users are zealous about their feedback ratings. Although it's a good thing to want to build up a high rating, some users get quite obsessive about it.
For that reason, you want to be very sure of yourself before you leave negative feedback about a user . Some overly zealous users might retaliate by leaving negative feedback about youeven if it wasn't warranted.
"Mike Sez"
| | |
| --- | --- |
| | Don't get too upset if you receive the occasional negative feedback; it happens to the best of usespecially those who run a lot of auctions. You can't please everyone all the time, and sometimes you make mistakes that justify a negative feedback response. Just try to work out as many issues with other users as you can, and don't let the occasional negative feedback get to you. |
Unfortunately, there's not much you can do if you receive negative feedback; under normal conditions, feedback comments cannot be retracted. (There have been some exceptions, when the feedback has been obscene or slanderous in nature.) What you can do is offer a response to the feedback, which you do by going to your Feedback Forum page then scrolling down to and clicking the Reply to Feedback Received link. When the feedback comments list appears, click the Reply link next to a particular comment and then enter your response, as shown in Figure 3.4. Your new comment is listed below the original feedback comment on the Feedback Profile page. Just try not to get defensive; the best response is one that is calm, clear, and well-reasoned.
Figure 3.4. Replying to feedback left about you.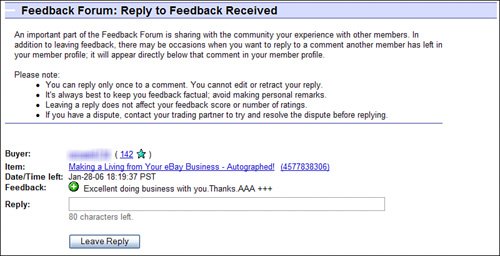 Note
| | |
| --- | --- |
| | If you and the other user work out your issues, you can agree to mutually withdraw any negative feedback. Complete the form at feedback.ebay.com/ws/eBayISAPI.dll?MFWRequest to initiate the removal process. |
Here are the key points to remember from this chapter:
In You can use feedback ratings and comments to judge the trustworthiness of other eBay users.

For quick reference, different levels of feedback ratings are indicated by a different color and type of star.

You can view other users' feedback by clicking on the feedback rating numbers next to their user names .

At the end of every auction, you should take the time to leave feedback about the other useralthough you should be cautious about leaving negative feedback.