Why Do We Get In Taxicabs?
Oddly, prisoners ' dilemma should manifest whenever you get in a cab. After having taken a cab ride why should you pay? "Because it's the right thing to do" is not a legitimate answer in game theory land. You should pay only if it's in your self-interest to pay. There is only a self-interested reason to pay: if you didn't pay, the driver might get upset and cause you trouble. Perhaps he would hit you or call the police and charge you with theft of services. Now imagine, however, that you have paid; why doesn't the driver pretend that you didn't and ask for payment again? If the reason you initially paid was to prevent the driver from getting upset, then you should be willing to pay again to avoid the same problem. Even if you pay once, you probably wouldn't be able to prove that you paid, so the driver could still charge you with theft of services. Of course, people ride in cabs all the time and there is rarely a problem with nonpayments or double payment demands. I'm not really sure why the prisoners' dilemma doesn't afflict cab rides. If it ever does become a problem, then everyone would start paying for cabs with credit cards so whether someone paid becomes provable.
Run Away, Run Away
Running away is often the best way of avoiding death in combat. If everyone on your side runs away, then you will probably all get killed . And thus is a cowards' dilemma born. Imagine that you and many others have been drafted. You are now in combat facing enemy troops. Let's assume that none of you are very patriotic, and your paramount objective is personal survival. The best way to avoid danger would be if you ran away, but all your fellow soldiers stayed and fought. Of course, if everyone else on your side ran away, then it would be even a better idea for you to abandon your combat position, for you certainly don't want to be the only one facing the enemy when they cross your lines. Running away is therefore the safest strategy you could follow regardless of what your fellow soldiers do.
A prisoners ' dilemma arises because if everyone on your side runs away, it will be easy for the enemy to hunt you all down and kill you. Thus, you all might be better off if everyone stayed than if everyone ran away. Individually you are all better off being cowards. Collectively you're all better off being brave. Armies solve this cowards' dilemma much as the Mafia solves the classic prisoners' dilemma. In most armies if a soldier runs away while in combat, the soldier can be court -marshaled and executed. The potential for being killed for cowardice thus actually helps solders as it saves them from a prisoners' dilemma.
Nuclear Dilemma
As Figure 38 shows, prisoners ' dilemma might someday cause a nuclear holocaust. In this game there are two adversaries armed with nuclear missiles. The situation is volatile because each side has only a few missiles. If one side launches a surprise attack, it will be possible for this attacker to eliminate all of its enemy's missiles. Therefore, the side that attacks first achieves victory, while its opponent suffers defeat. Imagine that a crisis arises between these two nations. The generals on both sides realize that the country to strike first wins. Each country would have a strong incentive to launch.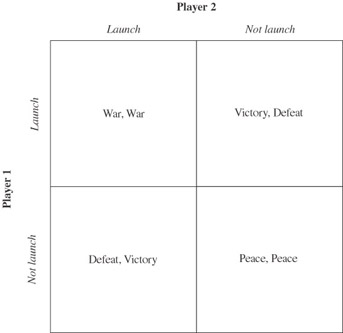 Figure 38
In the Cold War between the United States and the Soviet Empire, much thought was given to avoiding this nuclear dilemma. The United States spent massive sums of money developing a survivable deterrent by having a large number of missiles, many of which were in submarines hidden deep in the oceans, safe from Soviet attack. The United States always wanted the Soviets to believe that they could never win a nuclear war merely by striking first.
Currently, India and Pakistan are adversaries who both have nuclear missiles. Neither country appears to have a survivable deterrent. Consequently, generals in both nations might think that a surprise atomic attack could lead to victory. An atomic war between these two countries could kill far more than died in the Holocaust. What is truly terrifying about the prospects for such a war is that a general might order an attack not because he is evil and wants to kill his enemy; rather, he might launch his weapons because he fears his enemy will do the same. If both sides fear that their enemy might launch a surprise attack, then the fears of both sides become justified. Tragically, a rational response to the fear of being hit with a surprise attack is to attack your enemy first.