Authors: Chen W. J.
Published year: 2004


Pages: 7-10/90
---
Become a published author
Join us for a two- to six-week residency program! Help write an IBM Redbook dealing with specific products or solutions, while getting hands-on experience with leading-edge technologies. You'll team with IBM technical professionals, Business Partners and/or customers.
Your efforts will help increase product acceptance and customer satisfaction. As a bonus, you'll develop a network of contacts in IBM development labs, and increase your productivity and marketability .
Find out more about the residency program, browse the residency index, and apply online at:
---
---
Comments welcome
Your comments are important to us!
We want our Redbooks to be as helpful as possible. Send us your comments about this or other Redbooks in one of the following ways:
Use the online Contact us review redbook form found at:

Send your comments in an Internet note to:

Mail your comments to:

IBM Corporation, International Technical Support Organization
Dept. QXXE Building 80-E2
650 Harry Road
San Jose, California 95120-6099
---
---
Chapter 1:

Introduction
Overview
This is an On Demand world where companies must be more responsive , adaptive, focused, and resilient to compete in the business world. To attain these attributes, an information technology infrastructure must be in place to support the business and provide true values to businesses.
IBM provides a platform for e-business On Demand, which enables a robust environment to build your information and applications. A flexible set of offerings allows our customers to get started today in building an On Demand environment in support of their businesses.
This chapter talks about the IBM On Demand operating environment and its roadmap, key areas of performance, and guidelines. We also go through the process of performance tuning and recognize the performance limits of your system.
The topics discussed are:
IBM On Demand era

Why DB2 UDB and WebSphere

Key areas of performance

Performance tuning guidelines

Process of performance tuning
---
---
1.1

IBM On Demand era

Welcome to a whole new era—e-business On Demand .

We are entering a new era in business, the On Demand era. An era in which everyone demands that you are more responsive , more flexible, and more resilient than ever before.

It is a new era in business where you demand partners with the vision to foresee where the world is going and the resources to help you make sure that your ideas deliver the results you expect.
1.1.1

The IBM On Demand operating environment

The e-business On Demand is not just a vision. It is the mechanism by which businesses can be more responsive, variable, focused, and resilient to cope with ever-increasing pressures and competition from the global economy.
Overview
On Demand businesses need On Demand operating environments. The On Demand operating environment extends integration of people, processes and information to include the entire value chain. It virtualizes IT resources to improve utilization and align IT expenses with business needs. It is based on open standards and it leverages automated technologies to manage IT resources, allowing you to focus on running your business.
To achieve your business goals, you have to be efficient, integrated, flexible and responsive. For these objectives, new technology is available to help you to:
Reduce cost and improve speed.

Integrate people, processes and information across and beyond the enterprise.

Create and deploy new business processes as needed.

Adapt existing applications and business logic to meet changing requirements.
There are four major attributes of an on demand business:
Responsive

Able to sense and respond to dynamic, unpredictable changes in demand, supply, pricing, labor, competition, capital markets, and the needs of its customers, partners, suppliers, and employees .

Variable

Able to adapt processes and cost structures to reduce risk while maintaining high productivity and financial predictability.

Focused

Able to concentrate on its core competencies and differentiating capabilities.

Resilient

Able to manage changes and external threats while consistently meeting the needs of all of its constituents.
IBM provides an IT infrastructure for a business to be successful. We call this infrastructure the on demand operating environment. The IBM on demand operating environment is the end-to-end enabling of an IT infrastructure. It is an integrated platform, based on open standards, that can enable rapid deployment and integration of business applications and processes, combined with an environment that allows true virtualization and automation of the infrastructure.
In Figure 1-1 on page 3 we show the three main capabilities of On Demand solution offerings.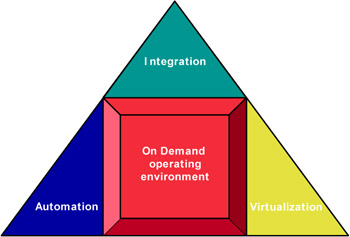 Figure 1-1: Overview of an on demand operating environment
Integration

The efficient and flexible combination of resources to optimize operations across and beyond the enterprise. It is about people, processes, and information.

Automation

The capability to reduce the complexity of management to enable better use of assets, improve availability and resiliency, and reduce costs based on business policy and objectives.

Virtualization

Provides a single, consolidated view of and easy access to all available resources in a network—no matter where the data resides.
What integration is
Integration is a more efficient and flexible way to combine resources to optimize operations across and beyond the enterprise. It provides a single, consolidated view of all available resources in a network—no matter where they reside.
Figure 1-2 shows the key areas of integration that can be used to consolidate the on demand operating environment.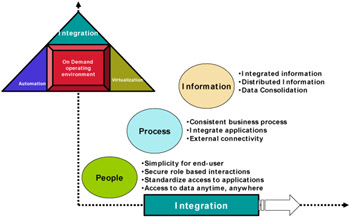 Figure 1-2: On Demand integration
People integration
People integration deals with the process of simplifying the end- user requirements by providing more productive tools and standard interfaces to access applications and data anytime , anyplace.
Simplicity for end-user

In order to simplify the end-user process, IBM provides the tools and facilities that make employees more productive and make it easier for customers, suppliers, and partners to do business with the company.

Secure role-based interactions

This ensures privacy and the protection of data while meeting the dynamic demands of the users. IBM provides an On Demand infrastructure so that people can be served with what they need, when they need it. Such facilities require a solution that includes integrated, role-based policies.

Standardize access to applications

Providing standardized interfaces to existing and new applications not only helps users to quickly adapt the new applications, but also help the company to quickly re-deploy resources to meet the changing demands of the industry.

Access to data anytime, anywhere

This allows users to access resources anytime, anyplace using desktop systems, laptops, ATMs, PDAs, cell phones, and other devices.
Process integration
Business requirements change everyday and so do business applications. In order to maintain the consistency among various business applications we need to have common standards and open technologies to integrate the processes.
Consistent business process

A consistent business modeling process is not dependent upon underlying product implementations . By providing a consistent model of business processes, you can easily adapt applications as the business needs change.

Integrate applications

An On Demand operating environment provides the infrastructure required for applications to integrate themselves by using common standards and open technologies.

External connectivity

Businesses are changing rapidly . The cost and time required to rewrite applications or redesign processes compatible with existing tools is unacceptable. On Demand infrastructure provide standards through which applications and processes can be connected to other external applications and processes.
Information integration
Information lying on different operating environments and architectures needs consolidation for greater performance and availability.
Integrated information

An On Demand environment must provide a mechanism with which to manage the most appropriate placement of data based on cost or business needs. Either it consolidates information onto a single platform or provides access to data kept in different places, depending on business needs.

Distributed information

Data and content can be accessed independently of its location or platform in an On Demand environment. The ability to access data without making any impact to an existing IT infrastructure helps corporations gain greater return on existing information assets.

Data consolidation

The On Demand environment provides data placement management which helps information to be consolidated for greater performance and availability.
IBM is changing the way we develop and deliver our products to meet on demand capabilities. Integration across people, processes and information provides the real strength to work in the On Demand era.
What automation is
Automation is the capability to reduce the complexity of deployment and monitoring, create a better use of assets, improve availability, and protect an IT infrastructure to meet the business needs with little or no human intervention.
Figure 1-3 on page 7 provides the blueprint given by IBM to assist customers to implement automation capabilities to enhance their businesses.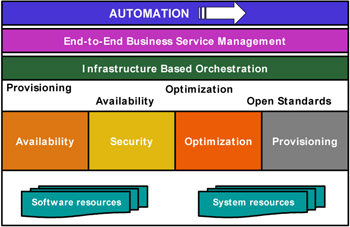 Figure 1-3: IBM Automation blueprint
The bottom layer of Figure 1-3 shows that IBM has a full portfolio of software and system resources with built-in autonomic capabilities, which provide the most advanced level of infrastructure to implement automation.
The second layer from the bottom shows the key automation capabilities:
Availability helps to ensure that systems are 24x7.

Security keeps systems protected from threats and unwanted intruders.

Optimization provide tools to ensure that all the resources are running at optimal performance and efficiency levels.

Provisioning focuses on the self configuring and self healing.
The next layer, Infrastructure Based Orchestration, implements coordination across the core automation disciplines: Provisioning, availability, optimization, and open standards.
The top-most layer shows End-to-End Business Service Management tools required to visualize an IT environment in business service terms. It aligns and measures Service Level Agreements by the needs of the lines of business. These tools are required to manage service levels; and connect, monitor, and manage business processes end-to-end for complete linkage of IT and business processes.
What vitualization is
Virtualization is the process of providing an On Demand operating environment where resources can be used efficiently based on the business requirements. Virtualization enables the sharing of resources and it helps to lower the Total Cost of Ownership (TCO) of an IT infrastructure.
Figure 1-4 shows the four major areas of virtualization.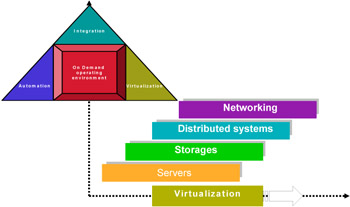 Figure 1-4: On Demand virtualization
Servers

By building an environment where the servers can be shared across geographies, business units, processes, and applications, allowing for consolidation.

Storage

Providing access to data, regardless of its physical location, provides cost effective storage media and more efficient data sharing.

Distributed systems

Enables advance distributed systems like grid computing, which allows sharing resources across the enterprise, systems, servers, clusters and storage devices dynamically to meet business needs. It helps to attain optimal utilization of resources and provide better return on investment.

Networking

The network resources can be shared among different enterprises using technologies such as VPNs, VLANs, IP virtualization, and more. It is very critical to manage the network resource optimally.
Overall, a virtualized environment provides simplified access to data and IT resources on demand. It reduces the need to purchase additional hardware and software. The savings realized from reduced capital expenditures can be reinvested in other areas to help grow the business.
---

Authors: Chen W. J.
Published year: 2004


Pages: 7-10/90