Java Virtual Machine
Online Instruction Reference Manual
Jon Meyer, Troy Downing,
O'Reilly Associates.
---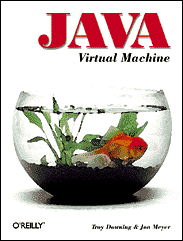 This is an online DRAFT version of the instruction reference (Chapter 13) printed in Java Virtual Machine, by Jon Meyer and Troy Downing, published by O'Reilly Associates, ISBN 1-56592-194-1. See book details for further information on this book.
The material presented here probably has some typos and minor errors, but we felt that it would still be a useful reference source for people looking for details of the JVM. You can also see Jasmin Home Page for further information on Jasmin and the JVM.

This material is provided on an "AS IS" basis without warranty of any kind, including without limitation the warranties of merchantability, fitness for a purpose and non-infringement. The entire risk as to the quality and performance of the Software is borne by you. Should the Software prove defective, you and not Chris Hector assume the entire cost of any service and repair. SOME JURISDICTIONS DO NOT ALLOW EXCLUSIONS OF AN IMPLIED WARRANTY, SO THIS DISCLAIMER MAY NOT APPLY TO YOU AND YOU MAY HAVE OTHER LEGAL RIGHTS THATVARY BY JURISDICTION.
---
example
aaload
aastore
aconst_null
aload
aload_<n>
anewarray
areturn
arraylength
astore
astore_<n>
athrow
baload
bastore
bipush
breakpoint
caload
castore
checkcast
d2f
d2i
d2l
dadd
daload
dastore
dcmpg
dcmpl
dconst_<d>
ddiv
dload
dload_<n>
dmul
dneg
drem
dreturn
dstore
dstore_<n>
dsub
dup
dup2
dup2_x1
dup2_x2
dup_x1
dup_x2
f2d
f2i
f2l
fadd
faload
fastore
fcmpg
fcmpl
fconst_<f>
fdiv
fload
fload_<n>
fmul
fneg
frem
freturn
fstore
fstore_<n>
fsub
getfield
getstatic
goto
goto_w
i2b
i2c
i2d
i2f
i2l
i2s
iadd
iaload
iand
iastore
iconst_<n>
iconst_m1
idiv
if_acmpeq
if_acmpne
if_icmpeq
if_icmpge
if_icmpgt
if_icmple
if_icmplt
if_icmpne
ifeq
ifge
ifgt
ifle
iflt
ifne
ifnonnull
ifnull
iinc
iload
iload_<n>
impdep1
impdep2
imul
ineg
instanceof
invokeinterface
invokespecial
invokestatic
invokevirtual
ior
irem
ireturn
ishl
ishr
istore
istore_<n>
isub
iushr
ixor
jsr
jsr_w
l2d
l2f
l2i
ladd
laload
land
lastore
lcmp
lconst_<l>
ldc
ldc_w
ldc2_w
ldiv
lload
lload_<n>
lmul
lneg
lookupswitch
lor
lrem
lreturn
lshl
lshr
lstore
lstore_<n>
lsub
lushr
lxor
monitorenter
monitorexit
multianewarray
new
newarray
nop
pop
pop2
putfield
putstatic
ret
return
saload
sastore
sipush
swap
tableswitch
wide
---
Java Virtual Machine, by Jon Meyer and Troy Downing, O'Reilly Associates
prev next contents
---
dload_<n>
retrieve double from local variables <n> and <n> + 1
Jasmin Syntax
     dload_0
or
    dload_1
or
    dload_2
or
    dload_3 
Stack
| | |
| --- | --- |
| Before | After |
| ... | result-word1 |
| | result-word2 |
| | ... |
Description
Retrieves the double-precision float stored in local variables <n> and <n> + 1 and pushes it onto the operand stack. Both <n> and <n> + 1 must be valid local variable numbers in the current frame, and together they must be holding a double.
See the description of dload for more information on how doubles are retrieved from local variables.
'dload_<n>' is functionally equivalent to 'dload <n>', although it is typically more efficient and also takes fewer bytes in the bytecode.
Example
 dload_0         ; push double in local variables 0 and 1 onto stack
dload_1         ; push double in local variables 1 and 2 onto stack
dload_2         ; push double in local variables 2 and 3 onto stack
dload_3         ; push double in local variables 3 and 4 onto stack 
Bytecode
| | |
| --- | --- |
| Type | Description |
| u1 | dload_0 opcode = 0x26 (38) |
| u1 | dload_1 opcode = 0x27 (39) |
| u1 | dload_2 opcode = 0x28 (40) |
| u1 | dload_3 opcode = 0x29 (41) |
See Also
dload, fload, aload, iload, lload
---
prev next contents
Java Virtual Machine, by Jon Meyer and Troy Downing, O'Reilly Associates