70. News Readers and RSS
Find a website you like? If the site offers an RSS (really simple syndication) feed, subscribing is as easy as dragging the URL from your browser and dropping it into NetNewsWire (www.ranchero.com, $29.95, shown in Figure 29). Over time, NetNewsWire learns to sort articles by "attention," moving articles you're most likely to enjoy to the top of your reading list.
Figure 29. NetNewsWire makes subscribing to RSS feeds a snap and can sort posts you're most likely to enjoy to the top of the list.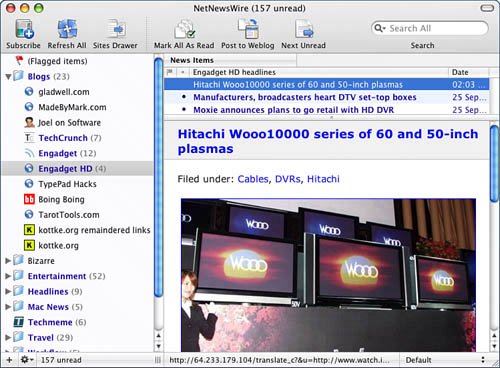 If you like the clean, colorful interface of applications such as Yojimbo and Mail, you'll love Newsfire (www.newsfirerss.com, $18.99). Lively animations alert you to new content and "smartfeeds" track articles based on any criteria you care to define.
71. Productivity Suites
Microsoft Office for the Mac offers features (including project management features in Entourage) PC users envy, but other options are available.
Open-source NeoOffice (www.neooffice.org, free) reads and writes Office documents and features an intuitive interface designed for OS X.
Apple's Pages (included in the iWork suite) lacks Word's arcane features, but designs exquisite documents in minutes. Keynote (also from iWork) outperforms PowerPoint, offering templates, smoother animations, and stable media integration.
Office apps from Mariner.com strip away seldom-used features, emphasizing ease of use and uncluttered interface design. Mariner Write and Mariner Calc provide Word and Excel compatibility for as little as $79.95.
72. Organizing Information
Wouldn't it be great to have a single, trusted system that could capture and recall all the random information you deal with every day?
Three amazing apps bring this dream within reach for all Mac users. Yojimbo (www.barebones.com, $39.00) is a virtual filing cabinet for facts, figures, snippetsyou name it. The candy-colored interface features folders on the left and content previews on the right.
SOHO Notes (www.chronosnet.com, $39.99) offers nested folders for more sophisticated filing schemes. My personal favorite, DEVONthink (www.devon-technologies.com, $39.95 Personal / $79.95 Pro, shown in Figure 30), incorporates a remarkable artificial intelligence feature that finds unexpected relationships among the facts you've filed away.
Figure 30. DEVONthink Pro incorporates a sophisticated artificial intelligence that detects surprising relationships among the facts you've filed within it.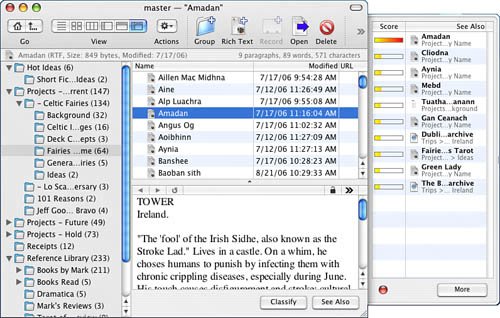 73. PDAs, Palms, and Handheld PCs
When you switch to a Mac, your Palm, Pocket PC, and Blackberry switch with you.
Thanks to iSync (built into Mac OS X), Palm devices sync seamlessly with the Mac address book and iCal. Prefer the Palm desktop apps? Free Mac versions are available from Palm.
Mac-only Missing Sync (www.markspace.com, $39.95) transfers contact info, appointments, podcasts, ripped music, and iPhoto photos to a Palm or smart phone.
PocketMac Pro (www.pocketmac.net, $41.77) syncs data and files with Pocket PCs or Windows Mobile devices; GoBetween ($24.95) does the same for the Blackberry (and syncs with MS Office for the Mac by design).
74. Podcasting
Podcasting on the Mac simplifies the process of creating a professional productand protects you from losing your best broadcasts to unexpected software failures.
GarageBand (see Figure 31) offers click-to-record production and multitrack audio; the capability to promote your podcasts on the iTunes Store is built in. Sound Studio from Freeverse (freeverse.com, $79.95) provides "monbots" that make short work of polishing audio, automating the bulk addition of intros and outros to audio files, and stitching several audio files together.
Figure 31. GarageBand produces podcasts as easily as it masters music tracks and alerts iTunes when your podcast is ready.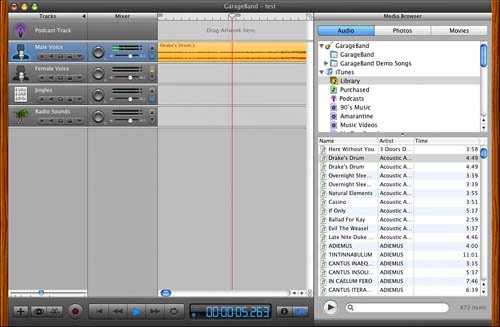 PodCast Maker (potionfactory, $29.95) enhances podcasts with chaptering and live website linksfeatures not available in Windowsand supports one-click uploading of podcasts to your .Mac account.
Video podcasting? The iSight camera built into MacBooks, Macbook Pros, and new iMacs turns your Mac into your own TV studio.