66. iPod Enhancements
iTunes (www.apple.com, free) organizes music, videos, and podcasts; it fetches album art automatically and shuttles files to your iPodbut for Mac users, that's just the beginning. With Podworks, (www.scifihifi.com, $8.00) you can back up your valuable song collection by dragging and dropping tracks from an iPod to a Mac.
Don't like one huge library for all your media files? Manage multiple libraries within iTunes with MultiTunes (www.porkrind.org/multitunes, $15.99).
iPresentIt (www.zapptek.com) turns your video-enabled iPod into a presentation powerhouse. Only the Mac version supports exports of Keynote presentations to iPhoto slideshows and preserves those fancy "builds" that reveal the bullet points on your slide one-by-one.
In the mood for a movie? Send any video to the iPod with VisualHub (www.techspansion.com, $23.32), a universal video converter you can use even if you don't know a codec from a frame rate.
67. Launchers
Launchers open any program or file in a heartbeat. Edit, move, copy, email, or transfer files with a keystroke, access URLs without launching a browser first, and much more. After you start using launchers on your Mac, you'll wonder how you ever lived without them.
Quicksilver (quicksilver.blacktree.com, free) completes hundreds of common tasks in dozens of applications with three or four keystrokes. An extensive plug-in library also enables Quicksilver to manipulate, mail, and even edit files on-the-fly. Once invoked, LaunchBar (www.obdev.at, $20.00) displays a context-sensitive drop-down list of possible actions in your Mac's menu bar, giving you single-click access to common tasks and frequently used programs. Butler (from www.petermaurer.de/butler, $18.00) provides mouse-accessible pop-up menus and screen hotspots that trigger program actions.
68. Making Slideshows and Movies
iPhoto and iMovieHD (supplied with Mac OS X) make short work of editing home movies and creating cinematic slide shows. Ready for more power and control? Your Mac gives you some great options.
Slideshow app FotoMagico (www.boinx.com, $79.99, shown in Figure 27) offers total control over image resolution, panning, cropping, and transitionsand creates HD slideshows that export to DVD.
Figure 27. FotoMagico offers powerful tools for controlling every aspect of your slideshow and can export high-def versions to DVD.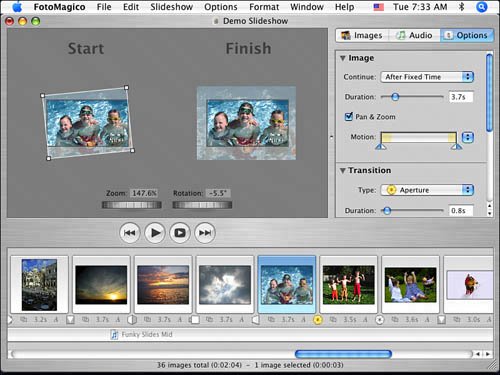 Spielbergs-in-training will want Final Cut Express HD (www.apple.com, $299). The tools in this prosumer package aren't for the faint of heart, but they allow for drag-and-drop clip editing, composite images, real-time rendering of effects and transitions, and blending of up to 99 audio tracks.
69. Music Recording and Editing
GarageBand (www.apple.com, included in the iLife suite) turns any Mac into a sound studio. Use built-in digital instruments, connect a MIDI keyboard, or plug in your mic and belt out a tune; GarageBand makes recording, enhancing, and editing audio tracks as simple as cutting and pasting text in a word processor. PCs have nothing quite like it.
Sound Studio (www.freeverse.com, $79.95, shown in Figure 28) is a multitrack editor so simple to use that my nephew was mixing custom MP3 ringtones within five minutes of launching the program.
Figure 28. Sound Studio packages precise, multitrack audio and music editing into a straightforward, easy-to-use interface.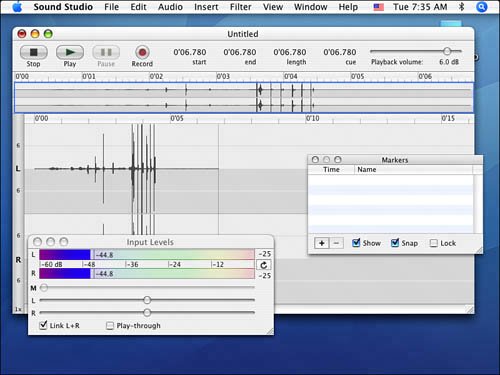 Audicity (www.audicity.sourceforge.net, free) is a cross-platform, open-source editor popular with podcast producersmostly because of its price.