23. Native PDFs
Creating PDFs (Adobe's Portable Document Format) on a PC is easyprovided you're willing to shell out $300 for the necessary software.
I wasn't willing to spend the moneyso whenever clients asked for PDFs, I went looking for alternatives. Several PC programs promise inexpensive PDF conversion, but the ones I tried limited document length, inserted odd fonts, or produced documents that looked great onscreen but terrible when printed.
To create a PDF from any application on my Mac, I click File, Print, PDF; I don't need expensive software or additional plug-ins.
If you create PDFs regularly, you can save time, effort, and money by switching to a Mac.
24. Powerful Bundled Software
The last time I bought a PC, it came with 20 gigabytes of watered-down software I didn't need, want, or like.
By contrast, my Mac came bundled with full-featured, powerful applications without parallels in the PC universesuch as iChat's "out of the box," zero-configuration video conferencing and GarageBand's sophisticated virtual sound studio, complete with digital instruments, a sound effects library, multitrack recording, and one-click podcast publishing. Can you spend less on a PC? Sure. Will that bargain PC be able to do right out of the box what the brand-new Mac in Figure 6 can? Nope.
Figure 6. Right out of the box, with nothing more than bundled software, new Macs, like this MacBook, outperform many comparably priced PCs. (Image courtesy of Apple.)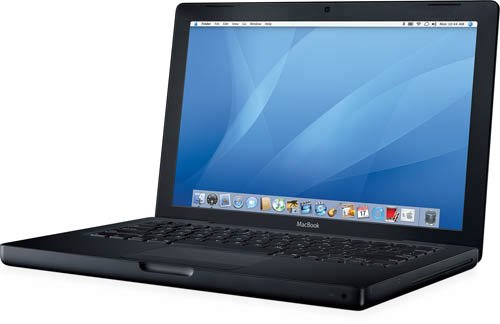 25. Blazing Fast Performance
Tech specs don't matter much to me. Instead, I want to know what a computer can help me do, and how quickly, easily, and efficiently I'll be able to do it.
So rather than focus on the buzz-worthy nature of the Intel processors (now found in every Mac), I think in terms of what these powerful new chips make possible:
Programs install and start faster than ever.

Videos and DVDs don't take as long to encode and create.

Effects in Keynote presentations are even more dazzling.

I can zip through my massive photo collection in seconds.
Ready for blazing-fast performance? Want to spend more time getting things done and less time waiting around? Switch to a Mac.
26. The Value Question
One of the biggest myths out there is that "Macs cost more." As Chris Seibold noted in "The Evolution of Mac Pricing" (www.applematters.com, 9/25/06), the high-end Mac Pro costs significantly less than an identically equipped Dell.
A MacBook may cost more than a laptop from a big box store. But will the bargain PC have the same features, be as reliable, or run both Windows and Mac OS X?
When comparing Macs to PCs, be sure you're comparing apples to Apples. Which costs more: the computer that "just works"or the computer that freezes up, crashes, and requires rebooting regularly?
27. Switching Is Easy
Moving all your files from one PC to another is hard enough. So switching to the Mac should be even harder, right?
Wrong. Have a wireless network? You can beam your files from one computer to the other. Don't have a wireless network? Pipe your files from your old PC to your new Mac through a standard ethernet cable. Don't have a network card in your old PC? Copy your files to an external hard drive (or even your iPod!), and then copy them to your Mac. Prefer a turnkey solution? Move2Mac software ($49.95, from detto.com) provides USB cables to connect your old PC to your new Mac, and an application that makes it easy to select files, folders, email, and address book entries on the PC, specify destinations on the Mac, and move up to 500MB of data from one machine to the other in 15 minutes or less.