99. Macworld.com
After "twenty years as the Mac experts," the folks at Macworld.com (shown in Figure 41) have a sprawling, well-designed site packed with articles, insights, news, tips, and authoritative product reviews. A great deal of the content comes from back issues of the print magazine that goes by the same name.
Figure 41. Macworld.com provides online access to hundreds of articles, tips, and product reviews, many directly from the pages of its namesake print magazine.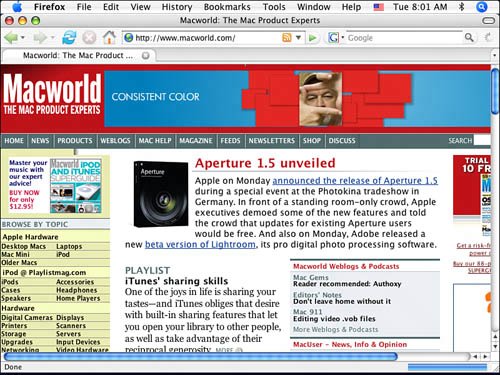 Macworld.com incorporates a spiffy news site, MacCentral.com; it offers updates (often hourly) of the latest Mac-centric news. You can also browse by topic, finding articles on hardware, software, games, and more.
Shopping for a recent grad or a lucky spouse? Macworld.com's Gift Guide tells you everything you need to know to snag the perfect swag for Mac-loving family and friends.
100. The Unofficial Apple Weblog (TUAW.com) and Engadget.com
TUAW.com is a raucous, freewheeling, weblog serving up news, opinion, and product reviews with a healthy dose of attitude (or, as the site's writers prefer to call it, charm).
Dozens of posts appear each day from videos of lucky owners unboxing their new 24" iMacs to features on the latest wacky Dashboard widgets. Everything, including the site's live coverage of Apple's official events, is peppered with the site's trademark irreverence.
Sister site Engadget.com (another member of Weblogs, Inc. network), just as saucy, provides broader coverage, spotlighting Apple hardware and accessories, but also pointing to innovative PCs, video game consoles, DVD players, robot companions, and other hip, high-tech objects of desire.
101. VersionTracker.com
VersionTracker.com (a sister site to MacFixIt.com) tracks the latest updates to thousands of software titles for the PC and the Mac. Although the stream of constant updates can be overwhelming, the Top Downloads and Editor's Picks lists make finding critical updates and new apps of interest much easier.
The website integrates with VersionTracker Pro software ($49.95 annually, as shown in Figure 42). Version Tracker alerts you to updates for virtually every application on your Mac, including titles from major companies and shareware vendors. After installation, it scans your hard disk, highlights apps in need of updates, and provides a clear outline of the features in the newest version.
Figure 42. Version Tracker Pro software scans your hard disk for applications, identifies programs in need of an update, and makes downloading and installing the new versions a snap.