iCal is great for managing your life, but it's also designed to display other people's calendars. In fact, the real power of iCal comes from its ability to share calendars so you can see what your family, your coworkers, or your friends are doing and organize your life accordingly .
As you've seen, when you open iCal and add new calendars, iCal automatically chooses colors for your calendars. However, you can change these colors and their names , and add a description for them. Click a calendar in the Calendars list to select it, and then click the Info button to display the Info Drawer. You can change the calendar's name by clicking the name in the Info Drawer and typing a new name ; you can change the calendar's color by selecting a color from the pop-up menu at the top right of the drawer ; and you can enter a description by clicking Description and typing any text you want.
You can share your calendars in two ways: you can export them or you can publish them to .Mac (the latter option is only available if you have a .Mac account; see Chapter 11 for more on .Mac). If you publish a calendar on .Mac, others can view them in two ways: they can see the calendar on a web page, or they can subscribe to the calendar and view it in their copy of iCal.
Export Calendars
If you export calendars, you save them as files that you can send to others. To do this, select a calendar in the Calendars list, and then select File Export. This saves the calendar as a file with an .ics extension. Send this file to someone else, either over a network or by e-mail, and all they have to do is double-click the file to add the calendar to their copy of iCal.
This is a good way to share calendars for fixed events, such as a school schedule, a sports schedule or other calendars that won't change. But even if the events do change, you can make changes on your calendar and re-export it, or the other person can add or edit events, export the calendar, and send it back to you.
Publish Calendars on the Web
If you have a .Mac account, you can publish calendars on the Web. Other users can view them on a web page, whether they have iCal or not, or they can subscribe to them (see the next section) and view them in their copy of iCal. Click the calendar in the Calendars list to select it, and then select Calendar Publish. A Publish sheet displays.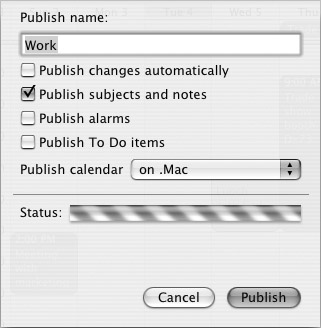 There are several options available on this sheet:
Publish Changes Automatically If you check this, iCal updates the published calendar whenever you make any changes, as long as you have an active Internet connection.

Publish Subjects and Notes This publishes subjects, or the names of your events, along with any notes you have added in the Info Drawer. If you uncheck this, your published calendar will show others when you are busy, but not what you are doing.

Publish Alarms This also publishes alarms. These alarms are only accessible if other users subscribe to them with iCal (see the upcoming "Subscribe to Calendars" section).

Publish To Do Items This also publishes a list of To Do items (see the "Manage To Do Lists with iCal" section).

Publish Calendar You can choose from publishing on .Mac or on a WebDAV server. The latter is usually only available on corporate networks.
After you publish a calendar, you'll see a Calendar Published dialog confirming that the publication was successful. (If you don't have an active Internet connection, or if there are other network problems, you'll see an error message.)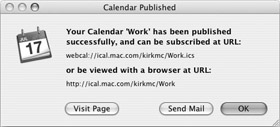 This dialog shows the URLs that can be used to view or subscribe to the calendar; you can select these URLs and save them. The dialog also has three buttons :
Visit Page This takes you to a web page, where anyone can view your calendar, from any web browser on any platform. This web page displays like this:

| | | |
| --- | --- | --- |
| | Tip | As you can see in the preceding illustration, there are Subscribe and Download links in the left-hand column of the calendar's web page. If a user who has iCal clicks one of these links, they'll be able to subscribe to, or download, the calendar. |

Send Mail This sends an e-mail message, containing the URLs for the calendar, using Apple Mail. Add the recipients you want to this message and send it so others can access your calendar.

OK Click this to close the dialog.