What Do Customers Want?
Let's start with the customer perspective. Decision making generally covers six major stages:
Plan and prioritize. This involves determining the organizational goals and objectives and outlining the actions needed to achieve them. During this process, customers will uncover barriers, issues, and challenges that must be addressed in order to succeed.

Identify options. At this point, the question becomes: "What are my options to overcome this challenge?" During this phase of the process, customers are concerned with make/ buy decisions and identifying supplier candidates.

Evaluate options. This stage involves narrowing the supplier universe down to a select few, often using formal criteria.

Select the best option. At this point, possibilities are further narrowed down to one alternative.

Contract. Here the parties agree on how to work together (often includes negotiations around terms and conditions, such as price, durations, and service level requirements).

Build and track. This level involves the ongoing implementation, use, and maintenance of the solution.
Customers may find value in having salespeople participate in all of these phases or they may find value in only limited participation. For example, if a customer is already in the "evaluate options" stage, then a lower-ladder or transactional approach may be most appropriate. On the other hand, if the client is open to salesperson involvement throughout a broader portion of the process, then a more consultative approach may be appropriate. For example, a customer may value the efforts of a Needs Satisfaction Seller to assist in drilling down into problems and identifying options to address those problems. When a customer values involvement in all stages of the process, from business planning to post-sales use, it becomes possible for a salesperson to achieve Trusted Advisor status. Figure 5.2 shows how different rungs of the ladder align with a customer's decision making process.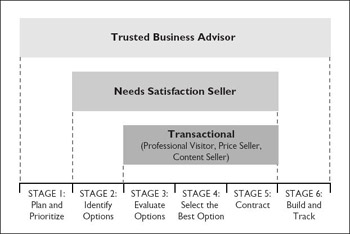 Figure 5.2: How Sales Impact Ladder Aligns with Customer Decision-Making Process
Balancing Customer Potential and Cost of Sales
At the same time, a salesperson has to take into account what their internal customers are looking for. Customers who may be looking for a salesperson to advise their decisions throughout the phases may only represent a very small opportunity for the business. In such cases, it may make sense for the salesperson to look for ways to more efficiently deliver value (e.g., delivering newsletters as opposed to in-depth financial reviews) to the client without overinvesting their limited resources.
When we looked across the organizations in our study, we found that, in general, transactional customers were served by inside sales teams and distributor networks or were given incentives to use self-service channels, such as e-commerce. Face-to- face sales teams, as well as some groups of inside sales resources, were reserved for customers with whom a consultative relationship was desired. The goal in these instances was to preserve the investment in a direct sales force for those segments and opportunities that had the highest potential. That is not to say that face-to-face sales teams never engaged in transactional sales or that inside sales resources could not have consultative relationships with clients. Just the opposite may occur, depending on what the buyer and seller are looking for in the relationship. But in general, the highest valued resources were deployed for those customers who valued a consultative approach and who were considered key to the selling organization.