It's Been Decades. What Happened?
During a study of sales organizations conducted in 1986, we constantly heard about the move to consultative selling as the next big frontier for sales professionals. It was therefore somewhat surprising to hear the same strategies expressed some 17 years later. Why has it taken so long to transition from philosophy to standard practice? Just why is consultative selling still the "next big thing"? One reason, of course, relates to the everchanging nature of sales. Consultative selling means a much higher standard than perhaps envisioned in 1986. Therefore, achieving it has become somewhat like hitting a moving target.
Another reason has to do with timing. Consultative selling takes considerable investment by the supplier. When the market was in a buying mode, as it was in the United States for much of the mid- to late-1990s, anything that lengthened a sales cycle was considered a waste of time. As a result, sales organizations shifted focus and interpersonal selling skills often atrophied in favor of product knowledge and order processing. As the situation began to change and sales cycles became more complex, consultative selling was reintroduced into the mix, at least from a training perspective. Pockets of success were achieved, usually in the areas of national and global account management. However, management reinforcement and a support infrastructure were lacking, and as a result, consultative selling never made the transition from philosophy to consistent, standard practice across sales organizations.
So Why Bother Now?
Having established that consultative selling is a skill-, knowledge-, and resource-intensive process, as well as an elusive and moving target, the question becomes, why are organizations still chasing this strategy? The answer lies in the need for long-term perspective. There are different kinds of market conditions that impact sales organizations. Some, such as economic factors, tend to be cyclical and thus short-term in nature. Underlying these is a series of long-term circumstances that, although showcased or masked by cyclical conditions, are by no means temporary.
This is well illustrated by the 2001 recession and the slowdown that followed. Although market challenges, customer demands, and competitive pressures had been growing for a long time, they were somewhat hidden or at least countered by market conditions of economic prosperity. When the cycle reversed, severe budget cutbacks accompanying the economic downturn put the spotlight on these factors. By that time, many organizations were playing catch-up. As a result, the overwhelming feeling among sales organizations today is that the factors that make sales an increasingly complex process are here to stay. Even as economic growth returns, the need to address these challenges will remain. Organizations must be willing to make the investment in consultative selling if they are going to reap the benefits. Noted one top performer, "If you 'go consultant,' you could be adding two to three months to the sales cycle. Of course, you also could be adding all kinds of revenue."
Is Consultative Selling Always the Answer?
As noted previously, it may not be practical for all salespeople to practice consultative selling with every customer. The key then, to this new adoption of consultative selling, is a flexible approach that allows a salesperson to determine to what degree to implement it. When, for example, will it make sense for a salesperson to become a Trusted Advisor to a customer? Let's look at this issue using a relationship model. The Sales Impact Ladder in Figure 5.1 shows how different levels of sales behaviors can impact a relationship with a customer. These levels range from transaction-oriented to more consultative in nature.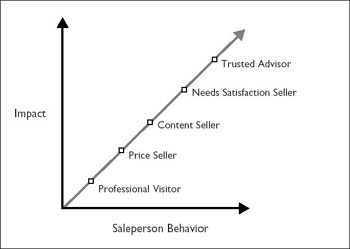 Figure 5.1: Sales Impact Ladder
The first three selling levels describe transactional selling and are characterized by goods and services being exchanged for money. The salesperson's role in these transactions is to facilitate the process and render it painless and even enjoyable, as noted in the following descriptions:
Professional Visitor. This salesperson sells on personality or common interests, often meeting the personal needs of the customer but failing to form a long-term strategic business alliance. Professional Visitors use friendliness and other incentives to get in the door. While it is true that people often buy from people they like, Professional Visitors are unlikely to maximize the potential of an account, because they are rarely viewed as a highly valuable resource.

Price Seller. Conversations in this kind of relationship revolve around price, cost, deals, and quotes. Price Sellers are higher on the ladder than Professional Visitors because they need a bit more knowledge to support negotiations. Price Sellers may meet the customer's financial needs but have difficulty selling the value of a product or service and end up reinforcing a perception of their product or service as a commodity.

Content Seller. This level focuses on product knowledge. Content Sellers typically are highly knowledgeable about their products and try their best to explain it all to customers. The problem is that the sales presentation frequently becomes what is known as a "feature dump"—long on technical information but short on customer benefits.
The two higher consultative levels of the Sales Impact Ladder reflect greater skill and investment but offer more value to customers, support longer-term relationships, and allow for greater salesperson involvement in the buying process. These levels include the following:
Needs Satisfaction Seller. This salesperson uses selling skills to uncover customer needs then tailors the responses. The solutions presented relate directly to the customer's situation and needs. Features are still mentioned, but the emphasis is on the benefit (or value) to the customer. Needs Satisfaction Sellers satisfy the customer's organizational needs by addressing problems and opportunities.

Trusted Advisor. This salesperson has the greatest impact on customers and the sale. It is at this level that the salesperson's behavior is focused on helping customers succeed in their business. Trusted Advisors are in the strongest position to form a real business alliance with the customer. They use selling skills to probe at a deeper level— to discover the business issues that serve as the "need behind the need" (the reason why the need is important). Trusted Advisors possess an in-depth understanding of customer and industry factors and are able to use this expertise to provide value to clients. This kind of relationship takes significant investment in time and other resources to create. One example of a sales organization trying to position itself as an advisor involved executive briefings on industry topics as the company noted, "We stage free executive briefings that are all about the customer and not about sales. We get a good understanding of their top priorities and then build a tailored half-day or full-day briefing where we give them relevant industry information and noncompetitive examples. Then they know that we can provide real insight."
A salesperson can be successful at every stage of the ladder. Clearly, the Needs Satisfaction Seller and the Trusted Advisor would be preferred by most selling organizations because they are most resistant to client turnover. This is not always feasible, however, and the dilemma becomes knowing where on the ladder you should be with any given client. There are two key questions to ask: "What kind of relationship does this client desire from a supplier?" and "What makes good business sense?"