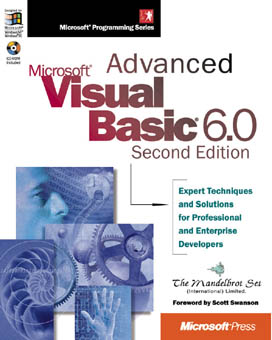 Copyright© 1998 by The Mandelbrot Set International, Ltd.
PUBLISHED BY
Microsoft Press
A Division of Microsoft Corporation
One Microsoft Way
Redmond, Washington 98052-6399
Copyright © 1998 by The Mandelbrot Set (International) Limited
All rights reserved. No part of the contents of this book may be reproduced or transmitted in any form or by any means without the written permission of the publisher.

 

Library of Congress Cataloging-in-Publication Data
 
Advanced Microsoft Visual Basic 6.0 / The Mandelbrot Set
 
       (International) Limited. -- 2nd ed.
 
              p.   cm.
 
        Includes index.
 
        ISBN 1-57231-893-7
 
        1. Microsoft Visual BASIC.   2. BASIC (Computer program language)
 
    I. Mandelbrot Set (International) Limited.  II. Title: Advanced
 
    Microsoft Visual Basic 5.
 
    QA76.73.B3A345  1998
 
    005.26'8--dc21                                                                        98-42530
 
                                                                                                        CIP
 
Printed and bound in the United States of America.
1 2 3 4 5 6 7 8 9 WCWC 3 2 1 0 9 8
Distributed in Canada by Penguin Books Canada Limited.
A CIP catalogue record for this book is available from the British Library.
Microsoft Press books are available through booksellers and distributors worldwide. For further information about international editions, contact your local Microsoft Corporation office or contact Microsoft Press International directly at fax (425) 936-7329. Visit our Web site at mspress.microsoft.com.
Intel is a registered trademark of Intel Corporation. ROOS, VBA2000, and Visual DateScope 2000 are trademarks of The Mandelbrot Set (International) Limited. ActiveMovie, ActiveX, Developer Studio, DirectShow, JScript, Microsoft, Microsoft Press, Visual Basic, Visual C++, Visual FoxPro, Visual InterDev, Visual J++, Visual SourceSafe, Visual Studio, Win32, Windows, and Windows NT are either registered trademarks or trademarks of Microsoft Corporation in the United States and/or other countries. Other product and company names mentioned herein may be the trademarks of their respective owners.
Acquisitions Editor: Stephen Guty
Project Editor: Wendy Zucker
Technical Editors: Marc Young, Jean Ross
Foreword
Since its inception in 1991, Microsoft Visual Basic has revolutionized the way developers create applications for Microsoft Windows. Through features such as IntelliSense, statement completion, ActiveX Control creation, a native code compiler, and database access, Microsoft has worked hard to keep developers well-equipped with the latest innovations in rapid application development. In Visual Basic 6 Professional and Enterprise Editions, Visual Basic has been expanded to make developers even more productive in what they do most often—access data, whether in a relational database (such as Microsoft SQL Server 7 or Oracle 8) or in a nonrelational data store (such as a directory service). Recognizing a rapid upsurgence in the adoption of the Web as a true cross-platform application environment, Microsoft has added new technologies to support client (Dynamic HTML) and server (WebClasses). These new features, along with literally hundreds of other enhancements and optimizations, bring the development of enterprise-wide, line-of-business applications within the reach of millions of developers who have mastered Visual Basic. In addition, these features provide the power and performance needed to create applications that run in mission-critical scenarios.
The Mandelbrot Set (International) Limited (TMS) is one of the companies that I see pushing the limits of Visual Basic most frequently. TMS is recognized worldwide as a leader in Visual Basic consulting and development. I've worked with TMS for some time now, and I've seen in their technical papers, books, and presentations that they are able to bestow a level of technical clarity not often seen in this industry. About once or twice a month, I'll get questions or insights from Peet Morris (the technical director of TMS) that are so advanced they rival the understanding of the product normally seen only by the chief architects of the product itself.
I first met Peet Morris at VBITS in San Francisco just about a year ago. I attended Peet's session and was immediately taken with his technical skill and knew that he would be an invaluable resource in the future. We immediately hit it off both technically and personally, and since then he's done sessions for us at conferences such as Microsoft TechEd this past summer in New Orleans. Peet's sessions were consistently among the most highly rated for their technical content. I eagerly anticipate Peet's visits to Redmond, where we talk about going out for a pint of Guinness but instead end up doing something trivial, such as watching the last episode of Seinfeld with friends while discussing the intricacies of Visual Basic's threading model or subclassing of date functions.
Understand that this book is not your canonical, learn-to-become-a-professional-programmer-in-x -days text. It's also not designed to provide you with a laundry list of all the new features of Visual Basic 6. This book is intended for the working professional, thus exploring in depth many of the topics that beginning books either ignore or gloss over. Drawing on the many and varied strengths of the experts at TMS, each chapter drills down into topics that are not often considered carefully in the course of day-to-day project development. The lessons learned from this book are the gems that one might unearth at a VBITS conference or in a technical course outside the classroom and away from the podium, where developers gain insight through open dialogue.
Life on the edge takes a lot of work and talent, and TMS has often had to learn the "how" the hard way. This book is your chance to benefit from their combined experience. If you're working with Visual Basic and trying to push the envelope, you'll find a lot of useful information here.
Sean P. Alexander
Lead Technical Product Manager, Visual Basic
Developer Tools Division
Microsoft Corporation