Printing
You can print your images directly from within Aperture using its full-featured printing functions. In addition to producing individual prints at any size supported by your printer, Aperture can print contact sheets and custom layouts.
As with Web layouts, you don't have to resize your images before you print them. Aperture takes care of the appropriate resizing at print time.
Using Onscreen Proofing
Aperture provides a built-in onscreen proofing facility that can help your monitor deliver a more accurate view of what your final printed colors will look like. Color management is a complex topic worthy of its own book. In this section, we'll be covering the basics of onscreen proofing.
Running a color-accurate system is also expensive. To get accurate onscreen proofs, you'll need a high-quality (read pricey ) monitor as well as special profiling hardware. If you're using a standard Apple display with the default monitor profile, don't expect your onscreen proofs to perfectly match your printed pages.
Whether you choose to use onscreen proofing or not, over time you'll probably learn to better predict how the image on your screen will appear on paper. As you become more experienced with the traits of your particular printer, it will become easier for you to look at an image onscreen and say, "Oh, that will shift to red," or "Those shadows will turn out too dark."
Installing Printer Profiles
For onscreen proofing to work, you must have ICC profiles installed for your printer. Most high-quality photo printers ship with ICC profiles that are installed along with the printer driver. Some vendors provide profiles as a separate installation, while others provide improved profiles as a separate download. Check your printer vendor's Web site for more information.
If you're not sure whether you have profiles installed for your printer, you can use the Color Sync Utility to see a list of your currently installed profiles. You'll find the ColorSync Utility in your Applications > Utilities folder.
Selecting a Profile
You must select a profile before you can activate onscreen proofing. Choose View > Printing Profile and then select the profile for the printer and paper that you want to print on. Because different papers have different characteristics, you must be sure to pick the correct profile for your chosen paper type.
Toggling Onscreen Proofing
After you select a profile, onscreen proofing will automatically be activated, and your image display will be adjusted. The original colors in your document are not altered ; the display is simply adjusted to better reflect your printed results.
You can turn onscreen proofing on and off by choosing View > Onscreen Proofing or pressing Option-Shift-P.
Tip
Once you activate onscreen proofing, it remains active until you turn it off. Even if you restart Aperture, it will still be on. So if you see strange posterization in your image, particularly in the shadows, check to see if onscreen proofing is turned on.
Using the Print Dialog Box
When you are ready to print, select the images that you want to print and then choose File > Print or press Command-P. Aperture will present its Print dialog box.
For the most part, the Aperture Print dialog box ( Figure 8.24 ) is very intuitive. A preview of the layout of the current page is shown on the right side, layout and configuration controls are provided in the middle, and preset controls are shown on the left.
Figure 8.24. From Aperture's Print dialog box, you can define printer settings as well as page layout options.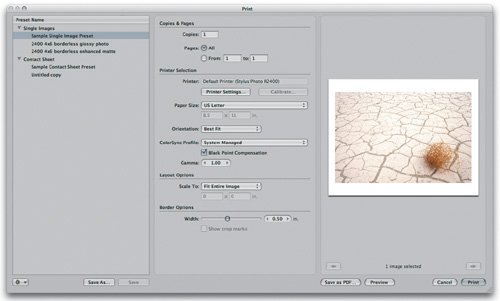 Aperture provides two printing modes: Single Images and Contact Sheet. You can define different presets for each of these modes, and Aperture includes several default presets in the Preset Name panel on the left side of the Print dialog box.
Aperture defaults to selecting the last preset that was used. If you've never printed before, then Sample Single Image Preset will be chosen. If you want to print a single image per page, then select a Single Images preset. If you want to print multiple images on a page, then select a Contact Sheet preset.
Configuring the Print Controls
In the Copies and Pages section, you can specify the number of pages and the pages you want printed. You can use the arrow keys below the image preview to see what will be printed on each page.
Printer Selection takes the place of the Page Setup dialog box that you usually use in a Mac application. Click the Printer Settings button to invoke the standard dialog box. From here, you can select the printer that you want to print to. You'll also want to configure some options for your specific printer driver:
Select a paper type. Most printer drivers allow you to select the type of paper that you're printing to.

Deactivate color management. Many printers include built-in color management software that tries to correct the color in your image. When printing from Aperture, you want Aperture to have full control of your image's color, so deactivate any built-in color management options in the printer driver.
When you've finished configuring the Printer Settings dialog box, click Done to return to the Aperture Print dialog box.
Once you've selected a printer, the Paper Size pop-up menu will include all of the paper sizes provided by your current printer selection. Select your target paper size, and the preview image will update.
From the Orientation pop-up menu, you can choose Portrait or Landscape orientation, or choose Best Fit to have Aperture automatically fit your image so that it fills as much of the page as possible.
If you were using Aperture's onscreen proofing feature, then you'll want to set the ColorSync Profile pop-up menu in the Print dialog box to the same profile that you selected as your proofing profile.
If you select Black Point Compensation, Aperture tries to adjust your image so that its blacks match the black point specified in your current printer profile. This option should provide better detail in the shadow areas, but it may make your images less contrasty, as your blacks may lighten. Experiment with this setting to learn more about how it affects the output from your particular device.
In the Gamma field, you can set your output gamma to match the gamma setting on your monitor. If you're not sure what gamma your monitor profile uses, leave Gamma set to its default of 1.0.
Scale To lets you tell Aperture to scale your image to a specific size (4 x 6 inches, 5 x 7 inches, 8 x 10 inches, or a custom size) or to automatically fit it to the current page size. If you select Fit Entire Image, then the entire image will be placed on the page at the maximum size that will fit within the current page size. If you choose Fill Entire Page, then the image will fill the whole page. If the image and the page have different aspect ratios, then the image will be cropped.
Aperture can automatically put a border around your image. The Border slider lets you control the width of the border. Border width is subtracted from the initial page size calculation that Aperture derives. So if you select Fit Entire Image in the Scale To Options, Aperture will figure out the largest size that will fit on the page and then reduce the image to make room for the border width that you specify.
When you select a Scale To size that is smaller than the page size, the Show Crop Marks check box will become active, giving you the option of including crop marks on your final page.
Printing Multiple Images on One Page
If you want to print multiple images on a single page, you'll need to use a Contact Sheet preset. The Sample Contact Sheet preset is designed to let you print small thumbnails of images on one page, in the form of a traditional contact sheet.
When you choose the Sample Contact Sheet preset with multiple images selected, your images will be arranged in a four-column grid and will take up as many pages as required to print every image.
Tip
If you want to quickly print a contact sheet of all of the images in any type of Aperture objectproject, album, book, and so on deselect all images and choose Print. Aperture will automatically create a contact sheet containing all of the images in that object.
When you use a Contact Sheet preset, you'll have three additional layout options ( Figure 8.25 ): You can select Number of Columns and Rows and then specify the exact number of images that you want in your grid. From the Metadata pop-up menu, you can select a metadata set to include below each image. From the Font Size menu, you can specify the size used for the metadata display.
Figure 8.25. When you use a Contact Sheet preset, Aperture adds three more options to the Print dialog box.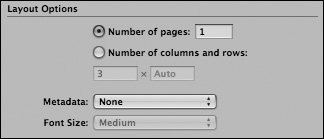 You can also use Contact Sheet presets for printing multiple images on a page at larger sizes. For example, if you select two images before printing, you can create a Contact Sheet layout that prints them both on one page at as large a size as possible.
Here's how to create a Contact Sheet layout:
| | |
| --- | --- |
| 1. | Choose New Contact Sheet Preset from the action menu below the Preset Name panel. Give the new preset a name. |
| 2. | Set Orientation to Best Fit. |
| 3. | Set Number of Pages to 1. |
| 4. | Configure the rest of the options as appropriate for your printer. |
In a Contact Sheet layout, you can specify either a number of pages or a number of columns and rows. When you specify a specific number of pages, Aperture sizes your images so that they all fit at maximum size across the number of pages you specify ( Figure 8.26 ).
Figure 8.26. You can print multiple images on a single page using a Contact Sheet preset.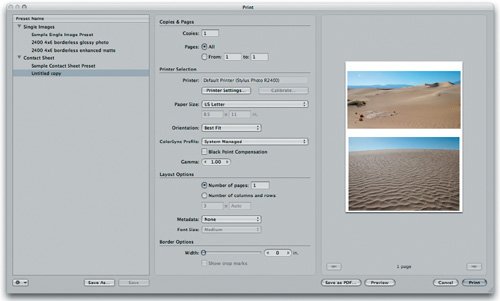 By contrast, if you specify a number of columns and rows, then Aperture will create a grid of thumbnails. So by setting Number of Pages to 1, you tell Aperture to fit both of your selected images on one page. If you select more images and then use this same preset, they will all be fit onto one page.
Saving a Preset
You can create presets in two ways: by using the New Preset command in the action menu below the Preset Name panel, or by configuring the Print dialog box and then clicking the Save As button below the Preset Name panel. Aperture will prompt you for a preset name and then save the preset.
Note
Settings that you specify in the Printer Settings dialog boxpaper type and color management, for exampleare not saved in presets. Presets provide you with a shortcut for paper size and layout options, but you still need to manually specify printer-specific settings. However, Aperture remembers your last printer settings until you quit the application.
Printing Strategies
No matter how careful and meticulous you've been with your image edits, your images will probably need additional edits for printing. Your printer has a very different color gamut and dynamic range than your monitor does, and different papers respond very differently to the same image.
Fortunately, with Aperture's versioning system, you can easily make additional versions of your image and add custom adjustments for each paper type. And with the clever use of some keywords and smart albums, you can organize and maintain a collection of versions for different printers.
First, when you want to print an image on a particular type of paper, create a new version of your final edited image and give it a keyword that corresponds to that paper"Enhanced Matte Paper," for example. To the new version, add any adjustments that you may need to get the image to print well on your chosen paper type. You may have to print test prints to get your image adjusted properly.
If you want to also print the image on a different type of paper, create another version, give it a keyword that corresponds to the new paper type, and adjust the image accordingly .
All of these new versions can be kept in the same stack as your final edit, making them simple to keep track of.
Now, in your project, create a Smart Album and name it after your first paper type. Configure the Smart Album to match all images that include your paper type keyword. Select the Ignore Stack Groupings check box so that the album culls only individual images. Your Smart Album will now contain only the image versions that are appropriate to a specific type of paper. As you tag more images with that paper type keyword, they will automatically be added to your Smart Album.
You can create different Smart Albums for each paper type.
Note
In your Smart Album, if you make a new version of one of the images, that new version will automatically be added to the same stack that the original image was pulled from.
It's not possible to give detailed advice on using each specific photo printer that's available. However, if you find yourself having printing problems in Aperture, here are some general tricks you can try to get your prints back on track.
If you issue a Print command but nothing starts printing, check the Printer Utility. If your document has been put on hold, try clicking the Resume button in the Printer Utility. If that doesn't work, delete the job and then delete the printer and re-add it. Restart Aperture and try printing again.

If you've re-added your printer but still can't get it to print, try issuing your Print command again, but be sure that you first click Printer Setup and configure its dialog box before configuring any other controls in the Print dialog box.

If your color is coming out wildly wrong, be sure you've selected the correct ColorSync profile in the Print dialog box. Also make certain that you've selected the correct paper type in the Printer Setup dialog box. Finally, for Aperture to print accurate color, you must turn off any color adjustment that's built in to your printer. You do this in the Printer Setup dialog box. Check your printer's manual for details.

Be careful of updates. In the middle of a job, I upgraded from Aperture 1.1 to 1.1.1. Suddenly, images that had been printing fine had a slight green cast. After using up half a box of paper trying every technique I could think of to eliminate the green cast, I resorted to trashing Aperture and all of its preferences and support files and then reinstalling and reupgrading. This fixed the problem.