Launching the Concept
The design team realized that getting the concept accepted would be the hardest part of implementation. Before the new UI could be put into a product, it had to be accepted by management and by the product implementation team. We decided to present it to management first, which seemed like an easier route than convincing the notoriously tough project managers.
It was difficult to get enough demo time to convince management by means of a computer simulation. Simulations are cumbersome, removed from the real context, and often inconveniently incomplete. What we really wanted to do was to make an unofficial pitch, inspired by the David concept that had been demonstrated in a real working phone with great success. Mikko With, a brilliant young engineer, was assigned to hack the software as a skunk work project sponsored by Juhani Miettunen, a veteran in the UI software community. Mikko was barely out of university, but very sharp and keen, and we had the first functional demo running in about a week. It was fantastic to see everything come together, even if the first demo software had bugs and some mistakes were evident. We tweaked the phone for another week, with the author specifying tweaks via phone while commuting between Salo and Helsinki and Mikko while working from Oulu in northern Finland. One of the things that we removed from the software was a menu introduction screen probing users to scroll. This seemed to confuse users as they thought the same screen appeared regardless of their selections. This intro screen has never since appeared in any of our phones.
The hardware prototype was built by modifying previous Nokia 2148 phones (Figure 3.2). New plastic covers were made up and brightly painted for it. The key layout in the prototype was strange , because we had removed several keys from Nokia 2148, leaving an empty space in the middle of the front cover. As industrial design wasn't an issue, we were worried about the phone being ugly, but we later learned that the lively blue prototype was so polished that people actually mistook it for a real phone. The appearance of the key layout got lambasted as a consequence; fortunately this critique was easy to explain away. We made about a dozen prototypes , which were handed out for use by senior managers and other people with influence in marketing and R&D.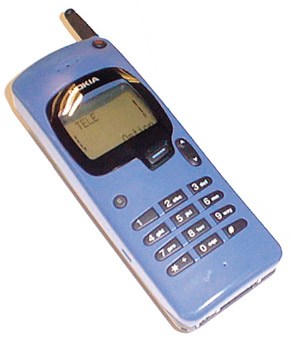 Figure 3.2: Hardware prototype of Navi-key UI style made by modifying Nokia 2148 phones.
The mentors, Erik Anderson and Mikko Palatsi, were both very excited about the concept and did a lot of pitching behind the scenes. One of the most important targets was to convince the top management. To our glee, we didn't require any convincing beyond the prototype and immediately we found a champion for Navi-key in management. One of the board members described Navi-key as the future of mobile telephony and exactly what Nokia needed to make phones penetrate the broad consumer market. Without this support there would have been only a dozen handmade phones. The scenario is reminiscent of the story of the birth of the Walkman, a controversial product for a television manufacturer until a visionary named Akiro Morita became its champion. Our belief is that product champions are a necessity for getting radical innovations to the market.
Søren Jenry Petersen stepped into the role of program manager for the initial implementation of the Navi-key user interface in the Nokia 3110 phone (Figure 3.3). His first words to the author were "So, here is the man who is screwing up the schedule of my project!" Søren is notoriously known for a flamboyant way of expressing himself. This encounter could have turned out to be a disaster if we hadn't understood each other. However, Søren became convinced that the new UI style would be a real differentiator for his product and provide a great opportunity for the newly acquired Danish R&D site. He championed it heavily in Copenhagen, discerning in Navi-key Copenhagen's first opportunity to put its mark on Nokia products. After the 3110, Nokia made several Navi-key phones, each one outselling the previous model.


Figure 3.3: The first Navi-key phone, Nokia 3110, was introduced in 1996.
Next the Danish engineers had to be convinced that it could be done. Fortunately the team in Copenhagen consisted of experienced former Philips engineers who had made mobile phones before. However, the Nokia software architecture and procedures were new to them. The challenge from management was that the Nokia 3110 phone incorporating Navi-key had to be launched in March 1996 at Cebit and shipped 6 weeks later. That stipulation left about 11 months, and in retrospect meant working at rocket speed. Many of the old-timers were skeptical that it could be done, but Danish Viking power seemed to take over.