As you can see in Figure 1.5.1b, the average, experienced California-based producer earns nearly $100,000 a year. To put this in perspective, this compensation is about equal to what an entry-level attorney would make in the same region.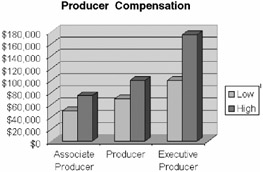 Figure 1.5.1b: Producer compensation.
The Production Hierarchy
Understanding the hierarchy of the various production roles will help you decide where to invest your efforts in terms of networking, relationship building, making product pitches, and such. It will do you no good to invest time and effort in building a business relationship with someone who cannot influence decisions. It is important to keep in mind that the roles of a producer vary greatly by publisher. In some organizations, the producer is entrusted with a great deal of power and authority. In other companies, that level of power might only be available to the executive producer or vice president of development. Typically, the level of responsibility is directly related to the salary the producer earns. Do not let the title fool you, as each game company uses the "producer" title differently. Examples might be seen in a smaller game company where the title of executive producer is assigned. Those individuals might have responsibilities matching that of a producer at a larger publisher. Regardless of title, the producer is ultimately the person responsible for a title coming in on time and on budget. He will receive either the blame or credit for these accomplishments.
The organization chart shown in Figure 1.5.2 is an example of a typical production hierarchy. Expect this to vary by publisher.


Figure 1.5.2: Production hierarchy.