A Carrot a Day: A Daily Dose of Recognition for Your Employees

by Adrian Gostick and Chester Elton

 

ISBN:1586855069

Gibbs Smith

© 2004

(386 pages)

Great managers praise effort and reward results. In this one-a-day manager's handbook on motivating employees through praise and recognition, you can learn how to develop employees who are more focused, committed, and engaged.
Table of Contents
A Carrot a Day—A Daily Dose of Recognition for Your Employees
Foreword—Eh, What's Up, Doc?
Introduction
Chapter 1
-
January
Chapter 2
-
February
Chapter 3
-
March
Chapter 4
-
April
Chapter 5
-
May
Chapter 6
-
June
Chapter 7
-
July
Chapter 8
-
August
Chapter 9
-
September
Chapter 10
-
October
Chapter 11
-
November
Chapter 12
-
December
Employees fed a steady diet of carrots focus better on company goals. They spot new opportunities faster. They have longer employment life spans (translation: lower turnover). And they can lift companies higher than you might have dreamed possible.
In this engaging and often hilarious book, recognition experts Adrian Gostick and Chester Elton offer you 365 easy-to-use recognition ideas, hints and pieces of advice. Read one a day and you will become a better leader—a manager who is able to tap the power of recognition to build a stronger workplace where people come, stay and are committed to your goals.
About the Authors
Adrian Gostick is coauthor of the UPI International Bestseller The Integrity Advantage. An award-winning business author, Adrian also co-wrote the critically acclaimed business book The 24-Carrot Manager, called a "must read for modern-day managers" by Larry King of CNN. He has written for USA Today Magazine, Investor's Business Daily and other national publications, and has been featured on CNBC, MSNBC and National Public Radio. Adrian is director of corporate communication with the O.C.Tanner Company, the world's leading employee-recognition firm. He has a master's degree in strategic communication and leadership from Seton Hall University and is a guest lecturer on organizational culture at that university.
Chester Elton is coauthor of the best-selling Managing with Carrots, nominated as the Society for Human Resource Management (SHRM) Book of the Year. He is also coauthor of The 24-Carrot Manager. As a motivation expert, Chester has been interviewed by the Wall Street Journal and has been a guest on CNN, Bloomberg Television and on National Public Radio. A sought-after speaker and recognition consultant, Chester is vice president of performance recognition with the O.C.Tanner Recognition Company. He has been a featured speaker at the SHRM annual conference, HR Southwest, Incentive Magazine Forums, New York City Premium and Incentive Show, and Chicago Motivation Show. He serves as a recognition consultant to Fortune 100 firms.
ADRIAN GOSTICK
CHESTER ELTON
with
Greg
Boswell
and
Scott
Christopher

Gibbs Smith, Publisher

Salt Lake City
First Edition
08 07 06 05 04 10 9 8 7 6 5 4 3 2 1
Copyright © 2004 O.C.Tanner Company
All rights reserved. No part of this book may be reproduced by any means whatsoever without written permission from the publisher, except brief portions quoted for purpose of review.
Published by
Gibbs Smith, Publisher
P.O. Box 667
Layton, Utah 84041
Orders: 1.800.748.5439
www.gibbs-smith.com
Designed by Gotham Design
Library of Congress Cataloging-in-Publication Data
Gostick, Adrian Robert.
A carrot a day: a daily dose of recognition for your employees/by Adrian Gostick and Chester Elton; with Greg Boswell and Scott Christopher—1st ed.
p. cm.
ISBN: 1586855069

1. Incentive awards—United States. 2. Employee motivation—United States. 3. Employee retention—United States. I. Elton, Chester. II. Title.
HF5549.5.I5G6923 2004
658.3′14—dc22
2004008167
Dedication
This book is dedicated to the memory of Obert Clark Tanner, a man who dedicated his life to the study of appreciation. Obert never let a day pass without valuing those around him. You could say he was the first practitioner of the Carrot a Day philosophy.
About the Authors
Adrian Gostick and Chester Elton are the world's leading authorities on employee motivation. They provide dynamic, humorous and powerful presentations on the power of recognition.
Find out more at carrotbooks.com.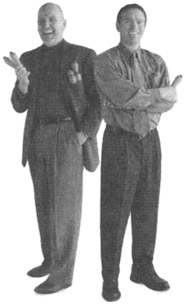 Adrian Gostick is coauthor of the UPI International Bestseller The Integrity Advantage. An award-winning business author, Adrian also co-wrote the critically acclaimed business book The 24-Carrot Manager, called a "must read for modern-day managers" by Larry King of CNN. He has written for USA Today Magazine, Investor's Business Daily and other national publications, and has been featured on CNBC, MSNBC and National Public Radio. Adrian is director of corporate communication with the O.C.Tanner Company, the world's leading employee-recognition firm. He has a master's degree in strategic communication and leadership from Seton Hall University and is a guest lecturer on organizational culture at that university.

adrian@carrotbooks.com

Chester Elton is coauthor of the best-selling Managing with Carrots, nominated as the Society for Human Resource Management (SHRM) Book of the Year. He is also coauthor of The 24-Carrot Manager. As a motivation expert, Chester has been interviewed by the Wall Street Journal and has been a guest on CNN, Bloomberg Television and on National Public Radio. A sought-after speaker and recognition consultant, Chester is vice president of performance recognition with the O.C.Tanner Recognition Company. He has been a featured speaker at the SHRM annual conference, HR Southwest, Incentive Magazine Forums, New York City Premium and Incentive Show, and Chicago Motivation Show. He serves as a recognition consultant to Fortune 100 firms.

chester@carrotbooks.com