Residential access control systems consist of a variety of devices that can be used to gain access to a secured home. The devices that are most commonly considered for a home's access control system are
Most basic card readers only read a number from each card and transfer it to the card reader's control unit or to the security system controller for processing by either the standard software or custom programming, respectively. More sophisticated systems offer the capability to create customized software, using C-language programming or a Windows- based interface on the card reader controller.
Depending on the type of card system in use, the need and the complexity of the actions that can be programmed into the system vary from very simple read-only features to Smart Card systems that can be used to activate a wide range of home security and automation actions. As the capabilities of the system increase, the level of programming required to customize the system also increases . Some manufacturers of the more sophisticated systems offer a variety of preprogrammed modules and templates that can be downloaded from the Internet or obtained on a disk as a means to simplifying this process.
Depending on the type of card the card reader is designed to scan, the wiring or connectors will vary. Card readers that are designed to interface with computer equipment directly will have either a 9-pin DB connector (DB-9) or an RF-45 plug. Some include a six or more position screw terminal strip to which the ground, power, and relay wires are connected. Powerline communications (PLC)-compatible card readers must be wired to a transformer that provides both the electrical power and the connection to the alternating current (AC) powerlines. Figure 36-1 illustrates the wiring required for a PLC card reader.
Photo courtesy of Smarthome, Inc.
Barcode Readers
The technology of a barcode reader is quite similar to the readers used in the checkout stands at most supermarkets and chain stores. The primary difference between the home security barcode reader and the ones at the store is that in home systems, the barcode is swiped through a reader and not scanned.
The barcode encoded information, which is typically either a card number or a personal identification number (PIN), is printed on a plastic credit card sized card or on a paper card that has been laminated to prevent wear.
Actually, the reader reads the white (or dark gray) spaces of the barcode and not the black stripes (see Figure 36-2). The thickness of the white area represents a number or an alphabetic character that is then transmitted to a control unit and either verified (and the door is unlocked) or rejected. Some systems do include the capability to signal an erroneous read as well.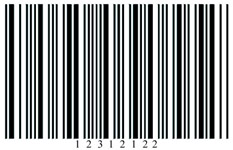 Figure 36-2: An example of barcode, similar to what is found on barcode reader access control system cards
Magnetic Stripe Readers
On the back of virtually all credit and automatic teller machine (ATM) cards is a black or reddish-brown stripe that is permanently magnetized with information, and in the case of home access security cards, it is a card number or PIN. When the card is passed through a magnetic stripe card reader, the reader picks up the electromagnetic fields of the stored information and translates it to digital data for processing.
There are two types of magnetic stripe cards: low coercivity and high coercivity. Low coercivity cards are easily damaged by a wide variety of magnetic sources, including other types of magnetic stripe cards that they may come into contact with in a wallet or purse. High coercivity cards are less easily damaged and are able to hold their information even when in contact with low-grade magnetic sources.
| | | |
| --- | --- | --- |
| | Note | Coercivity is the strength of a magnetic field required to reverse the polarity on a magnetic medium. |
High coercivity cards are more reliable because they are more resistant to common magnetic forces. However, the reliability of any magnetic stripe card depends on the magnetic film tape used on the card. The magnetic force that can erase a magnetic stripe card is coercive force, which is measured in Oersteds. A standard bankcard has a coercivity of around 300 Oersteds, which is low coercivity. At this level, a magnetic stripe card can be damaged by other cards in the same wallet or by the magnetic clasp on a purse. Card systems using magnetic materials with coercivity ratings of 2,100 to 4,000 Oersteds are less susceptible to being erased or damaged. When the card is swiped through the reader (see Figure 36-3), the magnetic stripe reader scans the magnetic stripe on the back of a card, translates the information, and then either transmits the information to a control unit that issues a signal to one of its relays or processes the information and sends a signal out one of its onboard relays. The relay where the approved signal is sent is attached to an electronic lock that releases and the door can then be opened. Unauthorized or damaged cards are rejected by a signal sent back to the card reader.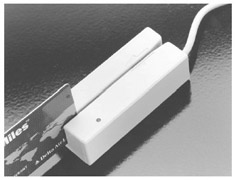 Figure 36-3: A magnetic stripe reader can be a stand-alone device like this one or built into another device.
Photo courtesy of Scan Technology, Inc.
Magnetic stripe readers are not a good option in areas where dust, dirt, heavy rains, or fog are a problem. Dust and moisture can cause the stripe reader to misread or fail altogether.
Proximity Card Readers
Unlike magnetic stripe card readers or barcode card readers, a proximity card reader doesn't require a card to be inserted into the reader. When a proximity card is held near (in the proximity) the card reader, from two inches to six feet from the reader, the reader is able to detect the information on the card and capture it for processing.
Proximity cards and readers use low-frequency radio signals to communicate. A proximity card has a passive radio frequency (RF) transmitter embedded in it that continuously transmits its information. When the card is within range of the card reader, the information is received, processed , and verified, and signals are passed to the appropriate relay to open or unlock a door or gate. Passive devices do not require a battery to operate .
Many proximity card reader models also include a keypad like the one shown in Figure 36-4. On systems that require two levels of security, the keypad is used to enter a PIN after the card is scanned. On other systems, the keypad can be used in lieu of the card reader.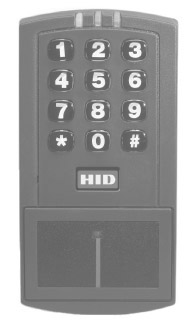 Figure 36-4: A proximity card reader with a keypad
Photo courtesy of HID Corp.
The primary benefit of a proximity card reader is convenience to the user . Another benefit is that they are also good for either indoor or outdoor use. The downside is that metal objects nearby can cause interference and the scanner in the reader can be damaged if the card is bent or flexed when it's being scanned. However, the convenience of the system and its longevity—typically longer than contact readers like the magnetic stripe or barcode readers—outweighs the potential problems.
Wiegand Proximity Card Readers
Wiegand cards have special electromagnetic wires embedded in them in a specific pattern that is unique to each card. Like a standard proximity card reader, the cards and readers communicate using low-frequency radio waves. Because of this, they are virtually impossible to counterfeit. Another benefit to this type of card and reader is that they operate in extreme weather and environmental conditions, something not all other card reader types can do.
The Wiegand technology permits the "card" to be reduced to the size of a coin, key fob, small card, and other convenient sizes, like the keychain size shown in Figure 36-5.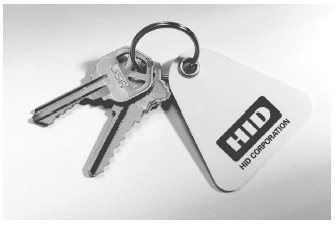 Figure 36-5: A Wiegand keychain sized "pocket tag" proximity card
Photo courtesy of HID Corp.
| | | |
| --- | --- | --- |
| | Note | One more bit about access cards: every card, regardless of the type, is manufactured with a unique facility or site code. This code differentiates one user's cards from another and prevents one user's card from working with another user's reader. |
Keypads
Keypad access control systems require a user to enter a multiple-digit code to gain access. Keypad units (see Figure 36-6) typically have a 10-digit number pad where the user can punch in her pass code.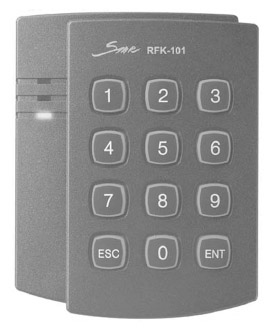 Figure 36-6: A keypad access control unit
Photo courtesy of Kenny International.
Keypad systems are a good low-cost option in low-risk situations. This system is safe as long as the code stays secret. However, resetting the numerical code is simple using access directly on the keypad through an administrative number code.
Keypad Wiring
The wiring requirements for a keypad access control device depend on the devices the keypad will control, such as an electric door strike, or the other systems the keypad is to be connected to. If the keypad and a door strike are from the same manufacturer, it is likely that documentation details the wiring requirements of the two devices. However, if the keypad is to be used as a stand-alone key entry device that reports to a security system controller, the wiring, while fairly standard, may be a bit involved.
In every case, study the manufacturer's documentation before beginning the installation of the keypad, which should normally happen during the trim-out phase. Some keypad devices may include a user interface connection on the internal circuit board that accepts a strip connector with up to 12 wire positions . Study the wiring diagrams if this is the wiring approach to be used to connect the keypad for remote trigger, panic, or other relay outputs or inputs.
On basic keypad devices, electrical wiring no larger than 16 AWG should be used to connect the keypad to its power source and a door strike, if used. Either unshielded twisted-pair (UTP) or shielded twisted-pair (STP) wiring is used to connect the keypad to the home security system controller for relay signals out or in.
Keypad Programming
Keypad systems can be programmed for several features, including settings that allow entry only during certain hours of the day, eliminating unauthorized access during set periods of the day or night. Programming a keypad system can be done a number of ways. The most common method to program the functions of a keypad system is to press the keys in certain sequences, according to the manufacturer's documentation. Uploading a keypad's program from the system controller or downloading the program from the system controller is another common way to program some keypads. In many cases, a computer-based programming interface is used to create keypad programming on the system control unit and then uploaded to each keypad.
Electronic Key Systems
An electronic key system (see Figure 36-7) works essentially like a regular lock and key. It has an electronic key that is inserted into a reader to either permit or deny access through a door. A reader can be set up to allow certain keys entry into some areas and other readers can be set up to not allow access to others.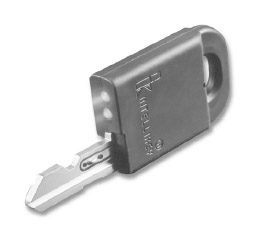 Figure 36-7: An IR-remote control deadbolt
The advantage of an electronic key system is that a home's locks don't have to be rekeyed should a key be lost or stolen. Instead, the system can be easily reprogrammed to make the lost key inoperable.
Spare or new keys are typically assigned a pass-code number using a separate device called a key programming unit and the electronic cylinder or door lock unit can be programmed for additional key numbers or pass-codes using a lock programming unit that attaches to a personal computer. New programming is loaded to the cylinder unit through a special key attached to a cord on the lock programming unit.
Electric Door Lock Systems
Electric door lock systems are typically used in conjunction with an authorization device, such as a card reader, electronic key, or keypad. This type of access control device can be used to limit both entry and exit through a door. A card reader and other authorization systems send signals to an access control panel or directly to a connected device, such as an electric door lock. These signals, if received on the appropriate relay, instruct the lock to release the door.
Electric door locks consist of a number of components, including electric strike plates, magnetic locks, drop bolts, and electric locksets. However, not every door will work with an electric door lock and the door lock system needs to be fitted to the door, doorknob, and latch in each case.
A wide variety of products fall within the general category of electric locks, including remote control deadbolts, push-button and keypad door locks, and electric door strikes that can be used to upgrade an existing mechanical door lock.
Remote Control Deadbolts
A remote control deadbolt, see Figure 36-8, works essentially the same way a manually operated deadbolt does. The difference is that remote control deadbolts can be locked or unlocked using a multiple-function infrared (IR) remote control in addition to allow for manual operations.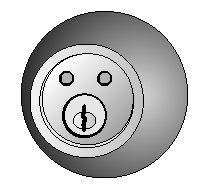 Figure 36-8: An electronic key that is used with an electronic door lock system
Photo courtesy of Intellikey Corp.
Push-Button/Keypad Door Locks
Push-button and keypad door lock systems are keyless locks that can be unlocked by entering a code number sequence by pressing buttons or keys on the face of the door lock. As shown in Figure 36-9, the face of this type of lock system has a keypad. The keypad is used to both operate the door lock and enter programming commands.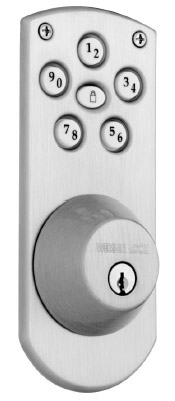 Figure 36-9: A keypad deadbolt or door lock eliminates the need for a mechanical key.
Photo courtesy of Weiser Lock.
There are mechanical and electronic versions of this type of door lock system. A mechanical (nonelectric) push-button lock (see Figure 36-10) requires its buttons be pressed in a certain sequence.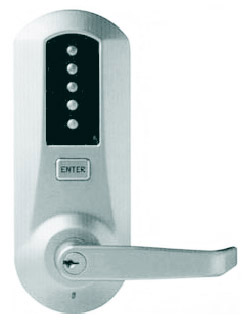 Figure 36-10: A mechanical push-button door lock
One or more AA batteries are typically used to power an electronic keypad door lock. These devices, like the one shown in Figure 36-10, electrically retract the locking mechanism in the door latch when the correct sequence of keys is pressed. Programming, which typically means entering or changing the number set and sequence, is accomplished through the keypad.
Electric Door Strikes
Electric door strikes are available in a variety of styles to fit a variety of door materials and should be chosen based on the type of door in use. All electric door strikes, like the one shown in Figure 36-11, work essentially the same way: when an electrical charge is sent to the door strike, the locking mechanism releases to unlock the door. The door strike can be operated from a central security control unit acting on a command from a keypad to send a charge to the strike through a relay or a simple push-button release, like those used in many apartment houses and secured entries.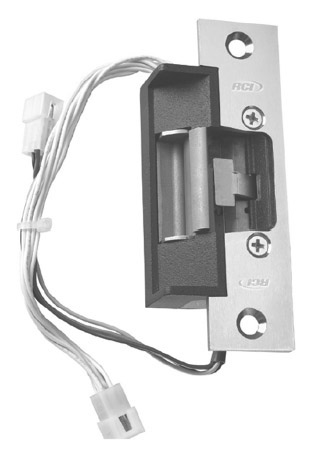 Figure 36-11: An electric door strike provides remote door lock control.
Photo courtesy of Rutherford Controls International Corp.
Several door lock system manufacturers also offer electric door strikes that are compatible with their standard door locks. Electric strikes operate on either 12- or 24-volt direct current (DC) or on AC power. Most electric strikes include a fail secure feature that keeps the door locked should the power source fail.
The installation of an electric door strike is performed much like the installation of a standard nonelectrical door strike in that the strike is installed into the door frame or on a wall in line with the door's latching mechanism. The primary difference between an electrical strike and a nonelectrical strike is cabling.
The wire size installed to carry electrical signals to the strike varies by manufacturer, but one thing nearly all manufacturers agree upon is that the wiring must be plenum-rated . In most cases, the connector used is a two- or three-position snap-fit jack (see Figure 36-12) and plug that terminates the wiring of the strikes electronic module and the plenum cable, respectively.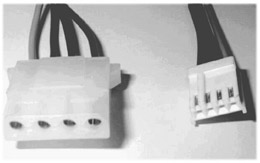 Figure 36-12: A wire-to-wire connector of the type commonly used with wiring for door strikes and other access control devices
Biometric Access Control Systems
Biometric access control systems use a feature of the users' bodies to verify their identities, such as fingerprints, facial features, and even retinal patterns. For residential systems, the most commonly used biometric system is one that uses fingerprints to control access. These systems, like the one shown in Figure 36-13, typically have an IR finger well into which the user places her finger and the reader scans her fingerprint and matches the pattern entered during setup.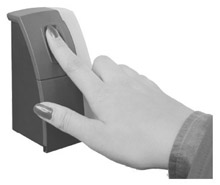 Figure 36-13: A fingerprint biometric access control system
Photo courtesy of Precise Biometrics.
The advantage of biometric access control systems should be obvious. There are no keys, cards, or codes to lose or forget. The homeowners carry their security devices with them at all times—right on the tips of their fingers, on their faces, or in their eyes.
The wiring required for a biometric access control system depends on the application. Biometric units produce a low-voltage charge to signal a pass condition, meaning the biometric scan produced a valid match. If the unit is to operate an electric door strike or other electric locking system, a relay module is required. However, if the signal is to be transmitted to a home security system controller, typically no additional modules are required for the biometric unit.
Wiring for biometric units can vary, but for the most part, four to six conductors of UTP wiring is required. Many units feature either RJ-45 or RJ-12 jacks for connecting to a network or a communications system. Electrical power is most commonly provided through a power-converting transformer plugged into an AC outlet near the device.
Programming a biometric unit, which is typically done through its keypad or interface, involves training the unit to record and recognize the hands, fingers, eyes, or other anatomical features of authorized users. Some additional programming may be required if the unit is to take more than a single output function. As the programming methods vary by model, follow the unit's documentation for the programming process used.
Some high-end biometric units also record an exportable log file that can be accessed through a network or serial interface. The log file records all successful and, perhaps more importantly, unsuccessful attempts to gain access through the lock controlled by the unit. Whether or not the unit records a log file is a programming option.