Chapter 22:

Home LightingDevices
In this chapter, you will learn about:
Lighting fixtures and devices

Lighting controls

Wire run and wireless lighting control

Powerline controls
A lighting system in a home is created from the combination of lighting fixtures chosen to provide the desired amounts of light in each room or area of the home. The previous chapter provided an overview of the basics of lighting and lighting system elements. This chapter takes the next step and details the fixtures and luminaries that can be incorporated into a residential lighting system.
Lighting Fixtures
Lighting fixtures are known by a variety of names , including lamps, chandeliers, pendants, tracks, luminaires, and others. Each of these fixtures is designed to produce visible light, each with its own specific use and purpose. A light fixture, such as a lamp, is first and foremost an electrical device that produces visible light. Secondarily, a light fixture can also be considered as a piece of furniture or part of a room's dcor that holds light bulbs or other light source devices.
You will often see some light fixtures referred to as a luminaire. The term luminaire refers to all of the components of a light fixture, including its light source, the features used to distribute or diffuse the light, to mount the light fixture to a surface, and the features used to protect the light source.
In Chapter 21, I listed the most common of the lighting fixture types, but we now need to discuss the components that make up each type of fixture and where and how each is best applied.
Architectural Luminaires
Built-in lighting systems are referred to as architectural luminaires. In most cases, a luminaire is a constructed feature that encloses a fluorescent fixture with one or more linear (meaning tube type) lamps. Architectural luminaires are most commonly attached to a wall or ceiling with a shielding board or structural feature used to hide the fixture.
Architecture Luminaire Types
Architectural luminaires are used to add ambient lighting accents to rooms with light-colored walls and ceilings and to provide task lighting in kitchens and baths. Here are some common examples of architectural luminaires:
Coves The light from a cove luminaire is directed up. Cove luminaires, as shown in Figure 22-1, are commonly used in rooms with high ceilings or above the cabinets in a kitchen.


Figure 22-1: Cove lighting creates lighting effects and provides general lighting.
Photo courtesy of Connie J. Price.
Soffits A soffit luminaire directs its light down. Soffits are commonly used to provide ambient lighting in rooms with low ceilings or to provide task lighting for a counter or work area table.

Valances A valance luminaire directs its light both up and down. Valances are used to provide ambient lighting, but can also be used for washing a wall with light. Typically, valance lighting is used above windows and doors.
Luminaire Lighting
The lighting effect and the direction of the light produced by a luminaire can be controlled through the use of baffles, louvers, and diffusers. The purpose and use for each of these features is
Baffles Baffles are either parallel slats or a crosshatched grid placed over the light source to block direct views of the lighting source. Figure 22-2 shows a fluorescent fixture with baffles installed. Baffles are available in a variety of sizes and spacing.


Figure 22-2: A fluorescent fixture with a grid of baffles installed

Diffusers A diffuser serves two purposes: to completely block views of the light source and to spread or scatter the light in an even pattern in all directions. Figure 22-3 shows a compact fluorescent light fixture covered with a plastic diffuser.


Figure 22-3: A compact fluorescent fixture with a diffuser
Photo courtesy of Ronfell Lighting.
Louvers Louvers, also called egg crates, are a cross-hatched grid work of cells (see Figure 22-4) that block direct views of the lighting source and concentrate the light into a narrower pattern in the direction the fixture is pointed.


Figure 22-4: A louvered cover for a fluorescent light fixture
Recessed Downlight Fixtures
The recessed lighting fixtures that are the most commonly used in homes are primarily downlights installed in ceilings. Two types of recessed downlights are available: round recessed downlights (see Figure 22-5), also called cans and high-hats, and square or rectangle recessed downlights (see Figure 22-6), also known as troffers. However, there are troffer styles that can also be surface-mounted as well.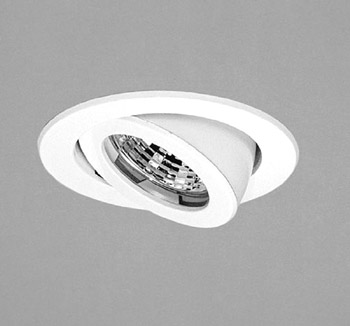 Figure 22-5: An adjustable round recessed downlight
Photo courtesy of Electric Lighting, Inc.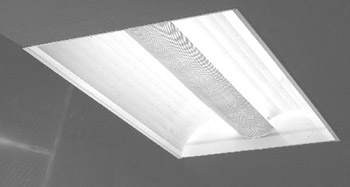 Figure 22-6: A recessed troffer-style downlight
Photo courtesy of Amerillum Corporation.
Round downlights can be incandescent, halogen, or compact fluorescent. Square downlights, typically larger than the round downlights, are usually linear (tube) fluorescent or halogen lamps.
Downlights are best used for all lighting types, but are most typically used for wall-wash and ambient lighting applications. If positioned properly, a downlight or group of downlights can also create task lighting.
| | | |
| --- | --- | --- |
| | Note | When installing a recessed downlight in an insulated ceiling, the lighting fixture has been approved for this type of installation. The IC ( insulated ceiling) marking should be on the lighting fixture in plain sight. |
Ceiling and Wall-Mounted Fixtures
Many of the same fixtures that can be used in architectural or recessed installations will also work for surface mounting on a ceiling or wall. Ceiling-mounted lighting fixtures, like the one shown in Figure 22-7, are available in a wide variety of shapes and sizes to fulfill not only the lighting requirements of a space, but to add to the room's dcor as well.

Figure 22-7: A spotlight ceiling-mounted light fixture provides task lighting.
Photo courtesy of Access Lighting, Inc.
Ceiling fixtures can be classified as chandelier, flush-mounted, close to ceiling, pendant, and spotlight, each with its own purpose and best use. Linear or circline fluorescent fixtures, incandescent fixtures (even with compact fluorescent lamps), pendant fixtures, and track lighting provide for ambient lighting, and in some instances, task lighting in a room. Linear fluorescent fixtures can provide good light levels for laundry rooms, bathrooms, garages, kitchens, and the like, which require ambient lighting that nears the level of task lighting. Incandescent fixtures are commonly used for general lighting in all areas of a home. Pendant and track lighting fixtures are more commonly used to provide task lighting to a specific area.
Wall-mounted Fixtures
The name of this type of lighting fixture basically explains the application and placement of these fixtures. Wall-mounted fixtures include wall sconces, vanity lighting, track lighting, and spotlights :
Wall scones These fixtures are designed to use either incandescent or compact fluorescent lamps. Sconces are used in hallways, living rooms, bedrooms, and rooms with low ceilings to provide accent and ambient lighting.

Vanity lighting Vanity lighting is applied in bathrooms and occasionally bedrooms to provide task lighting. Typically, vanity lighting is placed either on the sides or above a bathroom mirror. Figure 22-8 depicts a bathroom that uses both overhead and side-mounted vanity lighting.


Figure 22-8: A bathroom with vanity lighting both above and to the side of the vanity mirrors
Photo courtesy of Connie J. Price.
Track lighting In wall-mounted placements, track lighting can use either incandescent or halogen lamps to provide flexible accent and task lighting. Figure 22-9 shows track lighting installed in a hallway.


Figure 22-9: Tracking lighting placed to spotlight wall locations for future art pieces
Photo courtesy of Connie J. Price.
Spotlights Spotlights can be used to provide wall-wash, general, and task lighting. The light should be positioned to prevent direct view of the light source, as this type of lighting is typically high-output. Figure 22-9 illustrates track lighting used as spot lighting.
Daylight Considerations
One lighting source that should not be overlooked when considering the lighting sources for a room or zone is daylight—the natural sunlight that comes in through any windows, skylights , or the like.
Chapter 23 details how you should incorporate daylight into a lighting scheme. However, we should discuss the ways that the amount of daylight entering a room can be controlled, especially in special-purpose rooms like home theaters and home offices.
Daylighting
Daylighting is a lighting design technique that uses artificial light and natural daylight to maintain a certain level of lighting in a room or zone. Daylighting requires the use of photocell and timer controls, both are discussed later in the chapter. However, in summary, the photocell controls sense the amount of light present in a certain area and turns on artificial light fixtures to bring the lighting to a certain level or to turn off artificial lighting when the daylight entering the area is sufficient to supply the lighting level desired. Timers can be used in conjunction with photocells to either turn on or turn off the artificial lighting on a preset schedule, when the daylight levels in a room are predictable, such as a room that only gets morning light or afternoon light.
Window Treatments
An often-overlooked way to control the lighting in a room is window coverings and UV filters. Window coverings include draperies, blinds, shades, and the like. UV (ultraviolet) filters are typically films that are placed on the interior of the windows to block UV rays and reduce the temperature of the energy generated by sunlight passing through the window glass.
Window Coverings In the context of home technology integration, the focus should be on the automation of window coverings, which can be integrated into the lighting controls as a part of a lighting scene. For example, if the homeowner wishes to be able to darken a room so he or she can show the digital pictures or video of his or her vacation using a digital projector, it is conceivable that they want one, a ceiling-mounted screen to descend; two, the room lights to automatically dim; and three, the light-blocking window shades or draperies to automatically close. All of this should happen at the touch of a button on a local control station or on a remote control.
There are a variety of motorized and controllable window shades (including UV filtering shades), draperies rods, and horizontal and vertical blinds that can be controlled as a stand-alone system or integrated into either a lighting control system or a home automation control system. These are discussed further in Chapter 42.
UV Filters UV window filters are available as either window shades, special drapery materials, or as a glued on window film. Window films are typically dyed polyester opaque film that is installed either permanently or temporarily on a window's interior surface using a low-tack adhesive . Window films filter out high temperature, UV rays, and its color controls the amount of sunlight entering a room.
Exterior Lighting
Lighting installed on the exterior of a home serves a variety of purposes, perhaps the most important being:
Leisure Exterior leisure spaces, such as patios, sports courts, and play yards can be lighted to make them usable at night.

Landscaping Lighting that highlights the dcor of a home's landscaping can add to the visual attractiveness of the home during dark hours. Trees, large bushes, and yard art can be illuminated to make them visible at night.

Security Security lighting is used to illuminate the exterior of a home to create a visual deterrent to crime or it can take the form of detection devices, such as passive infrared or other motion detection systems that turn on exterior lighting when someone enters a certain area.

Safety Pathways and driveways can be lighted to provide for safe passage of people in and around a property and to illuminate a pathway or a doorway to show its direction or location. In rural areas, safety lighting can also include roadway lighting in front or near a home.

Ultraviolet (UV) radiation is one of the parts of the sun's light spectrum. UV light is invisible, but it can have a damaging effect on people, fabric, and even plants. Overexposure to UV light can cause sunburn, and if the exposure is over a long term, it can even cause skin cancer, eye cataracts, and damage to the human immune system. In a home, the UV light coming through a window can fade or damage fabric, carpets, furniture, and even artwork.
The type of exterior lighting fixture used in each of the above situations varies primarily with the application and the size of the area to be illuminated:
Large area lighting The most effective lighting for large areas is PAR ( parabolic aluminized reflector) lamps, which can be incandescent, halogen, or High-Intensity Discharge (HID) tubes. To conserve energy, motion detectors or photocells that turn on the lights only when someone enters the area or during nighttime hours should be used.

Porch and entry lighting Because this area is small and the lighting is used primarily as general lighting, a wall-mounted, post-top, or architectural luminaire will supply the illumination needed.

Landscape and walkway lighting The choices for walkway and landscape lighting include both wired and no-wire solutions. Solar- powered lighting doesn't require wiring and usually includes photocells to turn the lamps on or off depending on sunlight or the lack thereof. Floodlights can also be installed to wash a walkway to highlight landscaping features.

Leisure area lighting Wall-mounted fixtures designed for exterior use can be used to provide both general and task lighting for exterior settings.
Lighting Fixture Components
The primary components of a lighting fixture is its electrical wiring, its light source receptacle, its housing, and its diffuser. The components of a light fixture are designed together for use in a particular application and to produce a specific range of light.
Light Fixture Wiring
In order to produce light, a lighting fixture must have an electrical source. The electrical power required by the fixture to produce light can come through a direct interconnection into a home's electrical wiring, from a plug-in connection to an electrical outlet, or from a battery. For use as a part of a home lighting system, we will consider only the first two of these power sources, as battery-powered lighting fixtures are not typically included as part of an integrated lighting system.
Hard-Wired Lighting Fixtures Nearly all lighting fixtures, and especially those that are ceiling or wall-mounted fixtures, are hard-wired into the electrical system (see Figure 22-10). By hard-wired we mean that they are directly connected to the household electrical system using the wires provided by the fixture's manufacturer.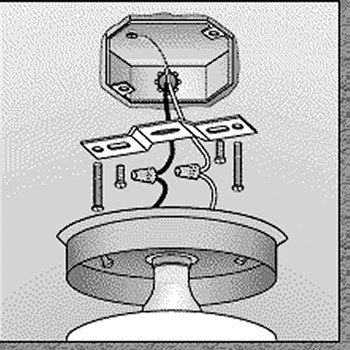 Figure 22-10: The hard-wire installation of a ceiling-mounted light fixture
Outlet Plugs Freestanding lamps and those fixtures designed to be portable are generally not constructed for hard-wiring installation and use a two- or three-prong plug that is inserted in a standard AC receptacle table and floor lamps, some under-counter fluorescent or halogen lights, and portable task lighting are generally outlet plug type fixtures.
Light Socket or Receptacle
Regardless of the type of lighting to be used, each has a built-in receptacle, socket, or a pair of sockets (like in a fluorescent fixture) where the bulb, tube, or light source is installed. Incandescent light fixtures have a threaded socket that the light bulb is screwed into. Fluorescent fixtures have a pair of sockets where a fluorescent tube is installed by placing the pins on the ends of the tube into the slots on the socket and twisting the tube to lock it into place. Halogen and other high-intensity fixtures have a two-contact socket into where the lamp is pushed .
Diffusers and Shades
Nearly all light fixtures include a cover or what is called a diffuser. A diffuser, like the globe on the light fixture shown in Figure 22-11, is an opaque or translucent glass, plastic, acrylic , or perhaps alabaster piece that performs two functions: to shield the light source and to spread or scatter the light in an even pattern in all directions.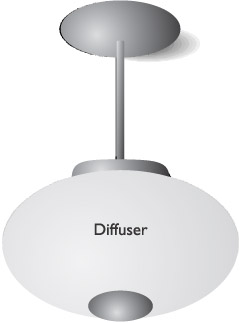 Figure 22-11: The globe on this light fixture diffuses the light produced by the fixture's light source.
Diffused lighting produces less shadowing than direct lighting because the light doesn't come from any definite direction. In addition to a diffuser that is a part of a light fixture, a white or light colored wall could also produce diffused light.
A lampshade may seem like it could be a diffuser as well, but the purpose for a lampshade on a table or floor lamp or perhaps a wall or ceiling-mounted fixture is to shade the light source and protect your eyes from a direct view of the light source. In most cases, lampshades are used to direct light either down or up and although some light may be diffused through the cloth, plastic, or glass of the shade , its purpose is not the same as a diffuser.