Adding Slides
Creating your first title slide was pretty easy, but now what? You probably need more than just a title slide, so choose I nsert, N ew Slide (or press Ctrl+M). PowerPoint adds a new bullet slide to the slide show (see Figure 2.3).
Figure 2.3. When you add a slide to a slide show, by default, PowerPoint creates a bullet slide that also includes a slide title.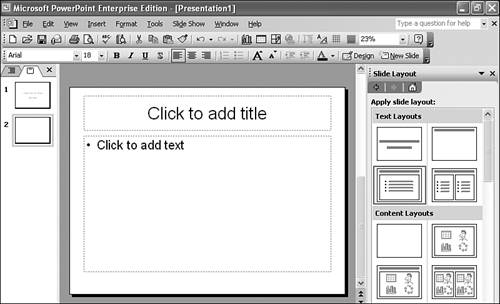 Bullets, which are the dots or icons at the left of the text, help viewers see the major topics. You could use a numbered list instead of a bulleted list, but generally , bullets do the trick.
At this point you can go ahead and add text to the title placeholder (for example, About Me ).
To add items to a bulleted list, you follow these steps:
Click the bulleted text placeholder. PowerPoint opens a text editing box, with the insertion point following the first bullet (see Figure 2.4).

Figure 2.4. Bulleted text placeholders are really text boxes, formatted in the bullet style.

Type the text of the first bullet (for example, your age, where you're from, your profession).

Press the Enter key. PowerPoint ends the first bulleted line and adds a second one (see Figure 2.5).

Figure 2.5. Bullet text is easy to enter, and you just press Enter to get a new bullet.

Continue typing items in the list, until you have three to five items.

Click anywhere on the slide outside the placeholders to close the bulleted text placeholder.
If you want to go back and edit a title or text box, you just click the box and then make any changes you want.
If you accidentally add a bullet you don't want, just press the Backspace key twice, and PowerPoint erases the bullet and returns you to the right side of the preceding bullet.

For more information on creating good, powerful bullets, see p. 76 .
If you'd like, you can insert a couple more slides ( My Work or My Hobbies , for example). Then you should insert a final slide.
In the title placeholder of the final slide, you should type The End . Don't worry right now about the blank bulleted text placeholder. When you view the slide show, it won't be visible.
It's important that you get in the habit of saving your work on a regular basis. There's nothing more painful than putting a lot of creative energy into building a slide show, only to lose it because something happens before you save it. One way to save a slide show is to just choose F ile, S ave and then click S ave. PowerPoint saves the file with a generic filename, such as Presentation1 . Later you'll learn more about PowerPoint filenames and how to save and retrieve them. From time to time, I'll remind you to save your work. To do so, you can choose F ile, S ave, you can click the Save icon on the toolbar, or you can simply press Ctrl+S (my favorite...it's quick and easy).
Caution
| | |
| --- | --- |
| | A typical temptation for beginning PowerPoint users is to put lots of text or lots of bullets on a slide. Keep your bullets short and to the point and don't make lists of bullets so long that you confuse or lose your viewers. |

For more information on saving, retrieving, and managing PowerPoint files, see p. 53 .