The scheme of things
The scheme of things
The book and accompanying CD are integral parts of Creative Projects with Logic Audio . Much of the time, you will need to use both along with a copy of Logic 5, or higher, running on your computer. This is most certainly the case with the chapters containing projects. Other chapters containing general reading matter also contain references to examples on the CD but make sense away from the computer.
If you already possess a working knowledge of Logic and MIDI sequencing, then you may be tempted to skip the first few chapters and projects. That's OK but there is much to be gained , from a musical standpoint, by working through them.
Where possible, for clarity, all Logic functions are referred to using the program's menus . For example, the instruction 'Turn the loops into real copies' is followed by the menu command in square brackets: [Functions > Sequence Parameter > Turn Loops to Real Copies...] (Figure 0.1). Power users can speed things up by using the many keyboard shortcuts and alternative methods available (see Appendixes 2 and 3). There's usually more than one way of doing things in Logic!
Figure 0.1. Example: Loops to real copies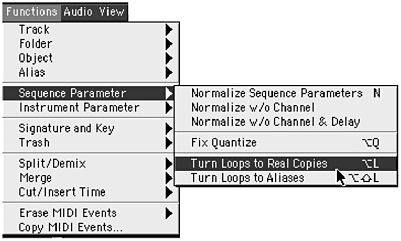 NOTE
Some features in the book and on the CD will be missing from Emagic's budget version, Logic Audio (previously Logic Silver). However, the Logic Audio user will still find a great deal that's useable here. Where appropriate, three mixes are supplied on the CD, Platinum, Gold and Silver, each using slightly different plug- ins. However, should a plug-in not be found, just replace it with an equivalent included with your particular version.
The CD
The CD is compatible with both PC and Apple Mac computers and contains:
NOTE
Audio files supplied in AIF Audio Interchange File format (with the extension .aif)

Logic song files (with the extension .lso)

ReCycle files (with the extension .rex)
The CD files are arranged in folders, relevant to the project or chapter to which they relate. Most chapters refer to musical examples contained on the CD. To examine them, copy the appropriate folder across to your computer desktop or some other location. It is particularly important that all the files contained in a folder are copied across and that they remain in their respective folders, particularly the audio files. Logic 'remembers' where they are situated and if they are moved, problems are likely to arise.
The projects
The projects are a vital part of Creative Projects with Logic Audio . Each one builds on the techniques discussed in previous chapters and new Logic skills are progressively introduced.
Projects 1 3 are concerned with MIDI sequencing skills. We record three different styles of music a rock band, a classical ensemble, and a jazz funk band .

Projects 4 9 are concerned with composition and arranging. In each project, we build a composition from scratch using a predetermined assignment. For example, the brief in Project 5 instructs us to compose music for a soundtrack using minimalist techniques.

Project 10 is concerned with the business of producing a readable score and parts from the Score and Layout section of Logic. Here, we use a previous project, number 6, as a basis for the work.

Projects 11 17 are solely concerned with the business of creative audio editing. These include such tasks as time stretching, pitch shifting and quantizing.
All the projects follow a similar pattern and begin with a list of Musical objectives and Logic skills. This is followed by a list of instructions headed Preparation. The first two instructions are always the same. In Project 5, for example:
From the CD, copy the folder named project5 to your computer. (This folder contains all the files you will need for the project.)

On your computer, create a folder called mywork5 or something similar in which to save your work. (This is the folder in which any work you create will be saved in Logic song file format.)

From the project5 folder, open template templt5. (This is a specially prepared template containing the Tracks, Objects, and Logic Environment ready to work on.)

In your new mywork5 folder, save the template as myproj5 or something similar. (Everything you do in this project, from now on, will be saved here.)
Next comes the assignment that contains an imaginary commission and scenario for the project. For example, the assignment for Project 5 begins like this: 'OK, here's the scenario. A computer game company has commissioned you to compose the music for a scene in their latest historical title set in Elizabethan times. The piece must run for a minimum of three minutes.'
Each project contains a series of 'takes.' This is usually an instruction to record something in Logic. At the beginning of each take is a list of settings for the Arrange window. For example, Project 5, Take 1 looks like this.