A Mandrake Linux Install
With this Mandrake install, I used version 10.1. As this book was wrapping up and going to press, Mandrake had just acquired Conectiva Linux and, in the process, changed the company name to Mandriva. So Mandrake is now Mandriva, but the version of Mandriva I used was still called Mandrake.
Reboot your system with the installation CD in the drive. Mandrake boots with a graphical screen with two options. Pressing <F1> will allow you to choose between text and low-resolution install modes, while the default is the standard graphical install. Press <Enter> and you are on your way.
Basic hardware detection takes place at this time, and the installer is loaded into memory. In a few seconds, you'll be at the main install screen. On the left-hand side of the screen is a set of steps, each with a light beside the label to let you know ( roughly ) where you are in the installation process. The first of these steps involves selecting your preferred language for installation—there are many, organized by continent to help you narrow things down. Select your language of choice, or click OK to accept the English (American) default, and continue. On the next screen, read the license agreement (where you learn about the GPL and related licenses). Select the Accept radio button, and then click Next.
The next screen deals with security. Mandrake's default install lets you choose between four different security levels. What each level allows or denies is documented on the page. Take a moment to read it and choose the level that works for you. Most people will choose the default of Standard.
Mandrake's install then automatically detects your hard drive, which means it is time to set up your file systems. The options here involve erasing the entire disk, doing your own custom disk partitioning, or using the free space on the Windows partition. This is quite interesting because it makes it possible to automatically resize the Windows partition, making use of the free space in order to install Mandrake. You might remember from my earlier discussion that the only caveat is that the Windows disk must be defragmented first.
With Windows XP, you may need to turn off the swap file before starting your defragment and resize. That's because the swap file is often placed at the end of the disk, making it virtually impossible to resize the partition.

To do this, right-click on the My Computer icon and select Properties. Now click on the advanced tab and look near the top. You'll see a button labeled Settings in the Performance section. Click Settings and another dialog appears, labeled Performance Options. Again click on the Advanced tab, and look down near the bottom in the Virtual memory section. Click Change; then, on the next screen, select the No paging file radio button. Click OK on each dialog until you exit system properties. Now you can do your defragment and get access to all your free space. When you are done with the Linux installation, you'll want to turn the swap file back on.
The default option is to " Use free space, " and that is probably what you should choose. Click OK to continue. The partitions will be created and formatted and a list of available packages will be pulled from the install disk. Now it is time to decide what kind of a system you want. You will be looking at the Package Group Selection screen. A standard Mandrake install is a Workstation install, and that's where the emphasis is placed with the defaults. Office Workstation is automatically selected, as is Internet station and Multimedia station . That means you get your word processors and spreadsheets as well as e-mail clients and Web browsers. If you want to play games , you should click on Game station
A few more package groups are preselected, among these, Development . Now, once again, I am going to point out that if you want to be able to compile programs (for those bleeding-edge new programs), this one is necessary. Configuration and Console tools will help with system configuration, while Network Computer (client) provides the ssh client. In an office situation, you will most certainly want that. This grouping is rounded off with Documentation .
Before you move on, look over on the right. If this computer will be a server, you may wish to add Web, ftp, e-mail, and database servers. Pause your mouse pointer over the choices and a tooltip will give you a short description of what each server offers. Finally, look under Graphical Environment . The KDE environment is selected by default; however, you may want to choose GNOME as well here. Furthermore, if you would like to experiment with even more desktop environments at some future time, you might consider checking on Other Graphical Desktops . This loads WindowMaker, IceWM, and others. At the bottom of the screen is a checkbox labeled Individual package selection . This lets you review your choices and add or remove items as you see fit.
Click Next , and the package installation will begin. You'll be treated to a little slideshow telling you about Open Source software, Mandrake products, joining the Mandrake Club, and information about the various things that come with your Mandrake system (Figure B-1). In short, the show tells you why you are going to love working with Mandrake Linux. Depending on the choices you made, you may need to switch the CD at some point.
Figure B-1. Your Mandrake 10.1 desktop, ready for use.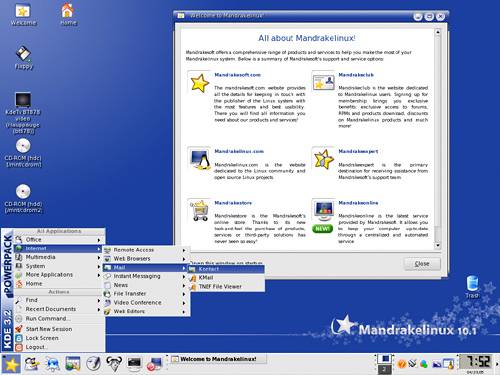 When the installation completes, you'll be asked to choose a root password, after which you will have the opportunity to create one or more normal users. You really only need to create one at this time. Notice that the Mandrake install lets you choose a representative icon for your users. Just click on the icon and select one that suits you. I particularly like the cat, myself . After entering your information, click Accept user , and then click Next (unless you are adding multiple users, of course).
Mandrake will then ask you to choose your default Window manager. KDE is displayed as the default, and that will do nicely . You can also choose to have the system automatically log in a single user on boot. While this is fine for a home user who is the only one on the system, I highly recommend that others (particularly in an office environment) make sure this box is unchecked.
Click Next to select a location for the installation of the boot loader. Most people should just accept the default here, which is the master boot record (MBR) of the first disk.
Click Next to continue, and you'll be taken to the a kind of summary screen of various hardware options, such as printer, sound card, and network. Some of these will already be configured; others may need to be set up (the Network/LAN option, for instance). Click the Configure button to make changes. In most cases, a wizard will take you through the various choices available. The installer is very good at auto-detection of printers, network connections (LAN, Cable, DSL, etc.), and graphical interfaces, so if you aren't sure, take the defaults. When you are happy with all your choices, click Next.
We're almost done! Ideally, you should have a live Internet connection at this point and high-speed access, because the packages can be substantial —downloading the updates can take a long time if your only connection is a dial-up modem. What Mandrake does here is provide you with a chance to load and install any updates and security fixes that may have been released since the OS first came out. Select Yes and then click Next to start the update. But remember what I said about high-speed access.
That's it. Click Reboot to reboot, and make sure you take the CD out of the drive when it is ejected. When you log in for the first time, Mandrake will take you through a Wizard to complete your user setup.