8.

Model Checking

Information provided from playfield zone recognition and camera motion analysis is used to create temporal logic models of the highlights. In fact the highlights can be characterized by the playfield zone where they happen, and how the action develops through the playfield . For instance the forward launch requires that the ball moves quickly from midfield toward the goal box. The models of all the actions have been implemented as FSM. Figure 5.20 and 5.21 show two FSM, one for the goal shot and one for the turnover .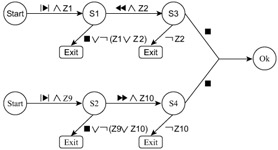 Figure 5.20: Shot model— on the arcs are reported the camera motion and playfield zones needed for the state transition. The upper branch describes a shot in the left goal post, the lower branch the shot in the right goal post. If state OK is reached then the highlight is recognized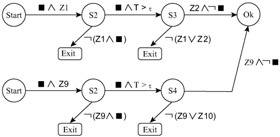 Figure 5.21: Restart model— the final transition requires a minimum time length.
The system has been tested on about one 80 sequences, selected from 15 European competitions. Tables 5.3 and 5.4 report the results. From the results it can be noticed that those highlights that can be easily defined (free/penalty kicks and shots on goal) obtain a good recognition rates.
Table 5.3:

Highlight classification results. The Corner/Penalty kick class comprises also free kicks near the goal box zone

| | Detect. | Correct | Miss. | False |
| --- | --- | --- | --- | --- |
| Forward launch | 36 | 32 | 1 | 4 |
| Shots on goal | 18 | 14 | 1 | 4 |
| Turnover | 20 | 10 | 3 | 10 |
| Corner/pen. kick | 13 | 13 | 2 | |
Table 5.4:

The Other class contains actions that were not modeled . The Corner/Penalty kick class comprises also free kicks near the goal box zone.

Actual highlight

Classific. result

Fwd. launch

Sh. On goal

Turnover

C./p. kick

Other

Fwd. launch

32

1

1

2

Shots on goal

1

14

3

Turnover

10

10

Corner/pen. kick

13

2
Recognition of shots on goal is very good, especially if we consider that the false detection is due to attack actions near the goal box. Since the ball often moves too fast and is too small, we did not attempt to detect the goal. Anyway this highlight could be recognized combining together the shot on goal and the caption that shows the new goal count. Also the good result of forward launches detection is encouraging, since this highlight is usually very similar to other actions. It must be noticed that while this highlight is not important per se, it is linked to other important highlights, such as counterattacks. The recognition of turnovers is critical since its definition is quite fuzzy; probably adding other features such as player position would reduce the false detection. Other improvements may arise considering more cues, such as players trajectories, obtained from the object motion analysis described in section 3.
Acknowledgments
This work was supported by the ASSAVID EU Project, under contract IST-13082. The consortium comprises ACS SpA (I), BBC R&D (UK), Institut Dalle Molle D'Intelligence Artificielle Perceptive (CH), Sony BPE (UK), University of Florence (I), University of Surrey (UK).
References
[1] J.Ajmera, I.McCowan, and H.Bourlard, Robust HMM-Based Speech/Music Segmentation, in Proceedings of ICASSP , 2002 .
[2] W. Al-Khatib, Y. F. Day, A. Ghafoor, and P. B. Berra, Semantic Modeling and Knowledge Representation in Multimedia Databases, IEEE Trans. On Knowledge and Data Engineering 11 (1), 1999 .
[3] Y.Ariki, and Y.Sugiyama, Classification of TV Sports News by DCT Features using Multiple Subspace Method, in Proc. 14th International Conference on Pattern Recognition (ICPR'98) , pp. 1488–1491, 1998 .
[4] A.Bonzanini, R.Leonardi, and P.Migliorati, Exploitation of Temporal Dependencies of Descriptors to Extract Semantic Information, in Int'l Workshop on Very Low Bitrate Video (VLBV'01) , Athens(GR), 2001 .
[5] C. Colombo, A. Del Bimbo, and P. Pala, Semantics in Visual Information Retrieval, IEEE MultiMedia 6 (3): 38–53, 1999 .
[6] A. Del Bimbo, Visual Information Retrieval , Academic Press, London 1999 .
[7] S. Eickeler and S. Muller, Content-Based Video Indexing of TV Broadcast News Using Hidden Markov Models, in Proc. IEEE Int. Conf. on Acoustics, Speech, and Signal Processing (ICASSP) , pp. 2997–3000, 1999 .
[8] R. S. Heller and C. D. Martin, A Media Taxonomy, IEEE Multimedia , 2 (4): 36–45, Winter 1995 .
[9] H. Li, D. Doermann, Automatic Identification of Text in Digital Video Key Frames, Proc. Int. Conf. on Pattern Recognition ICPR'98 , 1998 .
[10] M. Irani, P. Anandan, J. Bergen, R. Kumar, and S. Hsu. Efficient Representations of Video Sequences and Their Applications, Signal Processing: Image Communication , 8 (4): 327–351, 1996 .
[11] R. Lienhart, Indexing and Retrieval of Digital Video Sequences Based On Automatic Text Recognition, in Proc. of 4-th ACM International Multimedia Conference , 1996 .
[12] H. Miyamori, S.-I. Iisaku, Video annotation for content-based retrieval using human behavior analysis and domain knowledge, in Proc. Int. Workshop on Automatic Face and Gesture Recognition 2000 , 2000 .
[13] J.Kittler, K.Messer, W.J.Christmas, B.Levienaise-Obadia, D.Koubaroulis, Generation of semantic cues for sposrts video annotation, in Proc. ICIP 2001 , 2001 .
[14] T. Sato, T. Kanade, E. K. Hughes, M. A. Smith, Video OCR for Digital News Archive, in Proc. IEEE Int. Workshop on Content-Based Access of Image and Video Databases CAIVD'98 , pp. 52–60, 1998 .
[15] W. Zhou, A. Vellaikal, and C.C.J. Kuo, Rule-based video classification system for basketball video indexing, in Proc. ACM Multimedia 2000 Workshop , pp. 213–216, 2000 .
[16] N. Dimitrova et al., Entry into the Content Forest: The Role of Multimedia Portals, IEEE MultiMedia , Summer 2000 .
[17] Y. Gong, L.T. Sin, C.H. Chuan, H. Zhang, and M. Sakauchi, Automatic Parsing of TV Soccer Programs, in Proc. of the Int'l Conf. on Multimedia Computing and Systems (ICMCS'95) , Washington, D.C, May 15–18, 1995 .
[18] U. Gargi, R. Kasturi, and S.H. Strayer, Performance Characterization of Video-Shot-Change Detection Methods, in IEEE Transactions on Circuits and Systems for Video Technology , Vol. 10, No. 1, 2000 .
[19] S.Pfeiffer, S.Fischer, and W.Effelsberg, Automatic Audio Content Analysis, in Proc. ACM Multimedia 96 , pp. 21–30, 1996 .
[20] R.C. Nelson, Finding Line Segments by Stick Growing, IEEE Transactions on PAMI , 16 (5): 519–523, May 1994 .
[21] S.S.Intille and A.F.Bobick, Recognizing Planned, Multi-person Action, in Computer Vision and Image Understanding , (1077–3142) 81 (3): 414–445, March 2001 .
[22] P.Martin-Granel, M.Roach, and J.Mason, Camera Motion Extraction Using Correlation for Motion-Based Video Classification, in Proc. of IWFV 2001 , Capri(I), 2001 .
[23] S. Santini and R. Jain, Integrated Browsing and Querying for Image Databases, IEEE Multimedia , July–Sept. 2000 .
[24] S.Choi, Y.Seo, H.Kim, K.-S.Hong, Where Are the Ball and Players? : Soccer Game Analysis with Color-based Tracking and Image Mosaick, in Proc. of Int'l Conf. Image Analysis and Processing (ICIAP'97) , 1997 .
[25] V.Tovinkere and R.J.Qian, Detecting Semantic Events in Soccer Games: Towards a Complete Solution, in Proc. of Int'l Conf. on Multimedia and Expo (ICME 2001) , pp. 1040–1043, 2001 .
[26] D.Yow, B.-L.Yeo, M.Yeung, and B.Liu, Analysis and Presentation of Soccer Highlights from Digital Video, in Proc. of 2nd Asian Conf. on Computer Vision (ACCV'95) , 1995 .
[27] G. Sudhir, J.C.M. Lee, and A.K. Jain, Automatic Classification of Tennis Video for High-level Content-based Retrieval, in Proc. of the Int'l Workshop on Content-Based Access of Image and Video Databases (CAIVD '98) , 1998 .
[28] S.Nepal, U.Srinivasan, G.Reynolds, Automatic Detection of 'Goal' Segments in Basketball Videos, in Proc. of ACM Multimedia , pp. 261–269, 2001 .
[29] D.D.Saur, Y.-P.Tan, S.R.Kulkami, and P.J.Ramadge, Automatic Analysis and Annotation of Basketball Video, Storage and Retrieval for Image and Video Databases V , pp. 176–187, 1997
[30] Y.Rui, A.Gupta, and A.Acero, Automatically Extracting Highlights for TV Baseball Programs, in Proc. of ACM Multimedia , 2000
[31] Y. Zhong, H. Zangh, and A. K. Jain, Automatic Caption Localization in Compressed Video, IEEE Trans. on Pattern Analysis and Machine Intelligence 22 (4): 385–392, 2000 .
[32] G. Baldi, C. Colombo and A. Del Bimbo, A Compact and Retrieval-oriented Video Representation Using Mosaics, in Proc. 3rd Int'l Conference on Visual Information Systems VISual99 , pages 171–178, 1999 .
[33] T.-J. Cham and R. Cipolla. A Statistical Framework for Long-range Feature Matching in Uncalibrated Image Mosaicing, in Proc. Int'l Conf. on Computer Vision and Pattern Recognition CVPR'98 , pages 442–447, 1998 .
[34] H.S. Sawhney and S. Ayer, Compact Representations of Videos Though Dominant and Multiple Motion Estimation, IEEE Transactions on Pattern Analysis and Machine Intelligence , 18: 814–830, 1996 .
[35] L.S. Shapiro, H. Wang, and J.M. Brady. A Matching and Tracking Strategy for Independently Moving, Non-rigid Object, in Proc. British Machine Vision Conference , pages 306–315, 1992 .
[36] H.D. Wactlar, A.G. Hauptmann, and M.J. Witbrock, Informedia: News-On-Demand Experiments in Speech Recognition, in ARPA Speech Recognition Workshop , 1996 .