Suggestion Technology: Intervening at the Right Time
One soggy winter day, 15 students stood on the edge of a bridge that spans Highway 101 in Palo Alto, California. Each student held a poster painted with a bold orange letter. Lined up in order, the letters spelled out a simple but provocative message for the Silicon Valley drivers below: "W-H-Y N-O-T C-A-RP- O-O-L-?" The automobiles below were moving at a snail 's pace, bumper to bumper . However, one lane was nearly empty: the carpool lane. It's hard to imagine a driver trapped in the rush hour crawl who didn't—at least for a moment—reconsider his or her commute strategy. "Yeah, why not carpool? I could be home by now."
A computing technology will have greater persuasive power if it offers suggestions at opportune moments.
This anecdote illustrates the potential impact of making a suggestion at the most appropriate time. That's the principle behind another type of persuasive tool that I call "suggestion technology," which I define as an interactive computing product that suggests a behavior at the most opportune moment. To be viable , a suggestion technology must first cause you to think, "Should I take the course suggested here, or should I continue along my current path ?"
The dynamics underlying suggestion technology date back at least 2,000 years , to a principle of persuasion called kairos. Discussed by ancient Greek rhetoricians, kairos means finding the opportune moment to present your message. [16 ] (In Greek mythology Kairos was the youngest son of Zeus and the "god of the favorable moment." [17] )
Suggestion technologies often build on people's existing motivations—to be financially stable, to be healthy , to be admired by others. The suggestion technology simply serves to cue a relevant behavior, essentially saying, "Now would be a good time to do X"—to get out of growth stocks and into government bonds , to change the air filter in your home's heating system, to send a card to a friend you haven't seen in a while, to call a customer to see if she needs more of your product. For the technology to be successful, the suggested action must be compelling and timely enough that you implement it.
One familiar example of a suggestion technology is the Speed Monitoring Awareness and Radar Trailer (SMART), [18 ] a portable trailer (Figure 3.4) that can be placed at the side of the road to monitor the speed of oncoming vehicles. If you've seen SMART before, you've likely seen it in school zones and neighborhoods where drivers tend to exceed the posted speed limit.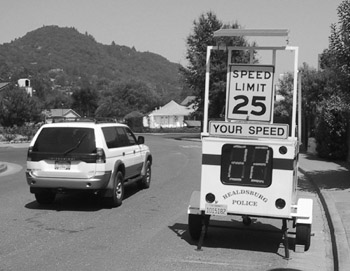 Figure 3.4: The SMART trailer is designed to influence drivers by using information comparison as a suggestion.
As a driver approaches the trailer, SMART senses how fast the car is traveling, as far away as about 90 yards. It then displays the car's speed on a large output device, big enough that the driver can read it from afar. In most versions of this device, the trailer also shows the speed limit for the street, allowing drivers to compare their actual speed with the posted limit.
The goal of SMART is to suggest that drivers reevaluate their driving behavior. It creates a decision point about driving speed at the right time—when people are driving too fast.
SMART doesn't make an explicit suggestion; the suggested behavior is implicit: drive within the posted speed limit. The motivation to act on the suggestion comes from within the driver—either a fear of getting a speeding ticket or a sense of duty to drive safely.
Timing Is Critical
Timing is critical for a suggestion technology to be effective. The technology must identify the right time to make the suggestion. But what is the "right" time?
Although classical rhetoricians emphasized the importance of kairos in persuasion, they did not leave behind practical guidelines on how to recognize or create moments that would be most opportune. However, psychologists have identified some characteristics that define opportune moments of persuasion: When people are in a good mood, they are more open to persuasion. [19 ] When they find their current world view no longer makes sense, people are more open to adopting new attitudes and opinions . [20 ] In addition, people are more likely to be persuaded to comply with a request when they can take action on it immediately or when they feel indebted because of a favor they've received, [21 ] a mistake they have made, [22 ] or a request they recently denied . [23 ]
These are simple examples of opportune moments. In reality, the timing issues in persuasion are not easily reduced to guidelines. Timing involves many elements in the environment ( ranging from the physical setting to the social context) as well as the transient disposition of the person being persuaded (such as mood, feelings of self-worth, and feelings of connectedness to others).
To illustrate the difficulty of creating opportune moments of persuasion, consider a concept that two students in my Stanford lab [24] explored, using Global Positioning System (GPS) technology to identify a person's location. Theoretically, by using GPS you could create a suggestion technology to persuade a person to do something when she is at a specific location.
The students created a prototype of a stuffed bear that McDonald's could give away to children or sell at a low price. Whenever the bear came near a McDonald's, it would begin singing a jingle about French fries —how delicious they are and how much he likes to eat them.
The toy was never implemented, but you can imagine how kids could be cued by the bear's song and then nag the parent driving the car to stop by McDonald's. You could also imagine how the technology might backfire, if the parent is in a hurry, in a bad mood, or doesn't have the money to spend on fast food. The point is, while the geography may be opportune for persuasion, the technology doesn't have the ability to identify other aspects of an opportune moment: the parent's state of mind, financial situation, whether the family has already eaten, and other variables . (In this example, there also are obvious ethical concerns related to manipulating children—a topic I'll explore in Chapter 9.)
Suggestion technology can be used for macrosuasion, as in the case of SMART, whose purpose is to promote safe driving. It also can be used for microsuasion—persuasion that's part of a larger interactive system. A personal finance application may suggest that you pay your utility bill today, a software management system could suggest that you back up your data soon, or an electronic reminder service may suggest that you buy and ship your mother's birthday gift early next week. The key to the success of such technology applications is creating a decision point at or near the time when it's appropriate to take action.
[16 ] James Kinneavy and Catherine Eskin, Kairos in Aristotle's Rhetoric, Written Communication, 11(1): 131–142 (January 1994). See also Stephen P. Witte, Neil Nakadate, and Roger D. Cherry (eds.), A Rhetoric of Doing: Essays on Written Discourse in Honor of James L. Kinneavy (Carbondale, IL: Southern Illinois University Press, 1992).
[17] For more on kairos, see http://www.sagepub.co.uk/journals/details/issue/sample/a009710.pdf.
[18 ] You'll find more information about these trailers at http://www.kustomsignals.com.
[19 ] For more details on the effects of moods on persuasion processes, see the following:
a. Diane M. Mackie and Leila T. Worth, Feeling good, but not thinking straight: The impact of positive mood on persuasion, in J. Forgas (ed.), Emotion and Social Judgments (Oxford: Pergamon Press, 1991), 201–219.
b. Richard E. Petty, Faith Gleicher, and Sara M. Baker, Multiple roles for affect in persuasion, in J. Forgas (ed.), Emotion and Social Judgments (Oxford: Pergamon Press, 1991), 181–200.
c. N. Schwarz, H. Bless, and G. Bohner, Mood and persuasion: Affective states influence the processing of persuasive communications, Advances in Experimental Social Psychology, 24: 161–199 (1991).
d. Joel B. Cohen and Charles S. Areni, Affect and consumer behavior, in T. Robertson and H. Kassarjian (eds.), Handbook of Consumer Behavior (Englewood Cliffs, NJ: Prentice Hall, 1991), pp. 188–240.
[20 ] Unless the circumstances are unusual (such as belonging to a doomsday group whose predictions fail) or people feel personally threatened, what psychologists call " disconfirming information" will lead people to experience cognitive dissonance and seek new beliefs and actions that are more consistent. The classic work in this area is L. Festinger, A Theory of Cognitive Dissonance (Stanford, CA: Stanford University Press, 1957).
For a more recent treatment of dissonance and consistency issues in persuasion, see Chapter 5 ("Motivational Approaches") in R. Petty and J. Cacioppo, Attitudes and Persuasion: Classic and Contemporary Approaches (Dubuque, IA: Wm. C. Brown Publishers, 1981).
For studies of how self-worth mediates assimilation of disconfirming information, see Geoffrey L. Cohen, Joshua Aronson, and Claude M. Steele, When beliefs yield to evidence: Reducing biased evaluation by affirming the self, Personality & Social Psychology Bulletin, 26(9): 1151–1164 (2000).
[21 ] For more on how the rule of reciprocity works as well as its role in compliance, see the following:
a. A. W. Gouldner, The norm of reciprocity: A preliminary statement, American Sociological Review, 25: 161–178 (1960).
b. M. S. Greenberg, A theory of indebtedness, in K. Gergen, M. S. Greenberg, and R. H. Willis (eds.), Social Exchange: Advances in Theory and Research (New York: Plenum, 1980), pp. 3–26.
c. M. S. Greenberg and D. R. Westcott, Indebtedness as a mediator of reactions to aid, in New Directions in Helping, Vol. 1, (Orlando, FL: Academic, 1983), pp. 85–112.
[22 ] For more on how people comply with requests in order to affirm their self-concept after it has been threatened, see
a. Claude M. Steele, The psychology of self-affirmation: Sustaining the integrity of the self, in L. Berkowitz (ed.) et al., Advances in Experimental Social Psychology, Vol. 21: Social Psychological Studies of the Self: Perspectives and Programs (1988), 261–302.
b. Amy Kaplan and Joachim Krueger, Compliance after threat: Self-affirmation or self presentation? Current Research in Social Psychology, Special Issue: 4(7): (1999).
c. For an online literature review by Kaplan, see http://www.uiowa.edu/~grpproc/crisp/crisp.4.7.htm.
[23 ] For a relatively recent meta-analysis of "door in the face" research, see Daniel J. O'Keefe and Scott L. Hale, An odds-ratio-based meta-analysis of research on the door-in-the-face influence strategy, Communication Reports, Special Issue: 14(1): 31–38 (2001).
[24] My Stanford students Daniel Berdichevsky and Kavita Sarin carried out early explorations into location-based persuasion.