Microphones
Remember earlier how I said you could spend years mastering the art of capturing audio? As with any specialized field, you could also spend a fortune on microphones and audio equipment. The good news is that you can also spend around $20 at Radio Shack and get what you need. Since it's unlikely that you'd spend tens of thousands of dollars on microphones to use with a $500 camcorder, I'm going to stick with a few realistic options.
Lavalier
A simple and portable solution is to purchase a lavalier microphone ( Figure 5.3 ). It clips to your subject's shirt or tie, and often has a small battery- powered amplifier , making it a condenser mic, which is how your camcorder's documentation refers to it.
Figure 5.3. A simple clip-on lavalier microphone can greatly increase the quality of your recorded audio.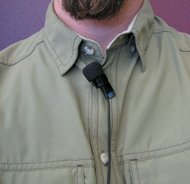 Directional
Directional microphones come in a number of shapes and sizes, and are built to pick up sound in some areas and not others. For example, cardioid microphones minimize sound coming from the sides and block sound from behind.
A shotgun mic, like the ones found on higher-end camcorders ( Figure 5.4 ), picks up audio only in front of the camera (or whatever the mic is pointed at) while ignoring sound from behind the mic (therefore reducing the likelihood of recording camera noise).
Figure 5.4. Higher-end digital camcorders are outfitted with directional microphones that aren't as likely to pick up camera (or camera operator) noise.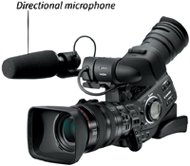 An omnidirectional microphone, on the other hand, picks up sound from all sides and is good to use when you're not focused on any one particular subject.
Wireless
Wireless microphones also come in a variety of shapes and sizes, but aren't tied to an audio cable that snakes back to the camcorder. They're portable, allowing you more freedom to shoot your video while moving, or from anywhere in the room. The biggest drawback to using a wireless mic is that it's more likely to pick up interference from other radio sources, so be sure to test the output before you start filming , and use headphones to monitor the recording while shooting.
Tips
Check your camcorder's specifications for attaching external microphones. Some require that the mic is amplified, calling for an external power source. Other cameras can use the camcorder's battery to provide power.

If you don't entirely trust your camcorder's mic, or just want to be sure you have a backup source of audio, consider purchasing a MiniDisc recorder so you can make an additional recording of a scene's audio while you're filming. It stores audio digitally, which you can import into iMovie and add to your movie, or use in place of audio that didn't record clearly (due to the placement of the microphone, for example). Another option, if your audio doesn't need to be at high quality, is to use a Belkin voice recorder ( www.belkin.com ) attached to an iPod.

If you're dubbing dialogue, you may have to break the audio into several clips in iMovie and synchronize the timing often, but that's a better solution than trying to re-create the original shoot. See Chapter 10 for more on editing audio.