Don't Move
It's time to go watch TV again (hey, this moviemaking stuff is easy!). Turn to a scripted dramatic show and note how often the camera moves. I don't mean how often the camera is moved , which provides different angles of the same scene, but how often the camera is actually movingnot much. When it does move, such as when following a character through a set, the movement is smooth and measured.
As much as possible, limit your camera's movement. You want action that emotionally affects the viewer, which is more likely to happen when the camera is stationary and focused on the contents of a scene. A shot that's bouncing, zooming, or otherwise sloshing about like a drunk at happy hour is a scene where the movement is distracting from the action. Of course, there are times when motion is called for: can you imagine reality-television shows like COPS or The Amazing Race using stationary cameras ? I imagine it's difficult enough to chase a suspected criminal down a dark alley and over a chain-link fence without asking him to pause for a few minutes while the crew sets up its lights and tripods.
Staying still has another practical benefit: excess movement causes blurring in your images ( Figure 3.1 ). Our eyes do a good job of pulling detail out of motion blur, but there's a limit to how often they can tolerate fuzzy swabs of color streaking across the screen.
Figure 3.1. Sudden camera moves introduce blurriness to your footage. Try to keep the camera stationary for most of your shots, if possible.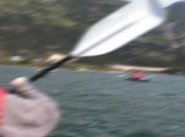 Tip
| | |
| --- | --- |
| | |
Okay, you don't have to remain completely still when shooting. In fact, motion can be particularly effectivein moderation . A little motion can go a long way.
Case in point: film director Steven Soderberg. If you watch one of his movies, you'll notice that the camera is almost always in motion, but just barely . A scene in Ocean's Eleven stands out in my mind, where a group of main characters steals a device from a research university. In the shot, you're looking down the side of their getaway van toward a set of doors where the crooks will emerge with the device.
It would have been simple to lock the camera down in a fixed location and shoot the actors coming out of the doors. Instead, Soderberg very slowly pushes in on a dolly (see "Dollying," later in this chapter). The camera only moves perhaps one or two feet, but the subtle motion draws your attention to the door in a way that a motionless shot would not.