Exporting to QuickTime
Exporting your movie to QuickTime can be as straightforward or as complicated as you want it to be. Understanding that most users won't wade into the complexities of what the QuickTime format can offer, iMovie gives you five pre-configured settings. Following are the basic steps for creating a QuickTime movie from your footage.
To export as a QuickTime movie:
1.

To export only a few clips, select them in the Timeline or Clips pane. To export the entire movie, skip to the next step.



2.

Choose QuickTime from the Share menu, or press Command-Shift-E.



3.

In the Share dialog, click the QuickTime icon if it's not already selected.



4.

Select a format from the popup menu labeled Compress movie for ( Figure 16.1 ). These are common settings for various types of distribution (such as Web versus CD-ROM). See "Choosing a QuickTime format" below for explanations and examples of each.



Figure 16.1. iMovie includes five presets for exporting movies into the QuickTime format.




5.

Click the box labeled Share selected clips only to export the range you selected in step 1. Otherwise, ignore this step.



6.

Click the Share button to begin creating the QuickTime movie.


Choosing a QuickTime format
When you're exporting to QuickTime, remember to keep your audience in mind. If your cinematic masterpiece is several hundred megabytes in size , it won't be downloaded online or fit onto a CD-ROM easily. iMovie offers five preset export configurations ( Figures 16.2 and 16.3 ); the DV specifications for each are shown in Table 16.1 .
Figure 16.2. This should give you an idea of how the QuickTime export settings compare in iMovie. These images are roughly 25 percent of actual size.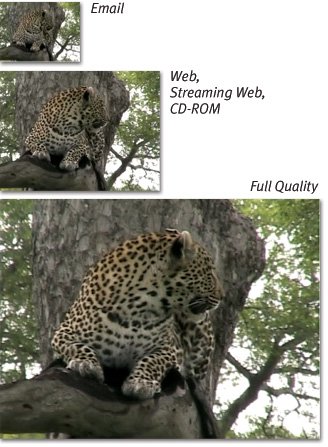 Figure 16.3. The different QuickTime export formats vary in visual quality, too, based on how much compression is applied.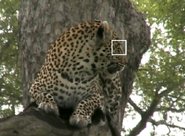 Email

CD-Rom

Web

Full Quality

Table 16.1. iMovie's Stock Compression Settings for a DV Project
| iMovie Format | Video Compression | Size (Pixels) | Frame Rate | Audio Compression | Stereo/Mono | Sample Rate | Sample File Size |
| --- | --- | --- | --- | --- | --- | --- | --- |
| Email | H.264 | 160 x 120 | 10.00 fps | AAC | Mono | 32.000 kHz | 1.1 MB |
| Web | H.264 | 320 x 240 | 12.00 fps | AAC | Stereo | 32.000 kHz | 1.4MB |
| Web Streaming | H.264 | 320 x 240 | 12.00 fps | AAC | Stereo | 32.000 kHz | 1.6 MB |
| CD-ROM | H.264 | 320 x 240 | 15.00 fps | AAC | Stereo | 32.000 kHz | 5.0 MB |
| Full Quality DV | DV - NTSC | 720 x 480 | 29.97 fps | DV | Stereo | 48.000 kHz | 215.8 MB |
Email. This is the smallest format available from the presets, and represents quite a sacrifice of quality in favor of small file sizes. Don't expect titles to be read easily (or at all), but do expect speed: this movie can be half the size of a Web movie.

Web. Web is a good compromise between file size and video quality. Its compression favors dial-up and low-speed broadband users in an attempt to appeal to the largest audience.

Web Streaming. A movie that's streamed is played as it downloads, so you don't have to wait for the entire movie to arrive before viewing it. Slightly larger in file size than the Web movie above, this format includes data that enables the movie to be streamed from a dedicated streaming server (versus downloaded as a file, then played back).

CD-ROM. The CD-ROM format increases the file size quite a bit from the Web movie, but the quality differences are immediately apparent. Note that the "CD-ROM" designation refers to file size, not a requirement that it can only be used on CD-ROMs.

Full Quality. This format should be titled "Full Quality HUGE" due to its massive file size. What makes it so big? It's the same format as what your camera produces, so essentially you're looking at uncompressed footage. It's big and beautiful, but you take a serious hard disk hit (about 200 MB per minute of video for DV footage).
Tips
In the Share dialog, iMovie offers a handy estimate of how much space the exported movie will occupy on disk ( Figure 16.4 ).

Figure 16.4. The Share dialog summarizes your current export settings and estimates the movie's size on disk.

If you want to export your movie for later import into another editing program, such as Final Cut Pro or Final Cut Express, use Full Quality to create a new file saved in your project's native format. For example, when exporting HDV footage using the Full Quality option, the file is saved in the Apple Intermediate Codec (AIC) format, not QuickTime or DV. Make sure you have plenty of disk space, though!

Why is the video size for DV footage at Full Quality set to 720 x 480, instead of the Monitor's size of 640 x 480? You know that each frame is composed of pixels, but what's not obvious is that the pixels in digital video are rectangular (taller than they are wide, as shown in Figure 16.5 ). Similarly, the NTSC frame rate of 29.97 fps isn't rounded up to 30 fps. Way back when the first color televisions were introduced, the frame rate needed to be adjusted slightly to avoid audio distortionand the setting stuck.

Figure 16.5. The Full Quality option exports video measuring 720 x 480 pixels in DV format, compared to the 640 x 480 pixel size you're accustomed to. If you were to import it into another video-editing application, it would appear as 640 x 480 (just like in iMovie).

Full Quality (720 x 480 pixels)

Full Quality (640 x 480 pixels)
Codec: Short for compression/ decompression ; another name for a compressor.

Compression: The method used to reduce the size of the movie file while still retaining image quality. Video and audio compression make for a tricky business: you have to weigh the benefits of smaller file sizes (and therefore potentially faster downloads) against the desire to have the best-looking movies possible. Many methods of compression are available, each with its own strengths. Table 16.2 (later in this chapter) provides an overview of the compressors available when exporting from iMovie. More are available if you export files from QuickTime Player Pro, and still more offered by professional editing packages such as Apple's Compressor (part of Final Cut Studio) or Cleaner ( www. autodesk .com/cleaner/ )

Table 16.2. Video Compressors Included with QuickTime

Compressor Name

Comments

Animation

Works best on computer-generated animations with broad areas of flat color. Doesn't work well for scenes with lots of color changes.

Apple H.263, VC.263

Originally designed for videoconferencing. Very high compression ratios. Sometimes good for Web video.

Apple Pixlet Video

A low file size format developed by Apple and Pixar for desktop editing of high-resolution footage.

BMP

Used for still images to be exported in BMP format. Does minimal compression. Inappropriate for video-based movie playback.

Cinepak

Commonly used for video movies that require CD-ROM playback. Compresses very slowly.

Component Video

High-quality compressor. Good for capture on Macs with built-in video capture capabilities and for use as an intermediate storage format. Low compression ratios (larger files).

DV-PAL, DV/DVCPRO-NTSC, DVCPRO-PAL

Used with digital video cameras .

Graphics

Good for 8-bit graphics files. Usually better than the Animation compressor in 8 bits. Slower to decompress than Animation.

H.261

Originally designed for videoconferencing. Extremely high compression ratios.

H.264

A high-quality, scalable video format included with QuickTime 7 (and available under Mac OS X 10.4 Tiger or later). H.264 is designed to run on devices as varied as cellular phones and high-definition televisions, and is the backbone of upcoming HD DVD formats.

JPEG 2000

High image quality and resolution for still images, using wavelet compression.

Motion JPEG A,
Motion JPEG B

Used to decompress files made with certain Motion JPEG cards when the card isn't available or to compress in a format that can be played by certain hardware Motion JPEG cards.

MPEG-4 Video

High quality compressed video based on QuickTime.

None

Good for capture only. Does almost no compression.

Photo-JPEG

Ideal for high-quality compressed still images. Also useful as an intermediate storage format for movies and QuickTime VR panoramas. Decompresses too slowly for video-based playback.

Planar RGB

For images with an alpha channel.

PNG

Typically used for still-image compression. Can get high compression ratios.

Sorenson Video 2

Very high compression ratios and high quality. Excellent for Web and CD-ROM.

Sorenson Video 3

Very high compression ratios and very high quality (better than Sorenson Video 2). Currently the best choice for Web and CD-ROM.

TIFF

Typically used for still-image compression. Does minimal compression.

Video

Very fast video compression and decompression. Decent compression ratios. Good for real-time capture of video, particularly when hard disk space is at a premium. Good for testing clips. OK for hard disk playback. Image quality is poor when compressing enough for CD-ROM playback.

Note: The Minimum Install of QuickTime (which many users will choose) doesn't install all these compressors. If the computer being used to play a movie that requires one of these compressors has an Internet connection, QuickTime downloads the necessary compressor when it is needed for decompression.




Data Rate: The amount of data sent from one point to another during a given time, such as the number of kilobytes delivered during a Web download.

Frame Rate: The number of frames displayed during 1 second. As more frames are included, the movie will play smootherbut adding frames increases the size of the file. Uncompressed DV video runs at 30 frames per second (fps) for NTSC, or 25 fps for PAL; a typical QuickTime movie contains 15 or 12 frames per second.

Key Frame: A complete movie frame that acts as the image base for successive frames. Unlike film, which displays 24 full frames per second on a reel of celluloid, QuickTime compares most of the frames in a movie with its key frames and notes the differences. Although this sounds like more work than just displaying each frame in its entirety, it actually means the movie player is drawing less data.

For example, consider a clip where the camera is stationary, filming a person talking. Every pixel of the first frame, the key frame, is drawn; in the next frame, the only change is that the person's lips have moved. Instead of redrawing the background and everything else, QuickTime holds onto the first frame and only changes the pixels around the person's mouth. So, the second frame (and third, fourth, and so on) contain only a few pixels' worth of information, dramatically reducing the total amount of data required and creating a smaller file. Of course, the entire movie likely won't be composed of just the person talking, so QuickTime creates several key frames along the way, allowing the player to regroup and start over. The more key frames that appear in your movie, the larger the file size will be.

Sample Rate: The quality of audio, measured in kilohertz (kHz). The higher the number, the more audio data is present, and therefore the better the quality of sound.