Finding Free Commercial Podcasts
It has been said that the best things in life are free, and when one looks at the vast array of commercial radio shows and other content available as podcasts at no cost, the old saying may just be true after all.
As the phenomenon of podcasting continues to take hold in the general population, there is increasing pressure for producers to make their shows available online so that they can stay connected to their core audience. Indeed, doing so may even help expand their audience. At any rate, publishing shows as podcasts on their Web sites won't hurt their ratings!
AudioBooksForFree.com
www.audiobooksforfree.com
AudioBooksForFree.com (Figure 2.40) is a place where you can grab audiobooks in MP3 format for absolutely no cost. How is this possible? The answer lies in the fact that all the books available on this Web site have expired copyrights. Before you become despondent with disappointment, remember that many fantastic classic pieces of fiction can be had for no cost at all, including works by Mark Twain and Edgar Allan Poe, and AudioBooksForFree.com is an excellent resource.
Figure 2.40. An audiobook source with a catch: If you want the high-quality version of the audiobooks, you must pay.
The catch with this Web site is that the quality of the free books is not exactly what you would be willing to pay for. In other words, there is a reason why it is free. The free books sound like they are coming out of a telephone, but for a small charge of between $3 and $6, you can get high-quality versions of the same books. Either way, it's worthwhile to see whether the "free" audio quality is bearable enough for you to enjoy.
Canadian Broadcasting Corporation (CBC)
www.cbc.ca
The Canadian Broadcasting Corporation (CBC) has jumped on the podcasting bandwagon, offering podcasts of several of its radio programs, not the least of which are Tod Maffin's "/Nerd" show and "Quirks & Quarks," hosted by Bob McDonald (Figure 2.41).
Figure 2.41. "Quirks & Quarks" was one of the first programs that the CBC podcasted.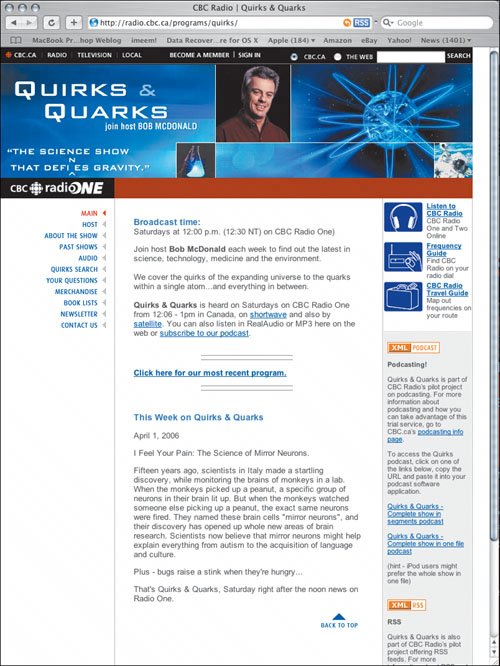 The CBC is a large radio and television network that arguably is the glue that holds the large country of Canada together. Like NPR, the CBC is publicly funded, and as such, the podcasts are available for no cost. The up side to the CBC's adoption of this technology is that Canadians living around the world can keep up on happenings in their home country.
Interview with Tod Maffin
Tod Maffin is an international authority on the future of technology in business and media. He speaks to more than 30 conferences around the world each year.Today, he is the national technology columnist for CBC Television's "Canada Now," as well as a national CBC radio host and producer. I caught up with him in Vancouver.
Farkas: Was the idea of podcasting your show on CBC a hard sell?
Maffin: The mandate of CBC is to reflect Canada to Canadians, so we want to do as much as we can do of that, and if podcasting is emerging as a trend, then it behooves us to embrace it. There is cost involved with podcasting, so we're still trying to figure out a cost-effective balance, but since I was already working on a technology column, it made sense to podcast it.
Farkas: How do you think podcasting has expanded your show's audience? Has it?
Maffin: I think it has the potential to expand to a different demographic. Usually, public radio tends to be strong in the upper age demographic. For example, CBC historically is stronger in the 40-plus age range than they are in the under-40 age range, and podcasting helps to open up an entirely new demographic. I think the young people think of public radio as their parents' radio, but if we can deliver it in a medium that they are used to, we can reach them in ways we couldn't before. It is potentially a great way to introduce a younger audience to really intelligent discourse, and secondly, I think it's a way to extend the brand of the public broadcaster.
Farkas: Where do you see podcasting taking the medium of public radio? What effect do you see it having?
Maffin: I think it definitely will have an effect. There are a number of places right now, such as Virgin Radio in the UK, where they strip out all of the music and commercials of a 4-hour morning show and podcast just the DJs talking. The result is like a well-produced 45-minute comedy show. If you can take that stripped-down 40- to 45-minute show and present it as what is essentially a marketing endeavor, then I think it's an incredible opportunity for private radio.
Currently, I am consulting with Australia's public broadcasting service, and they have incredible content that's absolutely perfect for podcasting. It's amazing, the kind of content that's out there and how well it fits into the podcasting paradigm. Public radio has 4-minute documentaries, 12-minute packs; their programming is incredible material for podcasting.
Farkas: Do you envision radio moving toward having everything available in podcast format?
Maffin: Absolutely.Why should broadcasters spend money on terrestrial transmitters and regulation from their country's broadcast regulator when they can produce content and distribute it electronically? Every public radio broadcaster from the BBC to the CBC is governed by an act of parliament or government, so they must by definition broadcast in terrestrial radio, but that doesn't mean that they can't offer value-added services in the form of podcasts. Imagine if we could take an award-winning documentary in one country and make it available via podcast to the entire world. This technology will allow the dissemination of fantastic content into countries and across borders in ways that were previously not possible.
Internet Radio
Internet radio (shown in Windows Media Player in Figure 2.42) is a form of streaming audio in which traditional radio stations broadcast on the Internet for anyone to listen. With hundreds of stations from all over the planet, Internet radio can make for some very interesting listening sessions. Want to listen to a pop radio station in London or hear about traffic in Moscow? Internet radio is the medium for you!
Figure 2.42. Internet radio opens the entire world to your ears. As long as you have a connection to the 'net, you're in.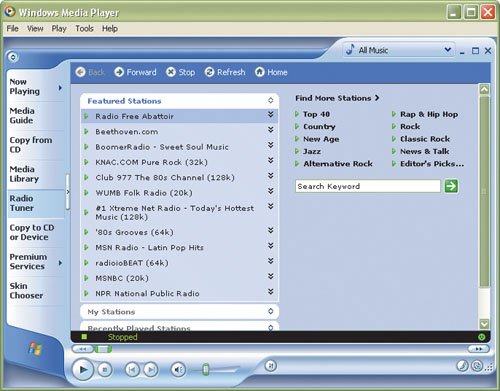 Some would argue that Internet radio is also a form of podcasting, but because Internet radio involves live streaming audio, it is not podcasting per se. That said, there are software packages available, such as Replay Radio (www.replay-radio.com), that allow you to record any Internet radio show and then turn it into an MP3 file for download to your iPod or other digital music device. At $29.95, the software isn't inexpensive, but if you are a big fan of the programming available on Internet radio, it will be money well spent.
The Stars Embrace Podcasting
Increasingly, celebrities are joining the ranks of podcasters by putting their content out on the Web for all to hear (for free). Celebrities who are already actively podcasting include Bill Maher, Penn Jillette (Figure 2.43), Ricky Gervais, and Garrison Keillor, and even shows like "The Man Show" are offering up podcasts. Although podcasts of this nature usually are fairly short, these podcasts are often extremely entertaining and well worth the price (nothing) of admission!
Figure 2.43. Penn Jillette (the speaking half of Penn and Teller) has his own podcast available for free.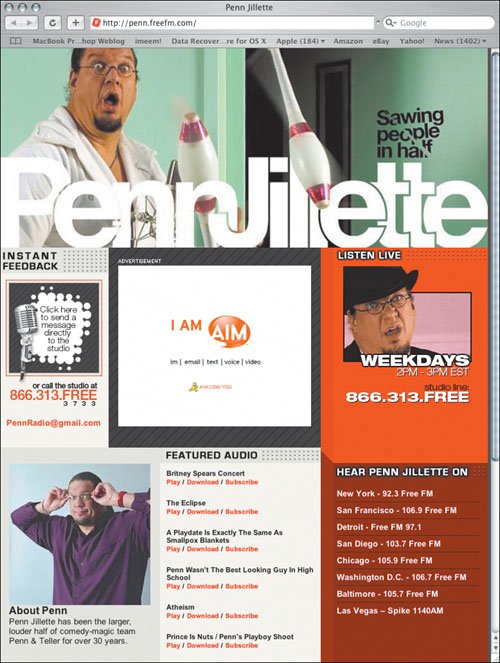 KYOU Radio (and Radio Stations Everywhere)
www.kyouradio.com
KYOU Radio (Figure 2.44), a radio station in the Bay Area of California, was the first station to go to an all-podcast format. KYOU is unique because it's available at 1550 on the AM dial in the San Francisco area, but it's also available streaming online and in podcast form. What's special about KYOU is that podcasters actually have a shot at getting their shows on the air! KYOU Radio openly solicits podcasts from the general population to help meet its programming needs.
Figure 2.44. KYOU Radio was the first station in the United States to go all-podcast.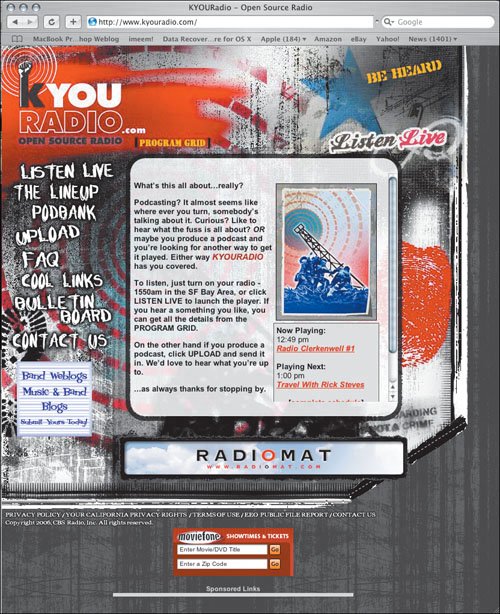 Like NPR in the United States and CBC in Canada, radio stations and networks everywhere are starting to jump on the podcasting bandwagon and are increasingly making content available for download. One of the countless examples is from CHUM Radio in Toronto (Figure 2.45). CHUM recently started podcasting its "Roger, Rick, and Marilyn" morning show so that commuters who may have missed the show in the morning can download it at work and listen to it on the drive home.
Figure 2.45. Radio stations everywhere are turning to podcasts to keep connected to their audiences.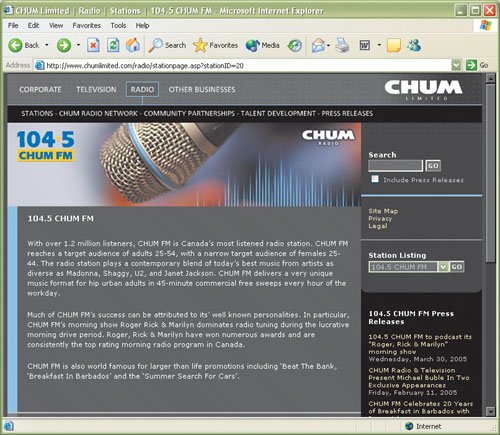 This is just one small example of how radio stations are turning to podcasts to reach and expand their audiences. After all, people who work an evening shift normally would not be out of bed in time to listen to a morning show. But if that morning show is available via podcast, they can catch the show on their way to work in the afternoon via their iPod (or other device). If you have a favorite radio program that you can't always listen to, check to see whether a podcast is available for it. You never know.
National Public Radio
www.npr.org
National Public Radio in the United States (Figure 2.46) is a prime example of free podcasts that are available to the public. Currently, all the content available for free from NPR is available as streaming content (audio that streams directly for play on a computer-based media player), but not all the files are available as MP3 files yet (although this is changing). Many NPR shows are available for a small charge on Audible.com as well, if you are interested in obtaining a self-contained podcast of a particular show.
Figure 2.46. NPR is a pioneer in podcasting, making many of its shows available via this route.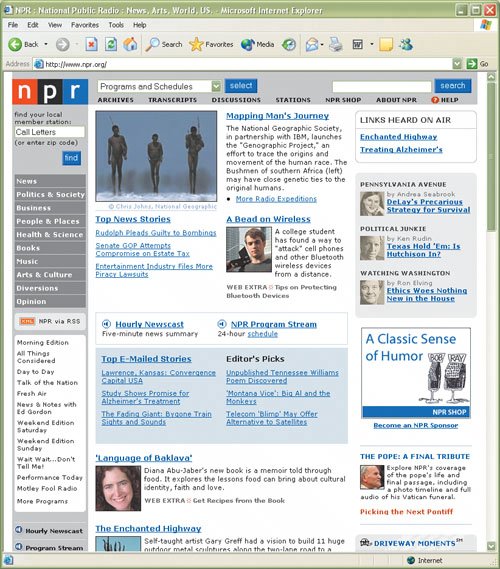 NPR is an excellent example of radio-show content that is made available to the public so that people can listen to specific shows at their leisure, and as NPR moves to make all of its content available as both MP3 files and streaming content, it can continue to be a leader in the podcasting realm.
To listen to a streaming NPR podcast, you need either the RealAudio media player or Windows Media Player.
Griffin's radio SHARK
In the past five or six years, the DVR (digital video recorder) concept has become reality in hundreds of thousands of homes across North America. DVRs, better known by the name TiVo, allow users to pause, rewind, and fast-forward live television. TiVo units (and their cousins) also allow users to record programs very easily, capturing entire seasons of a show with only a few button clicks.The popularity of TiVo has been so significant that network advertising reps are shaking in their boots!
With the DVR revolution sweeping through Televisionland, you may have wondered why it hasn't swept through Radioland as well. A product from Griffin Technology (www.griffintechnology.com) called the radio SHARK has changed all that. The radio SHARK (Figure 2.47) allows time-shifted recording of AM and FM radio signals from your areathat is to say that you can listen to, record, and pause live radio from your listening area.
Figure 2.47. The radio SHARK from Griffin Technology is an awesome podcast-creating tool.
The radio SHARK, which works on both Macintosh and Windows computers, talks directly to iTunes, turning any new recordings into podcasts that appear in your iTunes window.This is extremely handy; I use mine a great deal to capture local radio shows that I would not be able to catch otherwise.The show is recorded, and within a few seconds, it is transferred to iTunes to be placed on your iPod during the next update.
The radio SHARK is extremely flexible. It can be set up to record radio shows one at a time, daily, and even weekly.The software is easy to use and flexible enough to ensure that all the content you want to capture gets captured. The only limitation to the radio SHARK is that you cannot record two programs at the same time. That said, I love mine and recommend it to the world.