Improving Your Outlook
Now that you know how to add, remove, and assign categories to your items, you can organize all of your Outlook folders by category and use categories to find Outlook items quickly.
One of the easiest places to start assigning categories is the Contacts folder. Generally, a contact belongs to only a few categories. You can sort and group your Contacts folder before assigning categories to make assigning categories easier. Figure 7.11 shows a typical By Company view of a Contacts folder.
Figure 7.11. Sorting your Contacts folder by Company can help with assigning categories.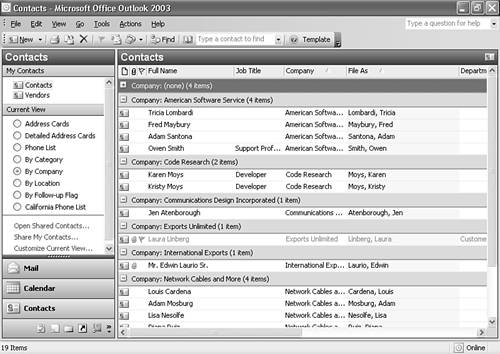 It's likely that all contacts for a particular company will belong to at least one of the same categories. For example, if you have a category for the 7_Financial Planning project, you probably want all contacts from your accounting firm associated with that category. Select the group for American Accounting Associates and click Edit, Categories. Outlook warns you that the category assignments you're about to make will apply to all items in the selected groups. Click OK to display the Categories chooser shown in Figure 7.12. Assign the group of contacts to your 7_Financial Planning Category and click OK. You can repeat this process for any group of contacts you need.
Figure 7.12. Apply your category selection to multiple contacts from the same company.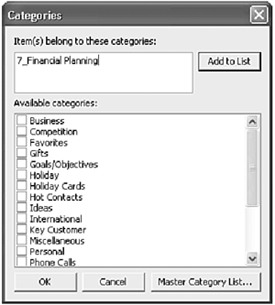 To assign all meeting requests or appointments with any staff of American Accounting Associates to the 7_Financial Planning category, use the following steps while in your Calendar folder.
Click T ools, F i nd, A d vanced Find to display the Advanced Find window.

Select the Advanced tab and type Contacts in the F i eld text box.

Select Contains for the C ondition text box and type the name of one of your Contacts from American Accounting Associates in the Val u e box.

Click A d d to List and the click Find N ow.

When all of your appointments, meetings, or events are listed in the Find Results window, select them using Ctrl+A and then click E dit, Categor i es to display the Category chooser.

Assign all the items to the 7_Financial Planning category and click OK. Repeat this process for all other contacts from American Accounting Associates.
NOTE
The Activities tab of your contact item is a good way to find all the different Outlook items associated with a particular Contact. Unfortunately, you cannot assign categories within the Activities tab. You can, however, open each item within the Activities tab and manually assign a category to the item.
You can search your entire mailbox for items that meet specific search criteria and assign categories to those items all at once. To search your entire mailbox, use the following steps:
Click the Folder List icon in the Navigation Pane to display your Folder List.

Right-click on the top-level folder either marked Mailbox - Your Name or Personal Folders and select Advanced Find.

In the Loo k For drop-down box, select Any Type of Outlook Item. Outlook will display a message indicating that this will clear any existing search criteria. Click OK.

Enter any criteria you would like to use to find Outlook items. Click Find N ow.

When Outlook has finished searching your entire mailbox, you'll see a results window similar to Figure 7.13. Notice that there are items of every Outlook item type listed in the window.

Figure 7.13. You can use the Advanced Find window to select all items related to a certain contact.

Use the Ctrl and Shift keys to select the items you want to assign to a particular category.

Click E dit, Categor i es to display the Category chooser.

Assign your desired categories to the items and click OK. Exit the Advanced Find window.
This is a quick and effective way to assign categories to multiple types of Outlook items at once based on a specific set of criteria.
After you've assigned categories to all of your Outlook items, you can use these new category assignments to perform advanced Outlook tasks such as Mail Merge to form letters or email.
Use the following steps to perform a mail merge to a selected category of contacts:
Select your Contacts folder.

Choose the By Category view to group your Contacts by Category as shown in Figure 7.14.

Figure 7.14. Group your contacts by category to select all contacts in a specific category.

Select all contacts in your desired category.

Click T ools, Mail Me r ge to display Figure 7.15.

Figure 7.15. Use the Mail Merge Wizard to begin your mail merge.

By default, O nly Selected Contacts from the Contacts section of the wizard and All Contact F ields from the Fields to Merge section are already selected.

Choose New Document (if you haven't already created a form letter document) or Existing Document (if you've already composed your form letter).

If you want to save the exported Contacts data as a separate file for later use, check the box marked P ermanent File and enter a filename and location.

In the Merge options section, specify the document type and merge destination.

Click OK to launch Word and start the merge.

You can now edit your main document to create your form letters.

Compose your letter and insert your merge fields. When you have completed it, the letter should resemble Figure 7.16.

Figure 7.16. Compose your document and insert your merge fields.

Click the View Merged Data button (the button with ABC under the symbol << >>) on the merge toolbar to view your document with merged data. You can then print your form letters.