LESSONS FROM RESEARCH INTO SUCCESSFUL AND UNSUCCESSFUL MERGERS AND ACQUISITIONS
The following quote from Selden and Colvin (2003) gives us a starting point:
70% to 80% of acquisitions fail, meaning they create no wealth for the share owners of the acquiring company. Most often, in fact, they destroy wealth. … Deal volume during the historic M&A wave of 1995 to 2000 totalled more than trillion. By an extremely conservative estimate, these deals annihilated at least trillion of share-owner wealth.
Selden and Colvin put the problems down to companies failing to look beyond the lure of profits. They urge CEOs to examine the balance sheet, and say that M&As should be seen as a way to create shareholder value through customers, and should start with an analysis of customer profitability.
However, this contrasting quote from Alex Mandl, CEO of Teligent since 1996, in a Harvard Business Review interview (Carey, 2000) provides a different view:
I would take issue with the idea that most mergers end up being failures. I know there are studies in the 1970s and 80's that will tell you that. But when I look at many companies today – particularly new economy companies like Cisco and WorldCom – I have a hard time dismissing the strategic power of M&A. In the last three years , growth through acquisition has been a critical part of the success of many companies operating in the new economy.
Carey's interview occurred before the collapse of Enron and WorldCom, so he did not know what we know now. The recent demise of both Enron and WorldCom due to major scandals over illegal accounting practices has considerably dampened enthusiasm for merger and acquisition activity worldwide. These events have raised big questions about companies that finance continuous acquisitions as a core business strategy. The use of what BusinessWeek describes as 'new era' accounting is making investors nervous, and causing companies to be very careful with their investments and their financial reporting.
The discussion about the overall success rate of merger and acquisition activity still continues. But what lessons can be learnt from previous experience of undertaking these types of organizational change?
Ispat is an international steel-making company which successfully pursues long- term acquisition strategies. It is one of the world's largest steel companies and its growth has come almost entirely through a decade -long series of acquisitions.
Ispat's acquisitions are strictly focused. It never goes outside its core business. It has a well-honed due diligence process which it uses to learn about the people who are running the target company and convince them that joining Ispat will give them an opportunity to grow.
The company works with the potential acquisition's management to develop a five-year business plan that will not only provide an acceptable return on investment, but chime with Ispat's overall strategy.
Ispat relies on a team of 12 to 14 professionals to manage its acquisitions. Based in London, the team's members have solid operational backgrounds and have worked together since 1991.
We have taken several different sources, all of which propose a set of rules for mergers and acquisitions, and distilled these into five learning points:
Communicate constantly.

Get the structure right.

Tackle the cultural issues.

Keep customers on board.

Use a clear overall process.
Communicate constantly
In the excitement of the deal, company bosses often forget that the merger or acquisition is more than a financial deal or a strategic opportunity. It is a human transaction between people too. Top managers need to do more than simply state the facts and figures; they need to employ all sorts of methods of communication to enhance relationships, establish trust, get people to think and innovate together and build commitment to a joint future. They also need to use all the avenues available to them such as:
company presentations;

formal question and answer sessions;

newsletters;

team briefings;

noticeboards;

newsletters;

e-mail communication;

confidential helplines;

Web sites with questions and answer session;

conference calls.
The top team had been working on the acquisition plans for over four months. Once the announcement was eventually made to all employees I just wanted to get on with things. I had so much enthusiasm for the deal. There was just endless business potential.
The difficulties came when I realized that not everyone shared my enthusiasm. My direct reports and their direct reports constantly asked me detailed questions about job roles and terms and conditions. It was beginning to really frustrate me that they couldn't see the big picture.
I found I had to talk about our visions for the future and our schedule for sorting out the structure at least five times a day, if not more. People needed to hear and see me say it, and needed me to keep on saying it. I learned to keep my cool when repeating myself for the fifth time that day.
MD of acquiring company
Devine (1999) of Roffey Park says that managers with merger and acquisition experience tend to agree that it is impossible to over-communicate during a merger. They advocate the use of specific opportunities for staff to discuss company communications. They also advise managers to encourage their people to read e- mails and attend communication meetings, watching out for those who might be inclined to stick their heads in the sand. Managers need to be prepared as regards formal communications:
Develop your answers to tricky questions before you meet up with the team.

Expect some negative reactions and decide how to handle these.

Be prepared to be open about the extent of your own knowledge.
Carey (2000) says it is necessary to have constant communication to counteract rumours. He advises, 'When a company is acquired , people become extremely sensitive to every announcement. Managers need to constantly communicate to avoid the seizure that may come from over-reaction to badly delivered news.'
In company communications, it is very important to be clear on timescales, particularly when it comes to defining the new structure. People want to know how this merger or acquisition will affect them, and when. Carey (2000) says, 'Everyone will be focused on the question "what happens to me?" They will not hear presentations about vision or strategic plans. They need the basic question regarding their own fate to be answered . If this cannot be done, then the management team should at least publish a plan for when it will be done.'
A very interesting statistic I once read says that people are normally productive for about 5–7 hours in an eight-hour business day. But any time a change of control takes place, their productivity falls to less than an hour .
Dennis Kozlowski, CEO Tyco International, quoted in Carey (2000)
Get the structure right
At the time we thought it best to keep everyone happy and productive. Both the merged companies had good production managers, so we decided to ask them to work alongside each other, to share skills and learn a bit about the other person's way of working.
We thought this was the best idea to keep production high, and to promote harmony and learning. However, in the end it turned out to be highly unproductive. It was a huge strain for the two individuals involved in both cases. They thought they were being set up to compete , despite protestations that this was not so. Both began to show signs of stress.
This structural decision (or rather indecision) also slowed the integration process down as people wanted to stay loyal to their original manager. They studiously avoided reporting at all to the new manager from the other company. Joint projects ended in stalemate and integration of working standards was almost impossible to achieve.
HR Director, involved in designing structure for merger
Structure is always a thorny issue for merging or acquiring companies. How do you create a structure that keeps the best of what is already there, while providing opportunities for the team to achieve the stretching targets that you aspire to?
Carey makes the point that it is essential to match the new company structure to the logic of the acquisition. If for example the intention was to fully integrate two sales teams to provide cost savings in administration and improve sales capability, then the structure should reflect this. It is tempting for senior managers to avoid conflict by appointing joint managers. Although this may work for the managers, it does not usually work for the teams . Integration becomes hard work as individuals prefer to keep reporting lines as they were.
Structure work should start early. Carey advises managers to begin working on the new structure before the deal is closed. Some companies use an integration team to work on this sort of planning. These people are in the ideal position to ask the CEO, 'What was the intended gain of this acquisition?' and 'How will this structure support our goals?'
It is important that promotion opportunities provided by merger or acquisition activity are seen as golden opportunities for communicating the goals and values of the new company. Feldmann and Spratt (1999) warn against ' putting turtles on fence posts'. They emphasize the importance of providing good role models, and encourage senior managers to promote only those who provide good examples of how they want things to be. They say 'do not compromise on selection by indulging in a quota system (two of theirs and two of ours)'. And do not be tempted to fudge roles so that both people think they have got the best deal. This will only result in arguments and friction further down the line.
Tackle the cultural issues
Issues of cultural incompatibility have often been cited as problem areas when implementing a merger or acquisition. Merging a US and a European company can be complicated because management styles are very different. For instance US companies are known to be more aggressive with cost cutting, while European companies may take a longer view. Reward strategy and degree of centralization are also areas of difference. Jan Leschly, CEO of SmithKline Beecham, says in 'Lessons for master acquirers ' (in Carey, 2000), 'The British and American philosophies are so far apart on those subjects they're almost impossible to reconcile .'
David Komansky, CEO of Merrill Lynch, made over 18 acquisitions between 1996 and 2001. In the same HBR article (Carey, 2000), he says:
It's totally futile to impose a U.S.-centric culture on a global organization. We think of our business as a broad road within the bounds of our strategy and our principles of doing business. We don't expect them to march down the white line, and, frankly, we don't care too much if they are on the left-hand side of the road or the right-hand side of the road. You need to adapt to local ways of doing things.
The amount of cultural integration required depends on the reason for the merger or acquisition. If core processes are to be combined for economies of scale, then integration is important and needs to be given management time and attention. However, if the company acquires a portfolio of diverse businesses it is possible that culture integration will only be necessary at the senior management level.
The best way to integrate cultures is to get people working together on solving business problems and achieving results that could not have been achieved before the merger or acquisition. In 'Making the deal real' (Ashkenas, Demonaco and Francis, 1998), the authors have distilled their acquisition experiences at GE into four steps intended to bridge cultural gaps:
Welcome and meet early with the new acquisition management team. Create a 100-day plan with their help.

Communicate and keep the process going. Pay attention to audience, timing, mode and message. This does not just mean bulletins , but videos , memos, town meetings and visits from management.

Address cultural issues head-on by running a focused, facilitated 'cultural workout' workshop with the new acquisition management team. This is grounded on analysis of cultural issues and focused on costs, brands, customers and technology.

Cascade the integration process through, giving others access to a cultural workout.
Roffey Park research (Devine, 1999) confirms the need to tackle cultural issues. This research shows that culture clashes are the main source of merger failure and can cost as much as 25–30 per cent in lost performance. They identify some of the signs of a culture clash :
People talk in terms of 'them and us'.

People glorify the past, talking of the 'good old days'.

Newcomers are vilified.

There is obvious conflict – arguments, refusal to share information, forming coalitions.

One party in the merger is portrayed as 'stronger' and the other as 'weaker'.
Therefore an examination of existing cultures is normally useful if there is even a small possibility that cultural issues will get in the way of the merger or acquisition being successful. This is a good exercise to carry out in workshop format with the teams themselves at all levels. The best time to look at cultural issues is when teams are forming right at the start of the integration. It breaks the ice for people and allows them to find out a bit about each other's history and company culture.
The managers from company A described their culture as:
fairly formal;

courteous and caring;

high standards;

lots of team work;

clear roles.
Company B added:
precise;

good reputation.
The managers from company B described their culture as:
Company A added:
flexible roles;

lack of hierarchy.
New culture – what did they need:
role clarity;

adaptability;

high standards;

customer focus;

responsiveness;

enjoyment;

team work.
What might be the difficult areas:
Balancing clarity of roles with adaptability – culture clash?

Achieving high standards without getting too formal.

Being responsive while keeping to high standards.

Working as one team, rather than two teams.
Action plan:
Define flexible roles for all management team. Must be half page long.

Highlight areas where standards need to be reviewed.

Audit customer responsiveness and set targets.

Tackle each of the above by creating small task force with members from both companies.
Output from a management team meeting focusing on building a new culture.
Cultural differences can be looked at using a simple cultural model such as the one offered in Riding the Waves of Culture: Understanding cultural diversity in business by Fons Trompenaars and Charles Hampden-Turner (1997). See Figure 6.1 for our representation of the various scales. People from each merger partner mark themselves on these scales and openly compare scores. In the workshop it is useful to ask the team to predict what kind of difficulties they might have as they start to work together, and to make an action plan to address these. We have run several such workshops, and in these we strongly encourage people to try to work together to define the new culture. This can be challenging work, especially if the acquisition or merger is perceived as hostile , but necessary work if any sort of integration is desired.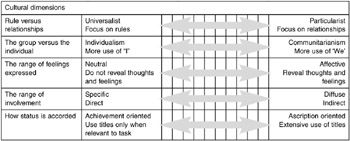 Figure 6.1: Trompenaars and Hampden-Turner's cultural dimensions
Source: Trompenaars and Hampden-Turner (1997).
Roffey Park's advice appears below:
Identify the key tactics used by team members to adhere to their own cultures.

Identify cultural 'hot-spots', highly obvious differences in working practices that generate tension and conflict.

Using a cultural model, get team members to explore the traits of their cultures, ask them what was good or bad about their former cultures.

Get your people to identify cultural values of meanings that are important to them and that they wish to preserve.

Challenge team members to identify a cluster of values that everyone can commit to and use as a foundation for working together.
Keep customers on board
Customers feel the effects first. … They don't care about your internal problems, and they most certainly aren't going to pay you to fix them.

(Feldmann and Spratt, 1999)
'It's very easy to be so focused on the deal that customers are forgotten. Early plans for who will control customer relationships after the merger or acquisition are essential,' says Carey (2000). Devine (1999) adds weight to this by commenting:
Mergers are often highly charged and unpredictable experiences. It is all too easy to take your eye off the ball and to forget the very reason for your existence. Ensure that your team concentrates on work deliverables so that everyone remembers that there is a world outside and that it is still as competitive and pressurized as ever. Help everyone to realize that your competitors will be on the lookout for opportunities to exploit any weaknesses arising from the merger. You might find that in the face of an external threat, cultural differences shrink in importance.
Some of our experiences as consultants contradict the idea that increased focus on the customer can help a team to forget cultural differences. The opposite effect can happen, where teams and individuals from the two original merging companies use customer focus to further accentuate cultural difficulties:
Sales people fight over customers and territory.

Managers blame each other rather than help each other when accounts are lost.

People from company A apologize to customers for the 'shortcomings' of people from company B rather than back them up.
This lesson accentuates the need to tackle cultural issues early, as well as to define clear groundrules for working with customers as one team.
One of our first actions was to embark on a series of customer visits that involved a senior sales person from both the merging companies. This allowed us to learn how to work together, and fast! It reassured customers and allowed us to deliver a clear message:
we were now one company;

there would be a single point of contact going forward;

the merger was amicable and well managed.
Sales Manager from merged retail company
Feldmann and Spratt (1999) identify seven deadly sins in implementing a merger or acquisition. Their book goes on to describe in detail how to ensure that you avoid these problems.


Sin 1: Obsessive list making. Don't make lists of everything that needs to be done – it is exhausting and demoralizing. Instead, use the 80:20 rule. Focus on the 20 per cent of tasks that add the most value.

Sin 2: Content-free communications. Don't send out communications that contain only hype and promotion. Employees, customers, suppliers and shareholders all have real questions, so answer them.

Sin 3: Creating a planning circus. Use targeted task forces, rather than a hierarchy of slow-paced committees .

Sin 4: Barnyard behaviour. Unless roles and relationships are clarified, feathers will fly in an attempt to establish pecking order. Simply labelling the hierarchy will not sort this one out.

Sin 5: Preaching vision and values. If you want cultural change, you have to work at it. It will not happen through proclamation.

Sin 6: Putting turtles on fence posts. Ensure that the role models you select for promotion provide good examples of how you want things to be. Do not compromise on selection by indulging in a quota system (two of theirs and two of ours).

Sin 7: Rewarding the wrong behaviours. Sort out compensation and link it to the right behaviours.
Use a clear overall process
The pitfalls associated with planning and successfully executing a merger or acquisition imply that it is important to have an overarching process to work to. GE's Pathfinder Model is summarized in Table 6.2. It acts as a useful checklist for those involved in acquisition work (more in Ashkenas, Demonaco and Francis, 1998). This model, derived through internal discussion and review, forms the basis for GE's acquisitions programme.
Table 6.2:

Adapted version of GE's Pathfinder Model

Preacquisition

• Assess cultural strengths and potential barriers to integration.

• Appoint integration manager.

• Rate key managers of core units.

• Develop strategy for communicating intentions and progress.

Foundation building

• Induct new executives into acquiring company's core processes.

• Jointly work on short and long-term business plans with new executives.

• Visibly involve senior people.

• Allocate the right resources and appoint the right people.

Rapid Integration

• Speed up integration by running cultural workshops and doing intensive joint process mapping.

• Conduct process audits .

• Pay attention to and learn from feedback as you go along.

• Exchange managers for short-term learning opportunities.

Assimilation

• Keep on learning and developing shared tools, language, processes.

• Continue longer-term management exchanges.

• Make use of training and development facilities to keep the learning going.

• Audit the integration process

Source: Ashkenas, Demonaco and Francis (1998)
It's easy to get sucked into mindless list generation. There is an extraordinary amount of stuff to be done when you merge with another company. The trouble is that list making is very tiring, and the lists have to be numbered and monitored which takes time and effort. We found that it was much simpler to develop a phased process than to list everything that needed to be done. We then created a timeline with obvious milestones such as 'structure chart delivered', or 'terms and conditions harmonized'. This helps people to keep on track without creating a circus of action planning and reporting.
Organization development manager talking about the merger of two management consultancies