Keyboards
Keyboards are cool. Organ, piano, synthesizers: All add a depth to music that is not possible with just guitar, bass, and drums.
Keyboards were out of style for a while but seem to be back in. Trends don't really affect us $30 Schoolers, but it's worth mentioning. They are used a little differently than they used to be. In the 70s, the operative word for keyboards was virtu oso , with many keyboardists like Keith Emerson and that guy from Yes having overtly classical training and a tendency towards showoffism. I quit loving that stuff when I quit smoking pot.
Today the keyboard is usually used to just add little bits here and there, as well as samples. I like the way the keyboards are used in Marilyn Mansonsparse, but as kick-ass as a rock guitar. Gwar has keyboards, believe it or not, but it's only sampled sound effects, and they aren't onstage. A keyboard onstage wouldn't fit the Neanderthal Gwar image; they're in the sound booth . There's a sound effect for each key (blood spurting, dinosaur yelling, nuns burning, people being tortured, and more), and each key is marked with a piece of tape and a Magic Marker, and the band 's soundman is in charge of "playing" it.
NOTE
Ironing boards make cool keyboard stands.
Most bands use the keyboard as well as guitars for the main crunch of the sound. Some use drums, bass, and keyboards without a guitar. My band Devil Kitty did this; so does Mike Watt's band, The Secondmen.
Check out my guitarless Devil Kitty tune, "Hey Louie," on the CD. It rocks and sounds good, even without a guitar. And the keyboards are far from virtuoso, but they totally work.
There are tons of cheap keyboards: Roland Juno-60 (no MIDI capability but can be retrofitted with a MIDI kit by www.kenton.co.uk). Going price used $300. Used by Satisfact, The Faint, Fountains of Wayne.
| | |
| --- | --- |
| Roland Juno-106 or Roland HS-60 ( Juno-106 with speakers , different color scheme) | Used by everyone. Going price for one that works $450. |
| Yamaha CS6x (decked-out synth) | Going rate $600. |
| Yamaha AN1x ( awesome analog- modeling synth) | Going rate $450. |
| E-mu XK-6 Extreme Lead synth | Going rate $600. |
| Novation Nova or Supernova II | Going rate $1000. |
| Roland D-50 (used by Enya among many othersclassic synth) | Going rate $350. |
| Yamaha DX7. THE 80s "movie score" synth | Going rate $400. |
If a keyboard has MIDI capacity, you can also use it to trigger other MIDI- interfaced devices, including computers, with unlimited samples and actions. You can even get a stripped down controller keyboard (keyboard that must be used with an external MIDI system) cheap and use software that you might be able to get free if you try. The Casio VL-1 VL1 Tone Synth is a good one, as is the Edirol PCR-50. Good feeling keys, lots of knobs and buttons (all fully assignable). About $250.
Keytars
A keytar is a keyboard that is designed or retrofitted to be worn around the neck like a guitar. Very cheesy. Best used only in irony. This is done well in Marilyn Manson. I call people who play them without irony "ketards." A common one is the AX-7 MIDI.
Bela Fleck uses one.
Taurus Bass Pedal
No longer made, but cool as hell. Look on eBay or in pawn shops . The Taurus Bass Pedal sits on the floor, and you can play it with your feet, even while you play guitar. It's one octave of bass foot fun. Good for long bass notes rather than fast fancy playing.
Used by Rush in "Tom Sawyer," and The Police in "Spirits in the Material World."
Yamaha NS10m Monitors
I found a pair of these at a local thrift store for $10. One woofer didn't work, but I got it replaced for $90. These things go on eBay for $450 a pair. Can't believe I found them. Basically, the legend goes like this: If you can make a mix sound good on Yamaha NS10ms, it will sound good anywhere . And that's true, which is why these small speakers are in every recording studio in the U.S.A. Powerful, sound great, and the industry standard. We use them all the time in our music making.
Behringer Mixing Board
For any studio, no matter how small, you need a mixer for EQ and just to route everything into the computer. I have every input filled in the mixer. Behringers are cheap and sound great, and mine has mic pre-amps on each channel, which give you more gain and better sound for recording guitars and stuff like that.
Pioneer CDJ-1000 for Scratching
The best vinyl simulation out there. I got one of these because every time I scratched vinyl on my turntable the needle would skip. I hate vinyl because:
The needle skips, especially if you don't own the DJ- industry-standard Technics 1200 table.

You can't use your own copyright-free samples to scratch on. With the CDJ-1000, you get the feel of vinyl plus the response of scratching vinyl, and you can play CD-Rs of your own samples to scratch on and never have to worry about copyright or anything. It's seriously perfect; I don't know how Pioneer did it. You can scratch as hard as you want, as fast as you want, and nothing will skip. It's a great piece of music gear, especially for someone like me who worships DJ Qbert, DJ Shadow, and Geoff Barrow of Portishead. All of them use real tables, but for me, digital's the way to go.
Numark Matrix 3 Pro DJ Mixer
Best mixer for scratching, plus it has inputs and outputs for routing effects like reverb and delay. I love the Matrix 3 because when you scratch, there are three ways to make the sound:
The crossfader, which is the most versatile way to scratch.

The channel volume ( up-down slidergood for doing scratch echo fade-outs and stuff).

The Transform buttons, which I use a lot because I can get good, fast scratching sounds. You simply press the button, and it cues in the sound. It's a lot faster than opening the crossfader. I learned this technique from Geoff Barrow when I saw the Portishead: Live in NYC video six years ago. He uses the Transform buttons a lot in his scratching. A lot of "pro" mixers don't have Transform buttons. In a way, it's like cheating because it's easier to press the button than to crossfade , but this Numark mixer rocks. Great price, solid mechanics, and the crossfader is optical (uses light instead of a variable potentiometer slider), so your crossfader lasts a lot longer than a cheap mixer.
Synths
Roland HS-60 (Juno-106 with Speakers)
The Roland Juno-106 is used by practically everyone in electronic music. There's a good reason for it. It sounds fucking amazing. Old school, warm, phat analogue sound. Insanely tweakable. No menus to dig through. All your sound editing is done from sliders above the keys. I love this synth, and I use it in all of my music. Beauty's Confusion songs would not be complete without it.
It's the old school Duran Duran/OMD/Thompson Twins synth.
I love the 80s new wave sound, and the Juno-60 is it when it comes to that. It's also great for weird-ass electronic noise and warbling. The 60 does not have MIDI like the Juno-106, which allows you to connect it to the computer or any other MIDI device, but a lot of people argue that it sounds better than the 106. I'd have to agree. You can get MIDI kits from www.kenton.co.uk for a few hundred bucks to allow you to connect the 60 to a computer, and that's very useful and a good upgrade idea. The Juno-60 has been used by everyone in the 80s, and one of my
Figure 7.5.
Roland HS-60.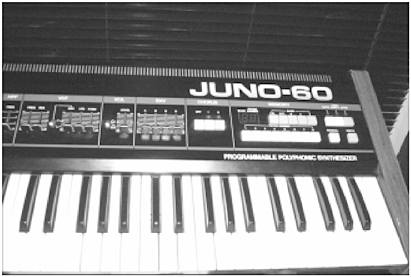 favorite now- defunct bands of the mid 90s: Satisfact. The synth has an unmistakable sound. Awesome.
Roland D2 Groovebox
I use the Roland D2 to add some variety in our live show. It's a great pattern sequencer, and you can drop parts in and out on the fly, using the buttons on it. Great for improv or just messing around. It has a four-inch "launch pad," which you can touch to change parts , edit sounds, tweak, whatever, which is really fun. I don't really use it too much for songwriting , just for beat-making and patterns to mess around with. Really powerful box, though. Need to connect a keyboard to it to make it really shine .
Yamaha CS1x Control Synth
My first synth, and one of the best synths for the money. This keyboard was created for techno/trance enthusiasts , and it has some great sounds; plus, it's fully programmable. One of the first synths in the mid-late 90s to have knobs again like the old school synths of the 70s and 80s. I've used this synth for all the keyboard parts on our song "Outcry."
Figure 7.6.
Yamaha CS1x and Roland-HS-60 and DJ gear.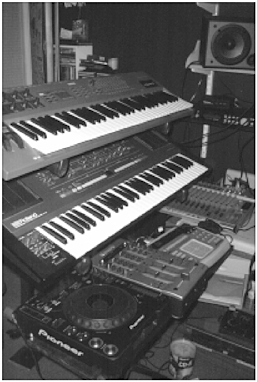 Casio CZ-1000 Phase Distortion Synth
I love anything that sounds 80s. This synth is used by Vince Clarke of Erasure and formerly Depeche Mode. I love this thing; it's awesome. You may think it sucks because of the name Casio, but I assure you, this is not some consumer piece of garbage. This synth kicks serious ass, and I've used it in several BC songs.
Various Sample Libraries/ Loops
We use samples in our music, and I'm not ashamed to admit that, because all of us can play instruments anyway. I encourage sampling as long as it's legal and you're using royalty-free loops ( otherwise you get in a shitload of trouble, especially if any of your music makes it commercially). I buy sample libraries from time to time, mostly hip-hop libraries. I love the grittiness of hip-hop samples. All great hip-hop groups use sample CDs and loops in their music. Tribe Called Quest did it; De La Soul did it; The Nextmen do it; Sage Francis, and more. Sampling is beginning to finally get some respect in the music world. Before, it was known as songwriting for people who couldn't play one note on an instrument. But now it's gained respect because of people like DJ Shadow who utilized their samplers in creative ways. I'm glad sampling is finally getting respect. It is a great way to get inspiration if you are completely stuck and cannot even think of one note to play in a new idea. Oftentimes, when I'm completely stuck with no ideas in my head, I'll drop a drum loop in my sequencer and just start writing some keyboard parts to it. And it will become a full song in two hours.
Samples and loops always spark my creativity. I will never stop using them. I just think a lot of the libraries out there are way too expensive ($50 to $90 per CD). Joel and I have started creating our own sample loop libraries and selling them through www.monochromevision.net. They're only 10 bucks each, with artwork and all, and feature over 600 MB of awesome loops per disc. We aren't putting shitty stuff out either; we're putting a lot of effort into creating great loops for people because it's great loops that inspired us in our songwriting. We figure that with all the gear in our studio and with years of music-making experience, we could put out some really good quality stuff. So I guess in a way, we're giving back to the sampling community. Hopefully, some people will check out our site and listen to some demos and stuff.
We've included a few free for you on the CD with this book. Look in the folder called monochrome. The ones with this book are in MP3 format to save space, and they sound pretty good, but on our commercial CDs, they are uncompressed and sound great.
Guitars
Guitars used by Beauty's Confusion:
Gibson Les Paul studio (Joel)

Ovation acoustic/electric (Joel)

Takamine acoustic/electric (Jenna)

Yamaha lefty acoustic/electric (me)

Fender lefty Strat (Stratocaster) (me)
In Beauty's Confusion, we can't just make music that's entirely electronic based. Some of my favorite music blends electronics with live instruments. That's what we wanted to achieve with the band. Joel writes 98 percent of our guitar parts and uses his guitars to record them; Jenna writes 75 percent of our piano parts with her digital piano, which she records live into our sequencer; and I write 90 percent of our drum parts on my Roland digital drumkit, which I play with sticks and all. We're big on the organic/ synthesized mix in music. Portishead does it;
Hooverphonic does it; Archive; Morcheeba; Ivy; and more.
| | |
| --- | --- |
| 1: | Do you use existing creations to work from, create your own, or both? |
| A: | As mentioned earlier, we sometimes start an idea with a sampled loop, but more often than not, we write everything from scratch. We wrote "Faded" from scratch, "Blue Deluge" from scratch, and "Innocence Destructing" from scratch. It just depends on the mood. I love samples and usually start my ideas with a drum loop or bass line and just build it from there. However the song gets done doesn't matter to me, as long as it gets done. |
| 2: | How do you perform live? What's taped, sampled, triggered, and what's actually played and sung? Do you play to a click? With time code? |
| A: | Our live show is hard to explain, and it changes every time we play. Joel is always on the guitar (either electric or acoustic), but sometimes he plays some keyboard parts. I'm on the acoustic drum kit 90 percent of the time. (The other time I'm scratching the CDJ-1000, while a beat is playing from a CD, which I'll explain in a few minutes. Sometimes a beat is playing throughout the song from a CD, and I'm doing live keyboards and scratching. Jenna is always singing her lead vocal parts live, but we have her harmonies being played from a CD. Jenna also sometimes plays guitar, too. |
So let me explain about the CD .
Basically, we write our songs first in the computer and finish all vocals and production. Then we create a live file with the same song elements. I put a click track panned hard left in the mix, and most of the music is a mono mix panned hard right. I say "most of the music" because I leave out most drums because I play them live. The reason we do the whole click-track-left, mono-music-mix-right thing is because there is basically no other way to play a live show without everything being chaotic . By having the click track hard left, I can get only the click in my headphones, through my Numark mixer. By having the music hard right, the backing track CD can come through the house P.A. through both speakers because it's a mono signal. With the click-track on the left, the audience doesn't hear it, only I do and I need it for obvious reasons.
The reason we use a CD instead of MIDI or time code, DAT machine, or laptop is because, quite simply, my laptop can't handle playing a sequence without crashing or having audio dropouts because it's four years old. DAT machines are a pain in the ass because you can't change the set on the fly. You have to fast-forward and rewind if you'd like to make changes in the set. CDs are easy because I can play CD-Rs and skip around by track number if we want to modify the set. We use a Numark CD player with good anti- shock because anything else, as the old 80s deodorant saying goes, "would be uncivilized." The CD has the backing tracks, which play most of the keyboard parts, any additional drum parts to fatten the drum sound live, Jenna's vocal harmonies, and anything else we are unable to do live such as base lines.
We're a three-piece, so we can only play so many instruments live. It's sometimes difficult to get a good mix. Sometimes Jenna's harmony vocals are too low, sometimes too loud. Sometimes the bass line is swampy, and so forth, but it comes with the territory. It takes a few tries to get it right, but usually it doesn't take too long. We don't want any other members in our band, so that's why we have to do it the only way we know how. Plus, I doubt that anyone would be into our music as much as we are. It's tough to find passionate , serious people who aren't drug- abusing idiots or prima donnas.
Something I wanted to point out to anyone out there who is reading this who might be thinking "Oh, all their shit is prerecorded ; they don't do shit live." It's not like that at all. It's a hard process. People respect Nine Inch Nails, and 75 percent of their live show is a DAT machine. You do what you have to do, and anyone who thinks that our live show may be boring or "non-talented" because I press Play to start a song they should research this stuff and maybe they wouldn't be so biased . I've heard some local people talk shit about us because we have the prerecorded backing track, but whatever. I just laugh because we all do some thing live. I'm doing the drums, Joel's doing 96 percent of the guitars (sometimes we prerecord some lead guitars on the backing track CD), and Jenna does 96 percent of the vocals live, plus she plays guitar while singing. And we're not one of those bands who doesn't get into it live. We play like it's the last thing we're ever going to do. I hate unpassionate live performers. The stage is so fucking energetic. It's like, just because we play a mellower style of music doesn't mean we aren't rocking out or grooving with all we've got. When I get off my kit to scratch, during a breakdown or something, I freak out on that turntable. I jump around, groove, whatever. The other members of the band are equally energetic . So I dunno . I just wanted to point out to anyone thinking that just because you use a backing track live, it doesn't mean you are a talentless idiot. As I said, it's tough, but we do what we have to do.
| | |
| --- | --- |
| 1: | Any closing comments? |
| A: | Thank you for offering to include us in this book. You are a very influential person to my entire band (everyone should see Michael's documentary D.I.Y. or DIE ), and it's been great corresponding with you via e-mail for the last few months. I hope we can continue to correspond . You are the type of person the struggling independent artist needs in his life, to give him the kick in the ass he needs to do his shit and do it right. Oh, and I'd like to say "Hi" to my wonderful girlfriend and best friend, Megan. |
Hey, Michael, here are some great electronic music writing resources:
www.tweakheadz.com
Rich is an awesome electronic musician who knows his shit from front to back about MIDI and anything relating to synthesizers and tweaking electronic instruments.
www.computermusic.co.uk
UK-based magazine with tons of tutorials on how to write music with computersheavily based on electronic music styles, but also offers a good deal on recording guitars and live drums and vocals. I've learned a lot about production from this magazine.
www.tripnotic.de
This site is the sole reason I started Beauty's Confusion. After hearing Portishead and the Sneaker Pimps and then Moby's album "Play," I found out there was a huge number of groups from around the world that do music known as trip-hop which is basically mellow hip-hop/jazz/dark, moody stuff with somber vocals, usually female .
www.sonicstate.com
Great site with tons of synthesizer reviews and news. Very informative.
www.timespace.com and www.soundsonline.com
The standard companies in sample CD librarieskind of high-priced, but they have everything, plus demos. If you've heard music, chances are you've heard tunes created from samples on sample CDs put out by these companies.
www.acidfanatic.com
Sells cheap self-produced loop CDs nice guy, usable samples, cool site!
www.monochromevision.net
Joel's and my company. The company includes:
An independent record label

Sample loop CD company

Poetry book publishing company

Indie film/movie-score company

That Web site I told you about a while back called http://femalevocals.com. We are still working on finishing it. A huge resource for female-vocal music, in all indie/alternative genres.
www.indiebible.com
The best book on self-promotion, ever.
www.rlabels.com
The most comprehensive list of mostly indie labels on the Web, and ever. Great site!
www.auralgasms.com
A cool resource featuring a lot of melodic, talented, and under-appreciated bands, both signed and unsigned.
www.reasonfreaks.com and www.reasonrefills.com
For Reason refills.
www.samplenet.co.uk
For free samples. Lots of good stuff.
Here are my recommendations for great electronic-mixed-with-real-instruments albums (90s to now):
Archive: Londinium (Island Records, 1996)

The Faint: Danse Macabre (Saddle Creek Records, 2001)

Moby: Play (V2, 1999)

Esthero: Breath from Another (Sony, 1998)

Hooverphonic: The Magnificent Tree (Sony, 2000)

Olive: Trickle (Maverick Records, 2000)

Radiohead: Kid A (Capitol/EMI, 2000)

Portishead: Dummy (Go! Beat, 1994)

Satisfact: The Unwanted Sounds of Satisfact (Up Records, 1996)

Garbage: Garbage (Almo, 1995)
Here's the complete process for how we created two of our songs, "Faded," and "Blue Deluge" (both are on the $30 Music School CD-ROM).
"Faded"
"Faded" started with Jenna and her acoustic guitar. She wrote the chord changes and main vocals, and then we went straight into the electronic production. Here's how that process began :
We opened up Propellerhead Software's Reason to write the intro pads, using a patch called LandPad in the SubTractor rack. Then I programmed an intro beat, which we wound up using throughout most of the song. We used the ReDrum rack, and the kit Dublab Brushkit1. So far, all these patches/kits are default instruments that come with Reason. Then we programmed a basic bassline using another SubTractor rack; this time we used a patch called HyperBottom, which is a great bass sound that we've used for a lot of our songs. It's full, clean, good bass sound for our style of music. So there we had the basic groove of the song.
As Jenna begins the second verse, we have this acoustic guitar patch, AcGuitarOctUp on the NN-19 rack. Immediately following that is the Novation K-Station, and a patch I don't remember; it's a grooving arpeggio throughout the second verse and the choruses. We added that later, after we took each instrument's track in Reason and bounced them separately as audio files to work in Cakewalk Sonar so we could add guitars and vocals.
As the bridge comes in, there are some Recycle drum loops we dumped into the Dr: rex rack mount. The drum loops add more balls during the choruses and stuff. I love combining drum loops (at least two) on choruses or parts that are building up within the song. Creates a nice blend, good mix, and my logic is, "Why use one drum loop when you can use two that sound twice as good?" After the bridge is over, it does this weird "sparkly" sound as Jenna is singing, " Here ." That's just a noise from one of my sample libraries. It seemed to fit the end of the bridge, right before the breakdown. When the last choruses come in, you can hear this synth swell thing. It kind of descends and creates a sad element right before Jenna sings "Enslave me" on the last choruses. That was done with a Novation Nova IIx, which I used to own but sold to buy a three-chip DV camcorder for indie film-making (see Michael's other book, $30 Film School !). I forget what the patch was called, but it was so pretty, so I used it.
Another Nova IIx patch plays throughout the last choruses. It sounds like a distorted Roland TB-303 or something. Again, I forget what that patch was called, but it worked really well as an outro.
So that basically sums up how we arranged the song electronically . Then, of course, the guitars were added (all written/played by Joel), and then Jenna records her lead vocal and then the harmony; we use an AKG C2000B condenser mic ($200 and one of the clearest mics we've come across). We've tried a bunch and we like it the best. So basically, most of the song was written with Reason 1.1 with some Novation K-Station and Novation Nova II. (We've since upgraded to Reason 2.0.)
"Blue Deluge"
The verses for this song were written by Jenna on her digital piano. She showed the basic idea to me, and I wrote the bridge and chorus parts. The song came together relatively quickly, and as many times as we've played this song live, I still love it as much as when I first heard it. It's so damn sad, and it is a very personal and honest summary of a bad relationship Jenna went through a few years ago. So anyway, here's how we arranged it:
We were looking for a good beat in our sample collection and found one that was depressing as hell and went with it, removing it in places where we wanted to have just Jenna and the keyboards. Initially, we were going to make the song strongly piano-based but realized that a piano wouldn't be good for the held-out chords, and that a vintage Fender Rhodes piano would be a lot more somber. Jenna recorded the held-out chords using the Rhodes. We threw a relatively slow tremolo plug-in (Syntrillium Software's free Tremolo DirectX instrument, which is a great tremolo effect for digital recording) on the held-out Rhodes chords. You hear a piano come in on the third line of the song; that's me and my E-Mu Proformance rack mount (same thing used by Moby throughout his "Play" and "18" albums). Then I come in with some scratching. I did about half of the song's scratching live, and the other half was just some scratch samples that I arranged in Cakewalk Sonar in a certain pattern that I thought would work pretty cool in a non-subtle way. The song is very down-tempo, but the scratching that comes in before the second verse is intense . I like the dynamic. All the other scratching (the kick drum fast scratches immediately following the second verse) I did live with my Pioneer CDJ-1000 digital turntable. The male voice heard before the chorus comes in and before the last verse ("ah-wa-ah-wa-ahwa-ah ahwa on") is also done live with my CDJ-1000. You hear some dreamy synth sounds before the last verse also. Those were done with my sorely missed Novation Nova IIx, with the patch called "Lush." That's basically it. Joel was listening to a lot of Coldplay the week when we were recording this, and his parts are kinda Coldplay-ish (kind of like what their lead guitarist would do), which I don't think is a bad thing at all because we all love that band. Then Jenna recorded her lead vocals, then harmony vocals, and there it is.
One thing I wanted to point out when I mentioned all of those patches we used in Reason and the Novation synths: A lot of electronic-based bands have this mentality of "We can't use the factory presets because that's not being creative." We hate that mentality because, honestly, as much fun as it is programming your own sound from scratch or heavily editing a factory preset so it doesn't sound like the original at all, it's a big time- waster to do that. I think if you have an idea, and a factory preset fits what you hear in your head, then it's all good. Some synth programmers take two hours tweaking a factory preset to maintain their "originality," and I think the songwriting or creativity may suffer because of that. In my opinion, there are two mindsets when making electronic music: trying to get the idea in your head out and into a sequencer as fast as you can, and spending hours and hours tweaking presets so you have "original" sounds the next time inspiration strikes. I'd rather not waste time creating sounds, especially if a song needs to get out. I just wanted to mention that because I've read interviews with bands who despise factory presets and go out of their way making something noisy or weird. It's cool and all, but being creative with riffs is a lot more stereophonically/aurally stimulating than a creative sound with no soul behind it. I guess you can use the whole jazz analogyless is more. Miles, Coltrane, Charlie Parkerall their recordings are stripped down to the bare essentials in their rhythm sections: four-string upright bass, four-piece drum kit, grand piano. And all of it is gorgeous, dynamic, and diverse. Ha, I just realized I'm kind of contradicting myself because in my band, the more variety of sounds, the more inspired I am. My point is, I'd rather be writing the songs than programming sounds for future songs.