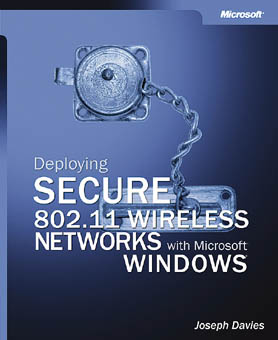 Copyright © 2003 by Microsoft Corporation
PUBLISHED BY
Microsoft Press
A Division of Microsoft Corporation
One Microsoft Way
Redmond, Washington 98052-6399
Copyright © 2004 by Microsoft Corporation
All rights reserved. No part of the contents of this book may be reproduced or transmitted in any form or by any means without the written permission of the publisher.

Library of Congress Cataloging-in-Publication Data
Davies, Joseph (Joseph Glenn), 1962-
       Deploying Secure 802.11 Wireless Networks with Microsoft Windows /Joseph Davies.
            p. cm.
       Includes index.
       ISBN 0-7356-1939-5
       1. Wireless LANs. 2. IEEE 802.11 (Standard). 3. Computer networks--Security
     measures 4. Microsoft Windows (Computer file). I. Title.

    TK5105.78.D36   2003
    004.6'8--dc21                                                                                         2003054031
 
Printed and bound in the United States of America.
1 2 3 4 5 6 7 8 9 QWT 8 7 6 5 4 3
Distributed in Canada by H.B. Fenn and Company Ltd.
A CIP catalogue record for this book is available from the British Library.
Microsoft Press books are available through booksellers and distributors worldwide. For further information about international editions, contact your local Microsoft Corporation office or contact Microsoft Press International directly at fax (425) 936-7329. Visit our Web site at www.microsoft.com/mspress. Send comments to tkinput@microsoft.com.
Active Directory, ActiveX, Microsoft, Microsoft Press, MSDN, Visual Basic, Windows, the Windows logo, Windows NT, and Windows Server are either registered trademarks or trademarks of Microsoft Corporation in the United States and/or other countries. Other product and company names mentioned herein may be the trademarks of their respective owners.
The example companies, organizations, products, domain names, e-mail addresses, logos, people, places, and events depicted herein are fictitious. No association with any real company, organization, product, domain name, e-mail address, logo, person, place, or event is intended or should be inferred.
Acquisitions Editor: Martin DelRe
Project Editor: Jean Trenary
Technical Editors: Tim Upton and Ray Horak
Body Part No. X09-71495
Introduction
Welcome to Deploying Secure 802.11 Wireless Networks with Microsoft Windows, your complete source for the information you need to design and deploy 802.11-based wireless networks for Microsoft Windows wireless clients using Windows 2000–based or Windows Server 2003–based servers for the authentication infrastructure. This book includes overview explanations of the various technologies involved in deploying a secure wireless solution, step-by-step instructions about how to deploy various types of wireless configurations for both the enterprise organization and the Small Office/Home Office (SOHO), and discussions of troubleshooting tools and common connectivity and authentication problems.
In today's world, the term security needs to be defined. Here is a definition that you should use when thinking about secure wireless connections:
Security is not binary. It is not a switch or even a series of switches. It cannot be ex-pressed in absolute terms. Do not believe anyone who tries to convince you otherwise. Security is relative—there is only more secure and less secure. Furthermore, security is dynamic—people, process, and technology all change. The bottom line is that all of these factors make managing security difficult.
—Ben Smith and Brian Komar, Microsoft Windows Security Resource Kit, Microsoft Press, 2003.
Deploying Secure 802.11 Wireless Networks with Microsoft Windows describes the combination of technologies in Windows that supports the strongest set of industry standards for secure wireless access that were available at the time of the writing of this book.