Key Concepts
As you already know, the general idea behind this application is to simulate a joystick. Most games that support joysticks also offer the user the ability to use a keyboard. Obviously, there might be times that a Tablet PC user may not have his keyboard with him, but might want to play a game. The obvious approach to playing the game is to use the Input Panel, but this obstructs so much of the screen's real estate that it might be difficult to see the game you are playing.
Our approach is to develop an application based around the SendKeys method. By using SendKeys , we have the ability to send keystrokes to other applications. We can assign keys for the various directions and buttons that a joystick would normally use (see Figure 25.1). The keys correspond to the keys the game is set up to use. We'll store the keys in the Registry and retrieve them as needed.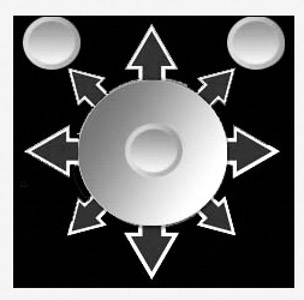 Figure 25.1: The joystick will look like this.
---
---
Getting Started
Begin by creating a new VB Window Forms application. As you can see in Figure 25.1, the GUI is quite simple. We use a background image on a form to simulate the appearance of a joystick. The image is available on the CD-ROM that is included with the book in the Chapter 25 project folder. After assigning the background to the image, resize the form to approximate its dimensions. The next step is to place label controls to represent the keys.
The following Label controls need to be created with the following names and placed in the correct locations:
lblUp

lbl45

lblRight

lbl135

lblDown

lbl225

lblLeft

lbl315
The previous labels handle the directional elements for the joystick. There are a few remaining labels that we need to add. First, we need to add labels called lblReturnPos and lblDelay, which help to control how long the application waits between virtual keystrokes. The last two steps are to add a Timer control, a StatusBar control, and an InkEdit control to the form. The InkEdit control will be used to change the values of the directions as the user will not have access to his keyboard. You can leave their names as the default. The form should now look like Figure 25.2 (so that you can see them better, the labels have had values assigned to them).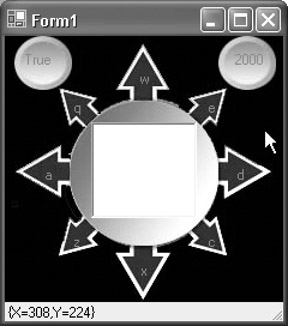 Figure 25.2: The final GUI.
---