Differences in Viewport Mode and Layout
Orthographic and Perspective views In max, these views are arbitrary and virtual, but in Maya there's an invisible default camera assigned for each of three orthographic views: Front, Top, and Side. To change such elements as the near/far clipping or the field of view, you must adjust this camera. To do that for any orthographic view, choose View Camera Attribute Editor in the applicable orthographic view. The virtual camera for that view will appear, and you can adjust its values in the Attribute Editor. The orthographic views are locked and do not orbit . Any Perspective or camera view can become orthographic (like max's " user view") by selecting the Orthographic check box in the Camera Attribute Editor for that view (see Figure A.3). You access the default perspective camera attributes the same way, with View Camera Attribute Editor.
Figure A.3. In the Camera Attribute Editor, you can enable the orthographic view and adjust clipping for any view.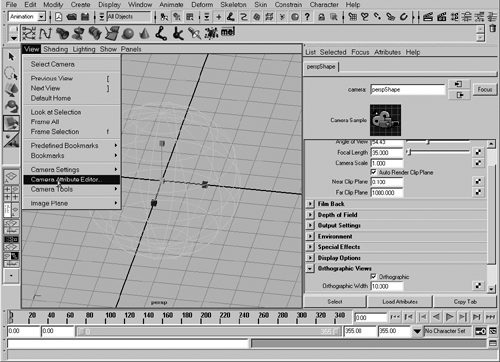 Viewport display In max, you right-click over the viewport name to bring up display options, such as wireframe or shaded. In Maya, it works similarly, but you use the pull-down menu at the top of any Maya panel. The Shading pull-down, shown in Figure A.4, contains most of the settings familiar to max users for viewport display modes. The Panels pull-down in Figure A.5 lists options similar to the Viewport Configuration window in max.
Figure A.4. Adjusting a panel's display mode in Maya.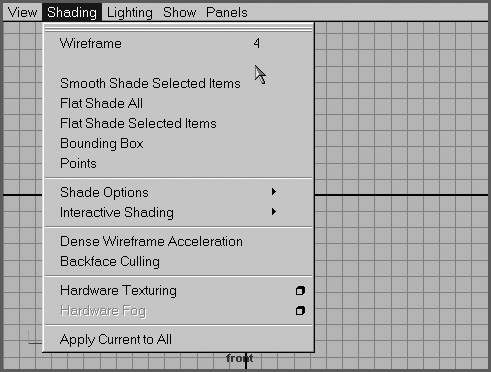 Figure A.5. The layout modes available in Maya's Panels pull-down.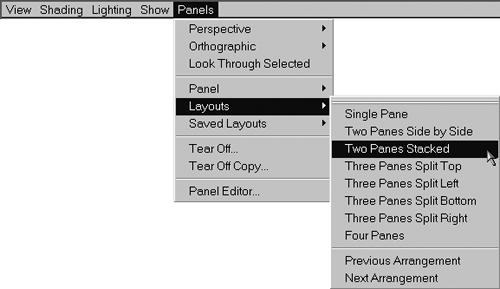 Configuring panels/viewports At the left side of Maya's interface is the Tool Box, which includes a set of Quick Layout buttons (see Figure A.6) that allow you to instantly switch panel configurations. Right-clicking any of the Quick Layout buttons displays a list of many more popular layouts. In max, you change viewport layout by right-clicking in the viewport, choosing Configure Layout Mode, and then setting up each panel. With Maya, you can also set any panel to any window by clicking the hot buttons that appear below the Quick Layout buttons .
Figure A.6. Maya's Quick Layout buttons and hot buttons to change any panel.