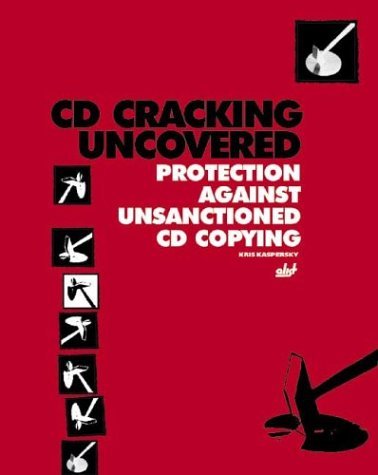 CD Cracking Uncovered: Protection Against Unsanctioned CD Copying
by Kris Kaspersky
A-List

2004

(300 pages)
ISBN:1931769338
Aimed at shareware and commercial software programmers, as well as users interested in CD protection, this book will help readers defeat hackers and crackers who try to copy CDs without authorization.

Table of Contents
CD Cracking Uncovered "Protection against Unsanctioned CD Copying
Preface
Introduction
On the CD
Part I - CD Anathomy
Chapter 1
-
CD Organization
Chapter 2
-
Power of Reed-Solomon Codes
Part II - Low-Level Control over Hardware
Chapter 3
-
Practical Advice on Urgent System Recovery
Chapter 4
-
Interfaces for Interaction with the Hardware
Chapter 5
-
Methods of Revealing Protection Mechanisms
Part III - Protection against Unauthorized Copying and Data Recovery
Chapter 6
-
Anti-Copying Mechanisms
Chapter 7
-
Protection Mechanisms for Preventing Playback in PC CD-ROM
Chapter 8
-
Protection against File-by-File Disc Copying
Chapter 9
-
Protection Mechanisms Based on Binding to Storage Media
Chapter 10
-
Data Recovery from CDs
List of Figures
List of Tables
List of Code Examples
CD Content




| | |
| --- | --- |
| | |
CD Cracking Uncovered "Protection against Unsanctioned CD Copying
KRIS KASPERSKY
alist

2004 by A-LIST, LLC
All rights reserved.
No part of this publication may be reproduced in any way, stored in a retrieval system of any type, or transmitted by any means or media, electronic or mechanical, including, but not limited to, photocopying, recording, or scanning, without prior permission in writing from the publisher.
A-LIST, LLC
295 East Swedesford Rd.
PMB #285
Wayne, PA 19087
702-977-5377 (FAX)
mail@alistpublishing.com
http://www.alistpublishing.com
This book is printed on acid-free paper.
All brand names and product names mentioned in this book are trademarks or service marks of their respective companies. Any omission or misuse (of any kind) of service marks or trademarks should not be regarded as intent to infringe on the property of others. The publisher recognizes and respects all marks used by companies, manufacturers, and developers as a means to distinguish their products.
CD Cracking Uncovered: Protection against Unsanctioned CD Copying
By Kris Kaspersky
ISBN: 1931769338

04 05 7 6 5 4 3 2 1
A-LIST, LLC, titles are available for site license or bulk purchase by institutions, user groups, corporations, etc.
Book Editor: Thomas Rymer
LIMITED WARRANTY AND DISCLAIMER OF LIABILITY
A-LIST, LLC, AND/OR ANYONE WHO HAS BEEN INVOLVED IN THE WRITING, CREATION, OR PRODUCTION OF THE ACCOMPANYING CODE (ON THE CD-ROM) OR TEXTUAL MATERIAL IN THIS BOOK CANNOT AND DO NOT GUARANTEE THE PERFORMANCE OR RESULTS THAT MAY BE OBTAINED BY USING THE CODE OR CONTENTS OF THE BOOK. THE AUTHORS AND PUBLISHERS HAVE WORKED TO ENSURE THE ACCURACY AND FUNCTIONALITY OF THE TEXTUAL MATERIAL AND PROGRAMS CONTAINED HEREIN; HOWEVER, WE GIVE NO WARRANTY OF ANY KIND, EXPRESSED OR IMPLIED, REGARDING THE PERFORMANCE OF THESE PROGRAMS OR CONTENTS.
THE AUTHORS, PUBLISHER, DEVELOPERS OF THIRD-PARTY SOFTWARE, AND ANYONE INVOLVED IN THE PRODUCTION AND MANUFACTURING OF THIS WORK SHALL NOT BE LIABLE FOR ANY DAMAGES ARISING FROM THE USE OF (OR THE INABILITY TO USE) THE PROGRAMS, SOURCE CODE, OR TEXTUAL MATERIAL CONTAINED IN THIS PUBLICATION. THIS INCLUDES, BUT IS NOT LIMITED TO, LOSS OF REVENUE OR PROFIT, OR OTHER INCIDENTAL OR CONSEQUENTIAL DAMAGES ARISING FROM THE USE OF THE PRODUCT.
THE CD-ROM, WHICH ACCOMPANIES THE BOOK, MAY BE USED ON A SINGLE PC ONLY. THE LICENSE DOES NOT PERMIT ITS USE ON A NETWORK (OF ANY KIND). THIS LICENSE GRANTS YOU PERMISSION TO USE THE PRODUCTS CONTAINED HEREIN, BUT IT DOES NOT GIVE YOU RIGHT OF OWNERSHIP TO ANY OF THE SOURCE CODE OR PRODUCTS. YOU ARE SUBJECT TO LICENSING TERMS FOR THE CONTENT OR PRODUCT CONTAINED ON THIS CD-ROM. THE USE OF THIRD-PARTY SOFTWARE CONTAINED ON THIS CD-ROM IS LIMITED THE RESPECTIVE PRODUCTS.
THE USE OF IMPLIED WARRANTY AND CERTAIN EXCLUSIONS VARY FROM STATE TO STATE, AND MAY NOT APPLY TO THE PURCHASER OF THIS PRODUCT.