Authors: Julin S.
Published year: 2003


Pages: 41-43/165
Chapter 4.
Trimming
One of the best editing features of Avid Xpress Pro is its ability to trim edits. The trimming tools on all of Avid's products have always been top- notch and the Avid Xpress Pro trimming capabilities are no exception. When I first started editing on Avid, it was by far the Trim mode that was the most impressive. This is what nonlinear editing is all about.
First, a couple of observations about the using the Trim mode in Avid Xpress Pro:
Although the word "trimming" certainly sounds like something is being shortened , that's not the case. Trimming an edit can refer to lengthening a shot just as well as shortening a shot.

When editing with Avid Xpress Pro, there are three modes you can be in at any time. They are Standard Editing mode, Trim mode, and Effects mode.

After years of teaching, I can honestly say that the concept of trimming is one of the most confusing aspects of nonlinear editing, especially for editors who worked in the linear world. Therefore, you'll notice I included a lot of examples in this chapter.

Transitions such as dissolves can be trimmed . Your edit doesn't have to be a cut.

All the aspects of trimming a video track also apply to audio tracks.
Duplicating a Sequence
Before you begin trimming a sequence, it's always a good habit to duplicate your sequence. This acts as a safeguard when making so many changes. To duplicate a sequence, select the sequence in your bin. Remember, sequences have different icons when viewed in Text view (see Figure 4.1).
Figure 4.1. Sequences have different icons than master clips.

Choose Duplicate from the Edit menu or press Command+D (Macintosh OS) or Control+D (Windows). This will duplicate your sequence but not load it. Double-click the new sequence to load into the record monitor and the Timeline. The new sequence will have the word copy. n appended to it where the n is the number of duplicates. The new sequence can be re-named. To re-name the new sequence, single click on its name in the bin and give the sequence a new name .
NOTE
TIP
Making copies of sequences is a great habit to get into. But it can bog down a system just to handle all the copied sequences. To prevent this from slowing down the software, create a new bin and call it Old Sequences. Drag or copy all old sequences into this bin and then close the bin. This will greatly enhance the performance of Avid Xpress Pro. I also give my old sequences very specific names such as Sequence v.1 no Effects or Sequence v.1 with Effects.
Locking a Clip or Sequence
The second thing I do before trimming a sequence is lock it. Locking a sequence allows you to continue to make changes but prevents the clip from being deleted. To lock a sequence or any clips in your bin, select the clips by clicking on their icons. Shift-click (Macintosh OS) or Ctrl-click (Windows) to select multiple clips or sequences. Choose Lock Bin Selection from the Clip menu. You'll notice that there are no indicators displaying which items are locked. To find out which items are locked, choose the bin's Fast Menu and choose Headings. Choose Lock. A new column will appear indicating which clips are locked (see Figure 4.2).
Figure 4.2. Clips that are locked have their own icon in the Lock column.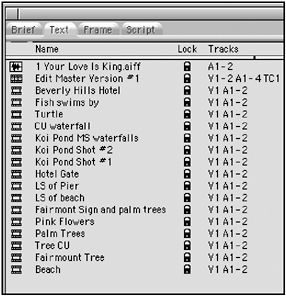 To unlock a clip or sequence, select the item and choose Unlock Bin Selection from the Clip menu. Again, a locked item can be changed but if you try to delete it, a warning will appear. Locking clips is also a good practice if you're sharing clips from project to project.

Authors: Julin S.
Published year: 2003


Pages: 41-43/165