[Previous] [Next] Part II
Technologies and Trade-Offs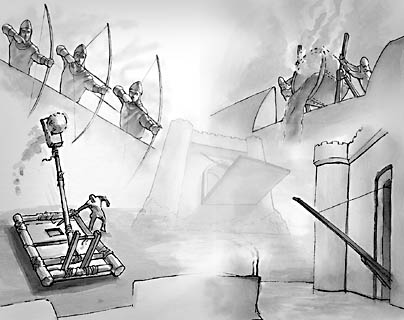 [Previous] [Next] Chapter 3
Windows 2000 Security Overview
Microsoft Windows 2000 was designed as an extremely secure operating system and includes numerous security tools and technologies to aid in the development and deployment of secure solutions. It's important to understand these core security features so that you'll know how and why security solutions work and why they sometimes don't work. Each product that runs on the operating system can take advantage of these features.
In the following sections, as listed below, we'll give an overview of the security technologies implemented in Windows 2000 and explain the terminology related to each technology:
Authenticated logon
Authentication
Privileges
User accounts and groups
Domains and workgroups
DOMAIN/Account names and user principal names
Managing accounts
Security identifiers (SIDs)
Tokens
Access control lists (ACLs)
Impersonation
Delegation
Miscellaneous Windows 2000 security features
However, before we get started, it's important to discuss the security implications of a significant technology included with Windows 2000: the Active Directory service. (For non-security-related information about the Active Directory, see this book's bibliography.)
What Is a Service?

Services are processes that start up when Windows 2000 starts up or on demand and that do not require any user interaction. Examples include Microsoft SQL Server, Internet Information Services (IIS), and the print spooler. You can look at the currently available services on your system by opening the Services tool.

One of the important new capabilities in Windows 2000 is the ability to perform a task in the event that a service fails:

Right-click the service in question (for example, the IIS Admin Service).
Choose Properties from the context menu.
Click the Recovery tab.
Look at the First Failure, Second Failure, and Subsequent Failures options.
[Previous] [Next]
The Impact of Active Directory
Active Directory is both a database about resources on a network—such as computers, users, and printers—and a directory service that makes the information in the database available to users and applications. Active Directory provides enterprise-level directory service features such as an extensible information source, naming conventions for directory objects, a common set of policies, and tools for administering the service from a single point of access. Secure, distributed, partitioned, and replicated, it is designed to work well in any size installation, from a single server with a few hundred objects to thousands of servers and millions of objects. Active Directory has many features that make it easy to manage large amounts of information, reducing management overhead for administrators and making the service easier to use for end users.
By default, a machine running Windows 2000 Server does not have Active Directory installed. To install it, you must run the Active Directory Installation wizard, either by using the Dcpromo.exe tool at the command line or like so:
Click Start.
Select Programs, Administrative Tools, and then Configure Your Server.
Select Active Directory, and click Start to start the wizard.
Once Active Directory is installed, a world of security possibilities opens up, as described in Table 3-1.
Table 3-1. Some of the advantages of Active Directory.
Feature
Benefits
Kerberos V5 authentication
Single sign-on to multiple Windows 2000-based servers and other operating systems running the MIT Kerberos V5 authentication protocol. (Kerberos V5 is a fast, secure authentication protocol.)
Account delegation
Kerberos authentication allows Windows 2000 to delegate user 's account information from one machine to another. This capability was not available in previous versions of Windows, including Microsoft Windows NT.
Extensive public key support
Windows 2000 supports certificates and other public key technologies, but it is much more scalable and flexible when Active Directory is used because certificates can be associated automatically with the user accounts and machine accounts in the directory.
Smartcard logon
Windows 2000 can use smartcards as an authentication mechanism when used in conjunction with Active Directory.
Easier administration
Group Policy can be used to define default settings that will be automatically applied to users and computers. These settings can determine security options and control what software can be installed on particular computers and what software is available to particular groups of users.

In addition, an entire domain can be managed from a small number of tools.

Scalability
Active Directory is designed to hold millions of objects, such as users, computers, and printers, stored across thousands of machines.