What Kind of Reader Do You Want?
There are plenty of RSS readers, but which one is right for you? Currently there are two main types of readersonline (browser-based) and desktop (software that resides on your computer).
The following resources list hundreds of available RSS readers, most of which are free:
http://directory.google.com/Top/Reference/Libraries/Library_and_Information_Science/Technical_Services/Cataloguing/Metadata/RDF/Applications/RSS/News_Readers/

www.rssreaders.net/

www.tucows.com/ (Enter "RSS reader" in the Search box, select your operating system, and click Go.)
Tip
You can even find a list of email-based RSS readers at http://directory.google.com/Top/Reference/Libraries/Library_and_Information_Science/Technical_Services/Cataloguing/Metadata/RDF/Applications/RSS/News_Readers/E-mail_Based/.
As of this writing, the Google site lists six RSS readers for Linux, 14 for Mac OS, 51 online RSS readers, and 88 for Windowsquite a selection. How do you choose? Starting with online RSS readers, the next section covers the most popular RSS readers and gives you a taste of each of them.
Online RSS Readers
Online RSS readers have some advantages over the ones you run on your computer. For one thing, online RSS readers are free for the most part. For another, they're often easier to use.
Tip
To use an online RSS reader, you typically need to register with the site that hosts the reader and select a username and password. Beware, however: It might ask for your email address, which can leave you open for spam emails.
Easy RSS Reading with CompleteRSS
CompleteRSS is an easy-to-use online RSS reader that you can find at www.completerss.com. You just enter some search terms for the feed you're looking for, such as an eWeek Technology News feed (Figure 2.19), and click the Go button. (Or you can browse through the RSS Feed Sampler you see in the middle of the page.)
Figure 2.19. You can use CompleteRSS to search eWeek Technology News for a feed.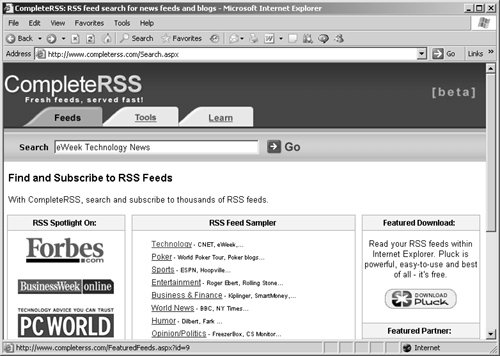 CompleteRSS displays a list of matches to the terms you've entered. You select the one you want (eWeek Technology News in this example), and the current items for that feed are displayed (Figure 2.20).
Figure 2.20. CompleteRSS displays the latest feed items from eWeek Technology News.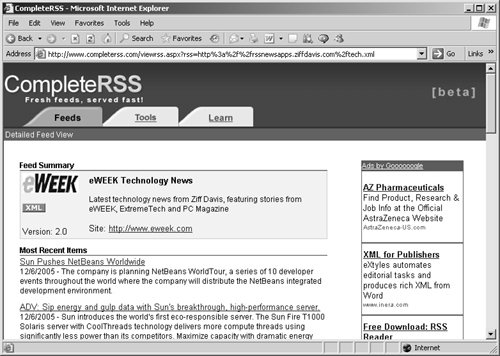 Searching for Feeds with Feedster
Another great RSS source is Feedster, at www.feedster.com. Much like CompleteRSS, Feedster searches for feeds that match your search terms and displays those items.
Feedster, however, is much more aggressive about searching the Internet for RSS feeds. In fact, it claims to search the largest index of RSS feeds. As of this writing, Feedster claims to search more than 18 million RSS feeds. (How many of those feeds are active is an open question, however.)
This is a nice, easy way of handling RSS feeds, but it's a little too light-weight for many people: Every time you want to read a feed, you have to search for it again. But there is another way.
Reading RSS with Bloglines
Bloglines, another online reader (www.bloglines.com), keeps track of all the RSS feeds you've subscribed to. First you have to register as a new user: Click the Registration link to go to the registration page, and Bloglines will send you an email. Clicking the link in the email completes your registration and lets you choose which feeds you want to subscribe to (Figure 2.21).
Figure 2.21. Bloglines lists staff selections as well as the most popular subscriptions.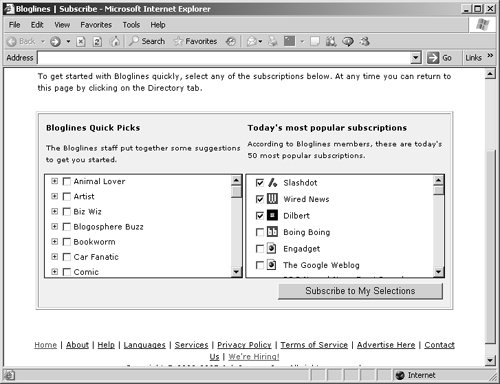 Bloglines stores the feeds you're subscribed to, and you can see them when you return to the Bloglines page and click the My Feeds tab (Figure 2.22).
Figure 2.22. Your Bloglines selections are stored in the My Feeds tab.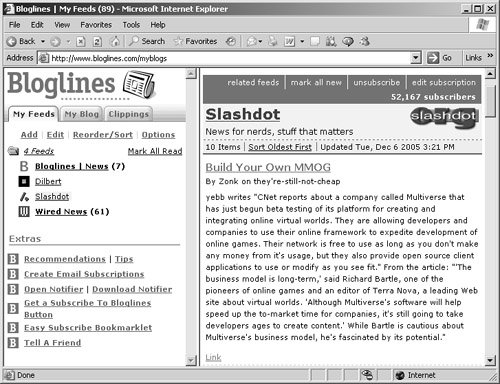 Using NewsIsFree
NewsIsFree is purported to be the oldest online RSS reader, and you can sign up to use it at www.newsisfree.com (Figure 2.23). You go through the usual registration process by providing a username and email address. NewsIsFree then sends you an email containing a link, which you click to set up your custom page.
Figure 2.23. NewsIsFree lets you browse by category or date.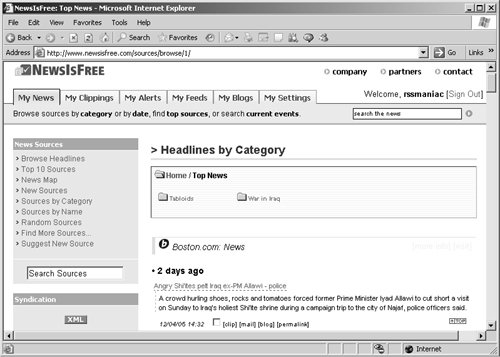 Whooping it up with My Yahoo
Another online champ is My Yahoo, which has tons of major RSS feeds for you to choose from (Figure 2.24). First sign up on the My Yahoo site at http://myyahoo.com (see Tip below). This reader is especially popular because it's easy to use, and you can add many RSS feeds to your My Yahoo page with a few clicks. Many people use My Yahoo as their home page, and the ability to customize the feeds you see each morning is great.
Figure 2.24. It's easy to read RSS feeds using My Yahoo.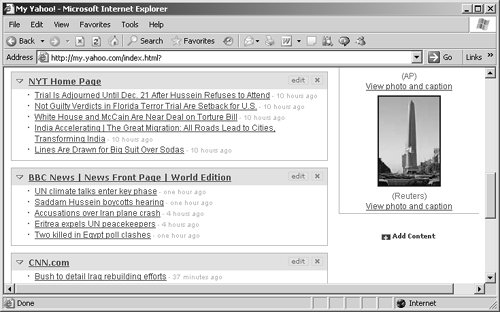 Tip
Several people have noted a problem with the My Yahoo registration process. The directions say you will receive an email so you can complete the sign-up process, but the email never arrived. In fact, it didn't in my case either. However this omission doesn't seem to affect signing into the site. If you don't receive the email, just wait a few hours and try signing on with the username and password you've selected.
Grabbing RSS Feeds with NewsGator
With NewsGator, another popular online RSS reader (Figure 2.25), you can create a specialized feed based on the URL of a Web site, so that, for example, whenever someone mentions your Web site in their feed, you'll know about it. You can also synchronize NewsGator to work with Microsoft Outlook. Sign up at www.newsgator.com/home.aspx.
Figure 2.25. NewsGator can track different sites on one page that you create.