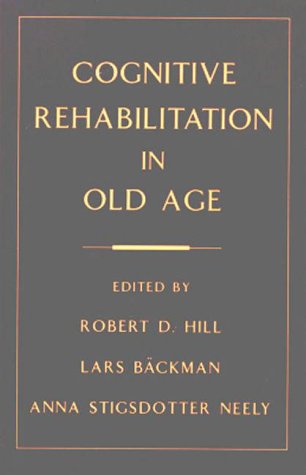 Editors: Backman, Lars; Hill, Robert D.; Neely, Anna Stigsdotter
Title: Cognitive Rehabilitation in Old Age, 1st Edition
Copyright ©2000 Oxford University Press
> Front of Book > Editors
Editors
Lars Bäckman Ph.D.
Stockholm Gerontology Research Center, Dalagatan 9-11, S-11382, Stockholm, Sweden
Robert D. Hill Ph.D.
Counseling Psychology Program, Department of Educational Psychology, 327 MBH, University of Utah, Salt Lake City, UT 84112
Anna Stigsdotter Neely Ph.D.
Department of Psychology, University of Umea, S-90187, Umea, Sweden
Contributors
Michael J. Bird Ph.D.
Department of Psychology, National Health and Medical Research Council, Social Psychiatry Research Unit, The Australian National University, Canberra, ACT, 0200, Australia
Cameron J. Camp Ph.D.
Myers Research Institute, Menorah Park Center for the Aging, 27100 Cedar Road FL 1, Beachwood, OH 44122
Katie E. Cherry
Department of Psychology, 236 Audubon Hall, Louisiana State University, Baton Rouge, LA 70803
Jeffrey W. Elias Ph.D.
Sanford Center on Aging, University of Nevada, Reno, Reno, NV 89557-0133
Charles F. Emery Ph.D
Department of Psychology, Ohio State University, Columbus, OH 43210
Michael K. Gardner Ph.D.
Department of Educational Psychology, 327 MBH, University of Utah, Salt Lake City, UT 84112
Margie E. Lachman Ph.D.
Department of Psychology, Brandeis University, Psychology Department MS#062, Waltham, MA 02254-9110
Bernice A. Marcopulos Ph.D., ABPP.Cn.
Department of Psychiatric Medicine, University of Virginia, Charlottesville, VA 22908, and Western State University, Staunton, VA 24401
Patrick J. Miller Ph.D.
Psychology Service, 116B, VA Medical Center, Salt Lake City, UT 84112
Nancy A. Pachana Ph.D.
School of Psychology, Massey University, Private Bag 11 222, Palmerston North, New Zealand
Thomas Schenkenberg Ph.D.
Department of Neurology, School of Medicine, 50 North Medical Drive, Salt Lake City, UT 84132
Karen Rothballer Seelert M.A.
University of Utah, 1705 East Campus Center Drive, Room 327, Salt Lake City, UT 84112
Clive Skilbeck Ph.D.
Doctoral Program in Clinical Psychology, School of Health, University of Teeside, Middlesbrough TS1 3BA, United Kingdom
David L. Strayer
Department of Psychology, University of Utah, 380 S. 1530 E., Rm. 502, Salt Lake City, UT 84112
Kellie A. Takagi Ph.D.
Veterans Affairs Palo Alto Healthcare System, Stanford University School of Medicine, Stanford, CA 94304
Julia E. Treland Ph.D.
Private Practice, 14265 Domingo Ct., Reno, NV 89511-6617
Paul Verhaeghen Ph.D.
Department of Psychology, 430 Huntington Hall, Syracuse University, Syracuse, NY 13244-2340
Duana C. Welch Ph.D.
California State University, Fullerton, P.O. Box 6846, Fullerton, CA 92831-6846
Robin L. West Ph.D.
Box 112250, Department of Psychology, University of Florida, Gainesville, FL 32611-2250
Dan J. Woltz
Department of Educational Psychology, University of Utah, 1705 E. Campus Center Drive, Rm. 327, Salt Lake City, UT 84112-9255
Monica S. Yassuda
University of Florida, Department of Psychology, P.O. Box 112250, Gainesville, FL 32611-2250
Editors: Backman, Lars; Hill, Robert D.; Neely, Anna Stigsdotter
Title: Cognitive Rehabilitation in Old Age, 1st Edition
Copyright ©2000 Oxford University Press
> Front of Book > Preface
Preface
Cognitive deficits are part of the normal aging process and are exacerbated in various diseases that affect adults in old and very old age, such as dementia, depression, and stroke. A significant scientific and social effort has been expended to evaluate whether cognitive deficits can be remediated through systematic interventions. Thus, the editors, as well as the chapter authors, represent a variety of viewpoints that span theory, as well as practice. One of the goals of this book is to extend what is apparent in the theoretical literature on cognitive aging to normative issues facing older adults, as well as to nonnormative conditions reflective of diseases such as dementia, depression, and stroke. The principal purpose of this volume is to provide meaningful coverage of cognitive intervention research on normal and pathological aging, with a specific focus on the application of cognitive training strategies in natural settings. An important feature of this book is that it is grounded in contemporary theory about cognitive aging that should be applicable to both the practicing clinician and the researcher. Thus, it is important to note that this book was designed to be relevant to scholars studying basic issues in cognitive aging and to professionals working with older adults in preventive or remedial settings.
In this text, rehabilitation is broadly defined as encompassing not only the outcomes that may occur when a particular function is fully restored to its premorbid level, but also the outcomes that may result in mitigating the slope of decline in everyday functional ability (as is seen in dementia). Thus, the concept of rehabilitation may produce a diversity of expectations, from full restoration of function through improvement within a restricted ability range to preserving essential abilities that are necessary for function in an assisted-living or other caregiving context. It is our belief that the term rehabilitation best captures this variability in subject capability that is often used to gauge intervention programs that will best address cognitive changes that are inherent in both normal and pathological aging.
This text is organized into four parts that systematically move from theory-driven principles to the provision of practical techniques and ideas that can be used in a number of contexts. Part I highlights prominent theoretical principles that are important in conceptualizing and planning rehabilitation programming. In this section, chapters focus on plasticity in intellectual functioning, theoretical issues to consider in memory training, and factors that may influence the extent to which transfer and generalization are possible. These concepts provide essential background for Part II, which examines cognitive rehabilitation strategies in normal aging, with a specific focus on remediating memory deficits that are considered normative in old and very old age. The first chapter in this section is a general overview of the kinds of memory-training strategies that have been used with older adults and the extent to which they can be applied as rehabilitation aids. The two following chapters highlight innovative ideas and adjunctive techniques that can be used to augment rehabilitation strategies. In general, Part II explores the extent to which memory training can promote a sense of self-control over cognitive capabilities in everyday living.
Part III examines the interplay between cognitive function and lifestyle patterns that include physical exercise and cigarette smoking. In addition to lifestyle choices, Part III also addresses the role of selected psychological processes such as executive function and depression on cognitive capabilities in old and very old age. The fourth and final part focuses on rehabilitation strategies that address issues in pathological (or diseased) aging (dementia, depression, and stroke). Although this section deals with the domain that is often stereotypically viewed as the subject matter of rehabilitation, we have included this section last to encourage the reader to think of cognitive rehabilitation as a collection of strategies and procedures that are applicable to both normal aging and disease processes in old and very old age. In short, we believe that aging as a developmental process should be viewed as a continuum from optimal to maladaptive conditions. Thus, this book suggests that intervention strategies that are applicable to normal aging may also have some benefit when adapted to those who are experiencing age-related disease.
We appreciate the hard work of our chapter authors who assisted in helping us develop the concepts and ideas that form the foundation and organization of the book. This book is dedicated to our spouses and children; namely, Debra Hill, Darren and Justin; Agnenta Herlitz, Daniel, Hannes, Elias, and Miriam; Greg Neely, Tor and Ruyna.