Chapter 2. Using Feeds
I took a speed-reading course and read War and Peace in twenty minutes. It involves Russia.
Woody Allen
Before we get into the tricky business of producing, parsing, scripting, and extending our own RSS and Atom feeds, it makes sense to look at how they are consumed. In this chapter, therefore, we shall look at the various reader applications currently available for your pleasure.[1]
[1] I have not attempted to give a complete overview of all available RSS applications: many applications have been omitted for no reason other than space or my own oversight. Nor do I have an opinion about which is best for the job.
2.1. Web-Based Applications
The earliest, and still perhaps the most common, method of reading syndication feeds, the web-based application is a convenient way to stay up to date whereever you find yourself. It's especially good if you use more than one computer. In this section, when I talk about web-based applications, I mean applications hosted elsewhere, by other people. Applications that use your browser as the interface and sit on your local machine are in the next section.
2.1.1. Bloglines
Bloglines (http://www.bloglines.com) may not have been the first web-based aggregator, but it is certainly the most popular today (see Figure 2-1). It's free to use and very slick, offering email subscriptions, services for webloggers, and an interesting Application Programming Interface.
Figure 2-1. Bloglines.com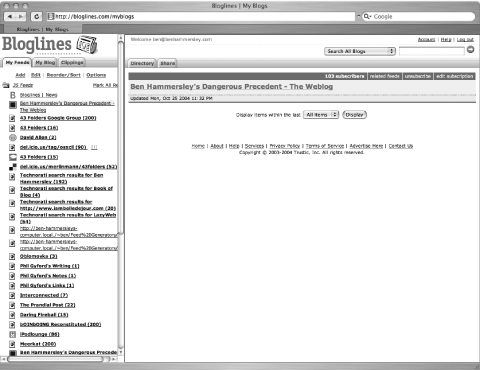 2.1.2. Kinja
Kinja (http://www.kinja.com; see Figure 2-2) is slightly different from most RSS and Atom applications in that it doesn't mention either standard anywhere. It is specifically designed to require no knowledge of the rest of this book, and it's free and tremendously easy to use. It's also, in my opinion, marvelously good looking. It has fewer features than Bloglines, however, especially for bloggers.
Figure 2-2. Kinja.com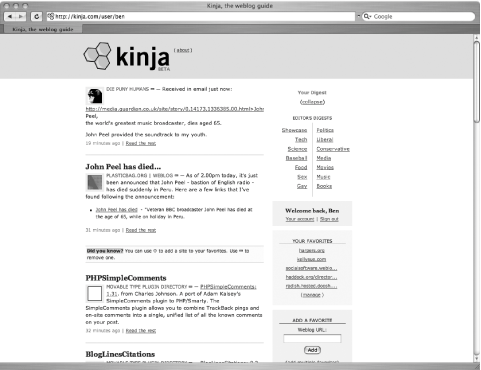 2.1.3. Rocketinfo RSS Reader
Another competitor in this space, Rocketinfo's RSS Reader (see Figure 2-3) is a free advertorial application for the Rocketinfo range of enterprise titles. It's also not as fully featured as Bloglines, but it does have a three-pane interface many people prefer.
Figure 2-3. reader.rocketinfo.com
2.2. Desktop Applications
If you prefer to run a dedicated application to read your RSS, you have lots of options.
2.2.1. NetNewsWire
Because of its beauty and utility, the leading feed-reading application on Apple OS X, NetNewsWire (http://ranchero.com/netnewswire/; see Figure 2-4) caused a stir when it was first released. Version 2 is even better and is my personal favorite. It's not free, but you can try out a 30-day demo.
Figure 2-4. NetNewsWire in action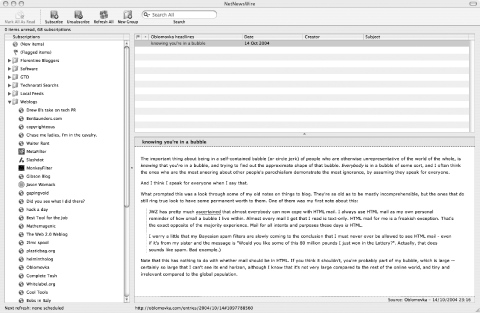 2.2.2. FeedDemon
The most popular feed application on Windows, FeedDemon (see Figure 2-5) is an accomplished three-pane display newsreader. It's not free, but there is a trial version. It even has a built-in web browser.
Figure 2-5. FeedDemon in action
2.2.3. NewsMonster
Never has an application been so fittingly named. NewsMonster (http://www.newsmonster.org/) is an enormous application. It's cross-platform and runs on Windows, Mac OS X, and Linux, off the back of Mozilla 1.0 or better. It's a truly ambitious piece of work with a lot of features you won't find anywhere elsefor example, reputation networks, where users can recommend feeds to each other, and so on. It's well worth a look (see Figure 2-6).
Figure 2-6. NewsMonster in action inside Mozilla 1.7 on OS X